It's Davis Schneider's turn to adjust versus big-league pitching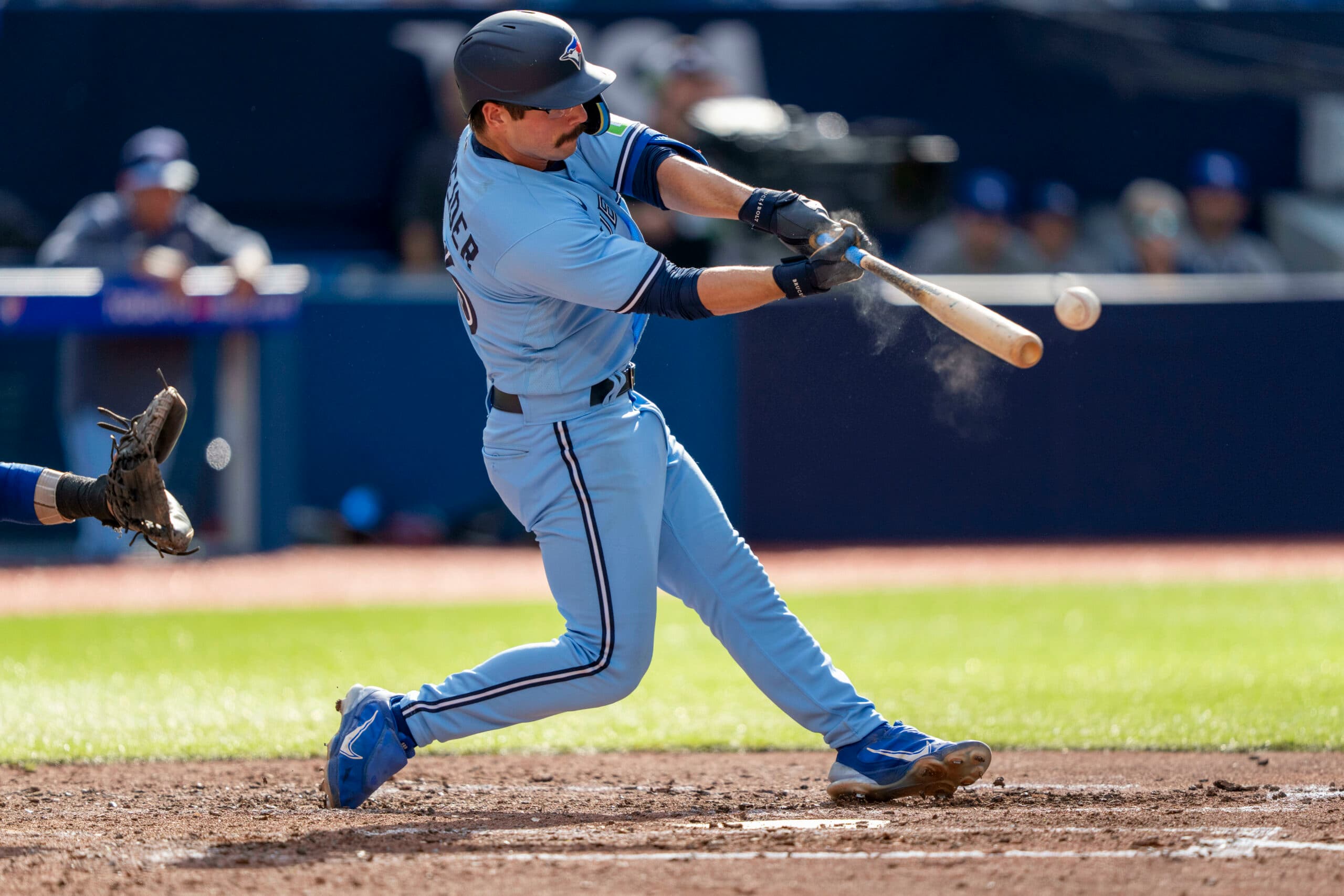 Photo credit:Kevin Sousa-USA TODAY Sports
Baseball is a sport of constant adjustments, and now it's time for Davis Schneider to make his.
The Toronto Blue Jays rookie lit the world on fire when he first arrived for his long-awaited MLB debut, recording nine hits – including two home runs – over his first three games, becoming the first player in the sport's history to achieve that feat. That put the rest of the league on notice.
Schneider is no longer the new kid on the block. Almost everyone knows his name at this point, which is typically what happens when you set a new record less than a week into your big-league career. As such, teams have begun game planning against him more effectively, treating the 24-year-old the same way they would Bo Bichette or Vladimir Guerrero Jr.
That has seen the young right-hander cool off dramatically, going 1-for-12 (.083 AVG) with seven strikeouts and four walks over his previous four contests heading into Tuesday. He has also produced just one hard-hit ball (95 m.p.h. or higher) after generating four in the three-game series at Fenway Park.
What changed from Schneider's first three MLB games to his last four? Pitchers discovered his weakness: high fastballs. And he's received a heavy dose of them ever since that scouting report came to light.
Schneider has struggled to catch up to high heaters thus far, leading to his increased swing-and-miss total as of late, with six of his last seven punchouts coming against that pitch type and location.
The Boston Red Sox's pitching staff failed to expose this deficiency, not giving the Buffalo Bisons' home run leader (21) a second thought before it was too late. But others, like the Cleveland Guardians and Chicago Cubs, didn't make that same mistake.
As more teams study film on Schneider, the more they'll target the upper quadrant of the strike zone in hopes of missing his barrel.
Source: Baseball Savant
High heaters haven't just plagued Schneider during his brief stint in the majors. They gave him fits in the minors, too. But, as he's learned over the last week-and-a-half, there is a much larger emphasis on exposing weaknesses at the big-league level versus triple-A.
Still, there were occasions when opponents would identify his woes atop the strike zone and exploit them, which the Atlanta Braves' affiliate did earlier this season that resulted in one of his three-strikeout performances with Buffalo.
Source: Baseball Savant
It hasn't been a matter of expanding the strike zone, though. Schneider, chasing to a 16.9 per cent clip, has been quite effective in that regard. But where he's gotten into trouble is making sufficient contact within the invisible rectangle, particularly versus fastballs.
The rookie second baseman has seen 72 heaters thus far, over half of which have finished inside the zone. While he's forced pitchers over the plate, he has swung and missed at 44.4 per cent of those pitches, with half occurring in two-strike counts.
Part of the reason for this could be Schneider's swing path, which is designed to excel against pitches in the bottom two quadrants. We've seen precisely that following his arrival to the Blue Jays, considering nine of his 10 hits have been belt-high or lower.
Source: Baseball Savant
Another could tie into Schneider's pitch recognition. One potential explanation is that he's simply facing big-league pitching for the first time and still requires additional reps to adjust. But if you re-watch all seven of his strikeouts against fastballs, you'll notice his timing is tardy on every single one.
Granted, there were a few he nearly fouled off that would've kept the at-bat alive. For the most part, though, he didn't have a chance to make contact in those situations due to his swing starting as late as it did.
It is worth noting that Schneider – who owns the
second-highest walk rate (16.1%) in all of triple-A
this season – became accustomed to the ABS (automatic ball-strike system) and pitch-challenge system before his call-up. So perhaps he's been caught in between while adjusting to a non-electronic strike zone in the majors.
Toronto's No. 13 top prospect, per
MLB Pipeline
, has always been exceptional at reaching base safely via walks throughout his six professional campaigns, earning double-digit clips at almost every stop since 2017. And that's remained unchanged in the big leagues, as he owns five free passes in this seven-game span, which has helped offset his sudden increase in strikeouts.
To prevent that from snowballing, Schneider must generate increased amounts of contact in the upper quadrant of the strike zone. He doesn't need to start barreling high fastballs – although that'd certainly be welcomed – but has to at least foul off those offerings rather than whiffing at them almost half the time.
The 5-foot-10 infielder needs to give pitchers a reason against continuing to pepper him with up-and-inside velocity. Whether it involves starting his trigger a split-second earlier, strictly sitting fast rather than soft or altering his hand position to help reach the top of the zone, it is time for him to make the next move.
Pitchers have the advantage right now as they've countered Schneider's explosive introduction to the highest level of competition. But for any hitter to survive in the majors, regardless of their talent, in-season adjustments are critical – a challenge the underdog prospect now faces.
With Bichette nearing a return from his current IL stint, which could include a rehab assignment this week, Schneider will likely have to continue developing his craft at triple-A in the coming days.
There's still a chance the versatile defender could stay put and beat out either Cavan Biggio or Santiago Espinal for a roster spot. But given his recent struggles, he'll probably be optioned back to Buffalo once Toronto's everyday shortstop is activated. Even so, that may not be the final time we see him with the big-league club in 2023.
As rosters expand to 28 players on Sep. 1, the Blue Jays will undoubtedly look to their young core of infielders at triple-A – including Schneider, Addison Barger, Spencer Horwitz and Orelvis Martinez – to fill that final roster spot on the position player side ahead of their stretch run.
---