Joey Chestnut to attend Blue Jays' first Loonie Dogs Night of 2023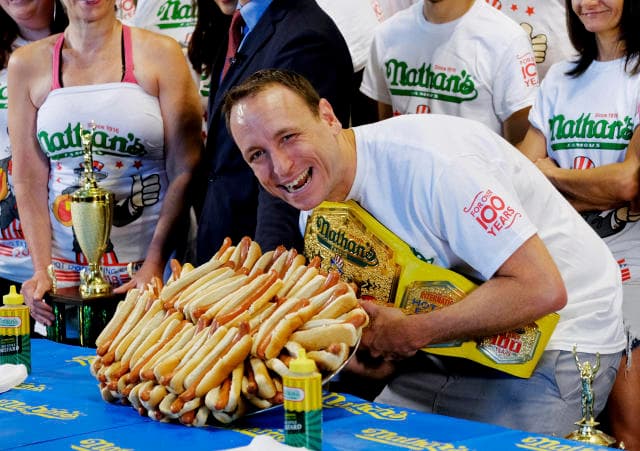 Rogers Centre employees should probably stock up on hot dogs before the Toronto Blue Jays return home on Monday.
To kick off the first Loonie Dogs Night of the 2023 season, the Blue Jays have invited professional eater Joey Chestnut to the ballpark for Tuesday night's contest versus the Chicago White Sox. And he'll no doubt check out the Schneiders Porch in the new Outfield District.
The Blue Jays are hoping to test the limits of how many hot dogs can be sold – and eaten – in one night. Who knows, maybe even a hot dog-eating competition will break out amongst the crowd during the game.
Chestnut, a 15-time Nathan's hot dog-eating champion, is currently the top competitive eater in the world, according to Major League Eating. He won his first title in 2007, defeating six-time defending champion Takeru "Tsunami" Kobayashi.
The 39-year-old won eight consecutive hot dog-eating championships from 2007-14, losing to Matt Stonie in 2015. He regained his title the following year, beginning a seven-year streak that has continued into 2023.
Chestnut will aim to defend his crown at Coney Island, New York, this summer.
The Blue Jays will hold 11 Loonie Dogs Nights this season:
Apr. 25 vs CHW
May 16 vs NYY
May 30 vs MIL
Jun. 6 vs HOU
Jun. 27 vs SFG
Jul. 18 vs SDP
Aug. 1 vs BAL
Aug. 15 vs PHI
Aug. 29 vs WAS
Sep. 12 vs TEX
Sep. 26 vs NYY
---