José Berríos Finds Success with Mechanical Adjustment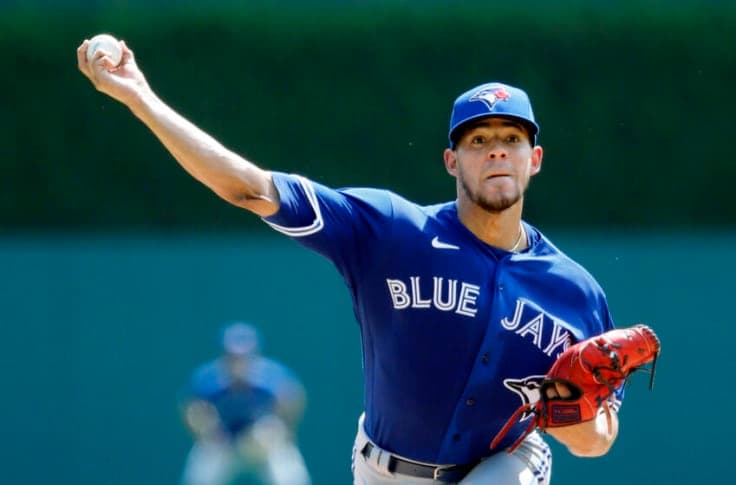 Photo credit:Duane Burleson/Getty Images
There is no way around it, José Berríos was in a slump. In three starts from August 12th to 24th, he had an 8.76 ERA in just 12.1 innings. He was only able to get through five innings once in that stretch, and that was the game in Washington where he removed himself due to fatigue. He couldn't get through five against the Angels as they worked him for four walks and six runs. Then he only got through three against the White Sox as they got him for four runs. 
Walks were an issue for Berríos. Over this three game stretch he walked 5.11 batters per nine, which is well above his season average 2.35. That includes his start against Chicago where he didn't walk anyone. It was safe to say he was having some control issues. Berríos' sinker in particular was off in those starts. The sinker is a pitch that gets a ton of late life, so he front doors it to righties, starting it in the strike zone before it cuts out of the zone at the last moment. This gets a ton of swing and miss and induces weak contact. Then he can back door it to lefties and get strikeouts like this: 
This pitch right here is peak José Berríos. If he can execute that it's game over for the opposition. Over that three game stretch Berríos was unable to put the sinker where he wanted.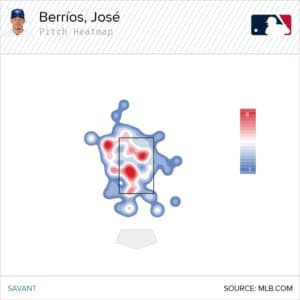 That far from where Berríos wants that pitch. That is too many sinkers over the middle of the plate, and the ones that were inside were up, and therefore not likely to be chased. 
It was the same story with the curveball.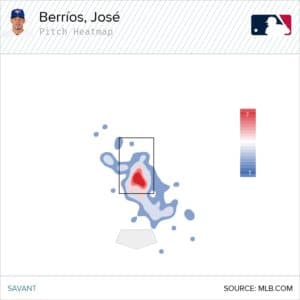 That is a pitch Berríos wants to locate down and away. The curve was catching way too much of the middle of the plate and batters were hitting it. Batters were squaring up Berríos more, per FanGraphs, he had a hard hit rate of 48.9% over that stretch, roughly 10% higher than his season average. And even when batters weren't barreling up the ball, the flares and burners were falling in. 
Berríos had a batting average on balls in play of .465 during that three game stretch. This was the White Sox start in a nutshell. Berríos was able to strike out six Chicago batters, however every time they made contact no matter how hard, it seemed to fall in for a hit. 
For Berríos this looked just like a small slump. Every player is going to have ebbs and flows in the season.  It was unfortunate for Berríos that this came right after he was acquired by the Blue Jays, where each start was being watched with more intent. Nothing appeared to be mechanically off, he just wasn't able to locate. 
Against the Tigers on Sunday his control was back and looked as dominant as he has in a Blue Jays uniform. He threw seven innings, allowed just a single unearned run, didn't walk anyone and struck out 11. 
You knew he was feeling it in the fifth inning getting both Willi Castro and Akil Baddoo on backdoor sinkers. You can see in his pitch chart his location was back and he was executing exactly what he wanted to do.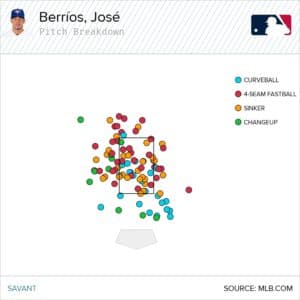 The curveball is down and away, the sinker is on the edges. What stands out though is the amount of red points, indicating four-seam fastballs. Berríos' curveball is his primary pitch, throwing it over 30% of the time. Against the Tigers however he threw it just 22.7%, the lowest it's been in a Blue Jays start, and the lowest on the season since July 1st. Berríos attacked Detroit with his fastball and sinker, throwing them a combined 67.0%, the highest since that July 1st game. 
As I wrote when the Blue Jays acquired Berríos, his fastball and sinker play off each other so well. They come out of his hand with the same spin, and stay on the same plane until the sinker tails away at the last moment. Hitters are up there guessing and as you saw with those couple strikeouts above, the Tigers were guessing wrong. 
A pitch mix change is nothing new to Berríos. Last season while with the Twins, Berríos altered his pitch mix, as John Foley of Twinkie Town details in this fantastic article,
Berríos was struggling to start the season and started throwing fewer fastballs in favour of more curves and sinkers. This change worked, as Berríos had that big sweeping action on his curveball which played well off the sinker and got batters to whiff. This season during this rough patch, the curve wasn't doing that so Berríos made another adjustment and went back to the four-seamer. Through one start it worked and we will have to see if that continues in his next start when he takes on the Oakland Athletics.  
Afterwards, Berríos said a mechanical adjustment helped him rebound. Instead of bringing his arms all the way over his head while winding up, he simply raised them from his belt to his chest before delivering.

"Because coming upstairs and then going forward I sometimes don't feel like myself and sometimes I miss my release point," Berríos explained. "Being simple, from my belt and coming a little bit up I feel more myself and tried to stay in line to home plate."
Here is Berríos in his first Blue Jays start, pitching out of the wind-up. 
And here he is in the first inning against the Tigers:
The adjustment is clear. He simplified his mechanics out of the wind-up and made it similar to his mechanics when pitching out of the stretch. But here's the thing with baseball, old habits die hard. Here is Berríos' first pitch of the seventh inning: 
Right back to the old mechanics. He was flip flopping his delivery this whole inning. The next two pitches to Dustin Garneau were with the new mechanics before again going back to the old ones to finish the at bat. It's clear that this is still a work in progress for Berríos. This is something that he will work on with Pete Walker and find what works best. This is what the Blue Jays preach, when things aren't going well, simplify the mechanics. We saw it work wonders with Ross Stripling earlier in the season, not to mention the incredible turnaround of Robbie Ray and now we might be seeing the start of it again with José Berríos. 
It was only one start, so we can't be doing victory laps just yet, but it appears the Blue Jays have corrected whatever was causing José Berríos to struggle for those three starts. He looked fantastic against the Tigers and hopefully Berríos can build upon that start and finish the year off strong. The Blue Jays will certainly need it as they try and keep their slim playoff hopes alive.