Kevin Gausman dominates New York Yankees as Toronto Blue Jays win 3rd in a row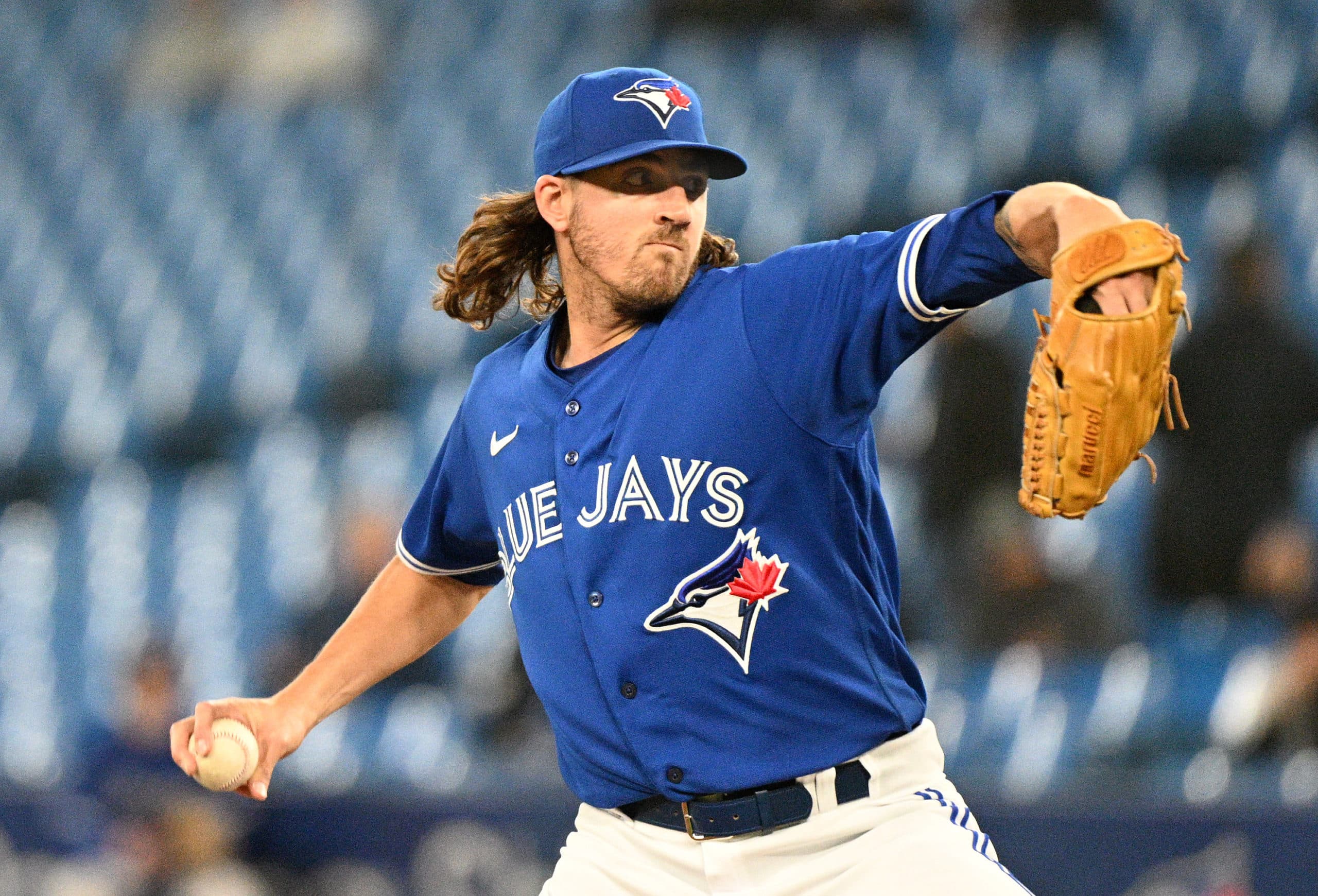 Photo credit:Dan Hamilton-USA TODAY Sports
The two highest paid pitchers on the Blue Jays' staff have come through in a big way each of the last two nights. Last night, it was Jose Berrios, and tonight, it was Kevin Gausman.
Gausman threw seven shutout innings against a struggling Yankees lineup, as the Blue Jays defeated New York 4-0, taking the first two games of this series.
Four runs were enough to get the job done, and that was all thanks to Gausman's stellar performance. Through Gausman's seven innings, he allowed four hits, no runs, one walk, and seven strikeouts. With this start, Gausman brings his scoreless innings streak on the road to 21 consecutive innings.
Gausman used a wide array of pitches tonight, accumulating his strikeouts by way of his fastball, changeup, and his well-known splitter. No one on the Yankees had more than one hit off him; the top of the Yankees order (LeMahieu, Judge, and Rizzo) were a combined 1-for-8 with a walk.
Jameson Taillon started for the Yankees, and he has been solid against the Blue Jays this season. However, the Jays scored early and often enough to keep their distance. A leadoff single in the 3rd by Whit Merrifield followed by a Cavan Biggio double would have the Blue Jays within striking distance first. Lourdes Gurriel Jr. drove in Merrifield with an RBI groundout to second base to give the Blue Jays a 1-0 lead early.
The biggest hit of the night undoubtedly came from Teoscar Hernandez, who torched a two-run home run off of Taillon in the 4th inning. Hernandez launched it 421 feet for his 18th home run of the season, and his fourth RBI of the series. Alejandro Kirk was the other run in that homer, and he had a solid 3-for-4 night with three singles.
In the 6th inning, Vladimir Guerrero Jr. smacked a lead-off double to left center field. It was Vladdy's 500th career hit, becoming the youngest player ever to achieve that feat.
Boos were peppered around Yankee Stadium all night once again, but it was more prevalent when Toronto loaded the bases against Aroldis Chapman in the 9th inning. Aaron Boone was forced to pull Chapman from the game, going to Ron Marinacchio. Danny Jansen would hit a sacrifice fly to score Matt Chapman to provide some insurance for the Jays, but Marinacchio was able to limit the damage to just that. It's becoming obvious New York is really starting to miss their arguable two best relievers on the season in Clay Holmes and Michael King.
Toronto will look to clinch the series tomorrow as Mitch White takes the bump against Gerrit Cole. Even better, Sportsnet will broadcast the game tomorrow, meaning we won't have to watch another game on Apple TV. Dan Shulman and Pat Tabler were sorely missed tonight, as the Apple TV announcers called them "Alex Monoah" and "Teeoscar Hernandez". Toronto will hopefully have George Springer back in the lineup, after sitting out tonight's game with a sore knee, retroactive to him taking a foul ball off said knee during Thursday night's game.
---