Looking at the Blue Jays' internal options for the eighth and final bullpen spot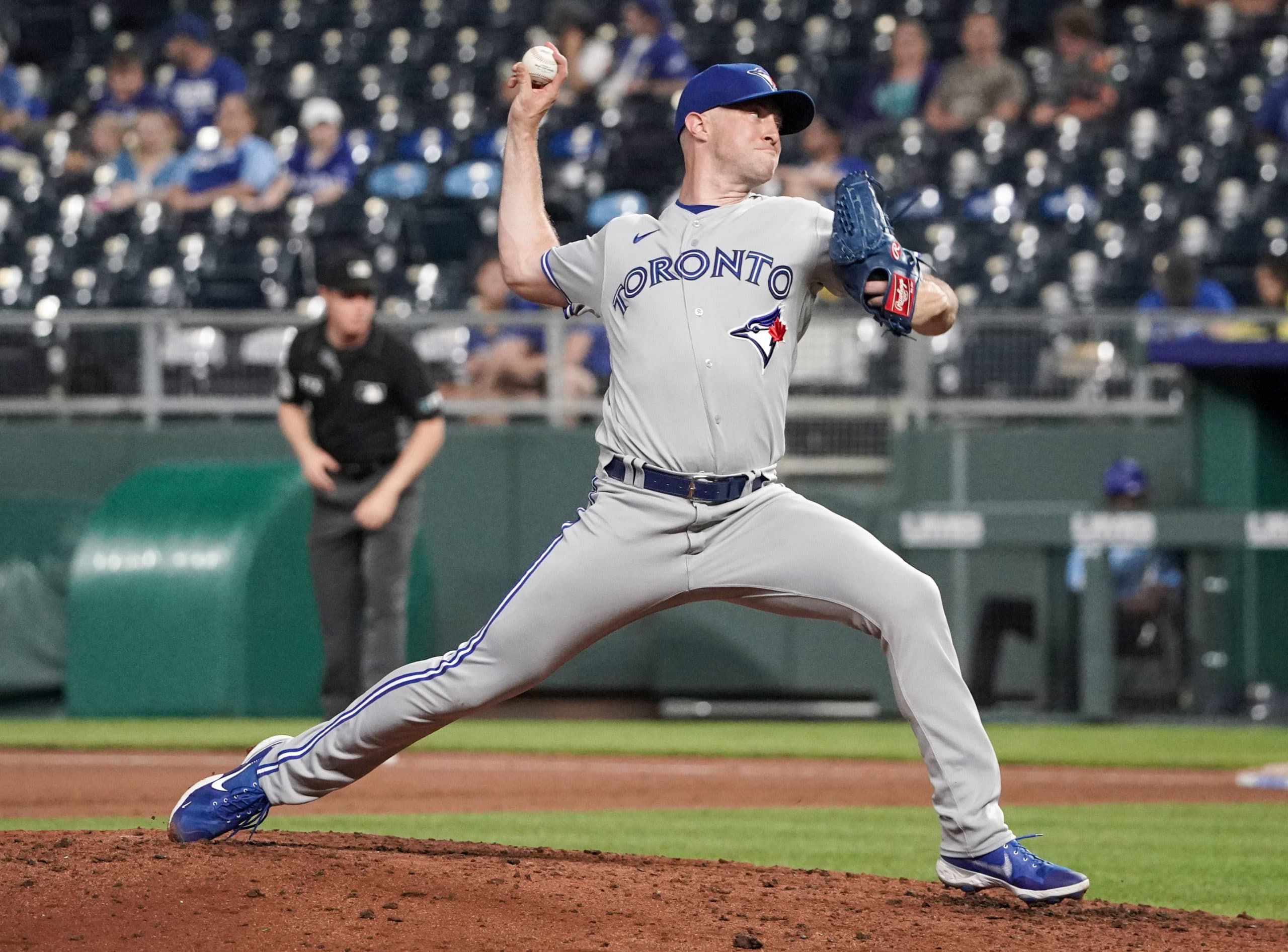 Photo credit:Denny Medley-USA TODAY Sports
Hey look, another bullpen article!
I'm under the assumption that the roster will be set to 26 men next season, with a maximum of 13 pitchers. Five starters, and eight relievers, with seven bullpen spots already locked down. Here's the list of pitchers who should have a spot unless there are trades:
Anthony Bass
Jordan Romano
Erik Swanson
Tim Mayza
Adam Cimber
Yimi García
Yusei Kikuchi OR Mitch White (not both)
The eighth option
In this article, we'll look at relievers with MLB experience on the 40-man roster (plus an American Fry), starting pitchers who could be converted to relievers (who we looked at yesterday), and prospects who could see time in the Blue Jays bullpen next season. Buckle up, this will be a long one.
The 40-man relievers with MLB experience:
There are 9 different pitchers that fit into this section, with a good chunk of them deserving a spot in a major-league bullpen. I'll denote if they have options or not. Starting with…
Zach Pop:
Pop is a major league pitcher. Out of anyone not considered a lock, he is the best pitcher. Heck, I'd probably rank him ahead of the few locks. The only reason why he's not included as a lock is due to the fact that he has options, while a few others in this section do not.
Last season between Miami and Toronto, the 26-year-old reliever had a 2.77 ERA and a 2.96 FIP in 39 innings pitched, along with a low 15.9 K% and an incredible 2.5 BB% for a 13.4 K-BB%.
Pop generates a ton of ground balls, as he had a 56.8 ground ball percentage, but his fastball averages 97 mph and touches even higher. His slider can also be manipulated, as you can see in the video below (it was a slider).
In fact, there's a chance that he could generate even more swings and misses, and he has a chance at becoming an elite reliever.
Pop also has years of control remaining, and has two more option seasons remaining. He may lock down a spot, or he may start the 2023 season in Buffalo, but it's not a matter of "if" he pitches for the Blue Jays in 2023, but when.
Trevor Richards:
The second pitcher that absolutely deserves to be in a big league bullpen, Trevor Richards had a not-so-great season in 2022, which lands him here.
He had a 5.34 ERA and a 4.07 FIP in 64 innings pitched, along with a bullpen-leading 29.2 K% and an abnormally high (for him) 12.5 BB%. Richards went down with a "neck strain" in mid-June, and once he returned, he looked pretty good.
In 35.1 innings after returning in early July, Richards had a 4.33 ERA and a much improved 2.69 (nice) FIP. He also had a 32.2 K% and an elevated 12.5 BB%, but he has a career 9.8 BB%, which tells me that this is unlikely to repeat.
Unlike Pop, Richards doesn't have an option year remaining, which means that if he doesn't make the Blue Jays opening day roster, he'll have to be designated for assignment (or traded).
In my opinion, it's his spot to lose, and I definitely believe the second half of the season is who Richards truly is. Even if it's not, what he did to stabilize the bullpen in 2021 will never be forgotten.
Julian Merryweather:
Merryweather was the return for 2015 MVP Josh Donaldson, and unfortunately, he's never found it with the Blue Jays aside from those 4.1 innings to start the 2021 season.
Last season, he had a 6.75 ERA and a 4.35 FIP, but gave up a ton of hard-hit balls which were lucky to stay in the park. Despite throwing the ball hard with an average fastball velocity of 97.4 mph, Merryweather only had a 19.3 K%. He did, however, have a pretty darn low 5.9 BB%, but he just struggled with the Jays in 2022.
Like Richards, Merryweather is out of option years, meaning that if he's DFA'ed, he'll have to pass through waivers.
Now 31 years old, it's becoming increasingly unlikely that Merryweather can figure it out, but the high velocity of his fastball could be tantalizing for another team. I don't expect him to be on the 40-man roster heading into the 2023 season, and he'll likely either be picked up in a trade (the ideal outcome) or via waivers.
Nate Pearson:
I included him in the recent starter article, but omitted some information as I believe he's destined for the bullpen.
The 26-year-old's struggles in the majors have been well documented when he's been healthy. He has a career 5.18 ERA and a 6.03 FIP in 33 innings pitched, along with a 23.7 K% and 16.4 BB%.
However, once looking at his numbers as a reliever, we get a much different picture. Pearson has a 2.51 ERA and a 3.59 FIP, to go along with a 35.5 K% and a 12.9 BB% for a 22.6 K-BB% (which is very good).
If we're looking at internal pitchers who throw velocity and are able to generate whiffs, there may be no better option than homegrown Nate Pearson. The talent is and always has been there, but the question remains his health. Perhaps short outings could help preserve his health? 
Pearson has two option years remaining, which means he can be sent to Buffalo next season, so I find it unlikely he'll be on the opening-day roster unless he earns it.
Either way, the 26-year-old flame thrower is an intriguing option to look out for in 2023.
Trent Thornton:
Trent Thornton is Thornton. We know that he has elite spin on his slider. The velocity on his fastball has increased as well, and he doesn't have issues with control.
With a good bullpen, there's always a guy that is the scapegoat, and Thornton was that guy in 2022, despite putting up decent numbers. He had a 4.11 ERA and a 4.66 FIP in 46 innings pitched. To go along with those solid numbers, he had a pretty low 19.6 K%, and a "meh" 9 B%% for a 10.6 K-BB%, the lowest for a pitcher we've covered so far.
However, Thornton's K% and BB% looked better in the 2021 season, where he had a 24.1 K% and 7.4 BB% for a 16.7 K-BB%, which is pretty solid. His issue is the occasional loud contact outing which increases his numbers in FIP and ERA, but Thornton is good for what he is: a bulk reliever who eats innings.
Thomas Hatch:
The Blue Jays traded David Phelps (who interestingly, is an external option for bullpen help) for Thomas Hatch at the 2019 trade deadline.
The 28-year-old righty didn't have a great season in 2022 with the Triple-A Buffalo Bisons, as he posted a 4.67 ERA and a 4.52 FIP in 131 innings pitched in 22 starts. 
Hatch sits in the mid-90s with his fastball and has a devastating changeup, so he could be an option for the bullpen. In fact, he had that opportunity in 2020, where he posted a 2.73 ERA and a 4.14 FIP in 26.1 innings pitched with a 21.1 K% and an 11.9 BB%.
The 28-year-old has one option year remaining but may be the most obvious DFA candidate if the Blue Jays sign another player in free agency. It's clear the team is high on him, so I'd be surprised if he isn't in the Jays organization in 2023.
Junior Fernández:
The 25-year-old reliever was recently picked up on waivers and is a hard-throwing reliever. We'll get to the other hard-throwing Ju. Fernández later in this article.
Averaging 99 mph in his 18.2 innings pitched with the St. Louis Cardinals and Pittsburgh Pirates,
Fernández posted a 2.41 ERA and 5.79 FIP. He had a 16.7 K%, which is rather surprising for the velocity he throws, but the 14.3 BB% was a lot less surprising.
Fernández's changeup hasn't been talked about a lot by Blue Jays fans, but that was/is his best pitch, receiving a 60-grade from Fangraphs (as of 2021).
There's an interesting player in Fernández, but with no options, he'd have to either make the bullpen out of spring training, or he'll have to be exposed to the waiver wire. It's unlikely that he'll be in the Jays organization unless he comes out
dominating
in spring training.
Matt Gage:
The first of two soft-tossing lefty relievers to close out this section, we have 29-year-old Matt Gage.
He got a cup of tea with the Blue Jays in 2022, posting a 1.38 ERA and a 3.88 FIP in 13 innings pitched. He had a solid 24 K%, but had an elevated 12 BB% in his time with Toronto.
A larger sample size can be found with the Buffalo Bisons, where he had a 2.34 ERA and a 2.78 FIP in 42.1 innings pitched. He had a 27.4 K% and a 9.5 BB% with Toronto's Triple-A team.
With two option years remaining, it's likely that the Blue Jays see Gage as a depth arm in case Mayza deals with an injury, but he'll be an interesting guy to track in 2023.
Paul Fry:
I won't lie, I had no idea where to put Fry, so I included him in the "Relievers with MLB experience section", but he's only on a minor league deal with an invitation to spring training.
Another soft-tossing left-handed (whom the Jays have a thing for), the 30-year-old posted a 6.23 ERA and a 4.50 FIP in 13 innings with the Baltimore Orioles and Arizona Diamondbacks in 2022. In his past two seasons, he's struggled with his BB%, as it's sat at 16.3% and 14.8% respectively.
Fry does have the ability to generate swing and miss, as he had a solid K% of 23% in 2022, as well as a 27.9 K% in 2021. His best season came in the plague season, where he had a 2.45 ERA and 3.69 (nice) FIP in 22 innings pitched. This saw a career-high 29.6 K% and a career-best 9.2 BB%
If you want a larger sample size, his 2018 was pretty good as well, as he posted a 3.35 ERA and a 3.11 FIP in 37.2 innings pitched. However, he only had a 22.6 K% that season, plus that was a generation ago, so it doesn't really matter.
I find it unlikely that Fry will make it out of spring training, but he's on a minor league deal, meaning he'll probably start with Buffalo. He also has two option seasons remaining.
Starters who could be converted to a reliever:
This section will be rather short, as we looked at three starters in Saturday's article, while the other starter is Casey Lawrence.
Yosver Zulueta:
One of two prospects in this section, my best guess is that the 24-year-old hard-throwing righty will start the season in Buffalo stretched out. He has an excellent pitch mix, and I doubt the Jays would like to give up his high-ceiling potential in the rotation.
However, he's on the 40-man roster, throws 100 mph with a nice slider, and already pitched out of the bullpen in the 2022 season. It's possible we see him out of the pen if they desperately need bullpen help, but my best guess is that they like him as a starter.
Bowden Francis:
I have no idea what the plan is for the 26-year-old. On paper, his 2022 wasn't great, but post-July 6th, his numbers improved drastically in a bulk reliever role. You can read more about that in the starter article, which once again is linked here.
What's more is that he's absolutely dominating the Puerto Rican Winter League as a starter, so I really have no idea what the plan is for Francis, but he could factor in for the 2023 Blue Jays.
Drew Hutchison and Casey Lawrence:
I included the former in the starting pitcher article, but both these guys will likely start and finish the season with the Buffalo Bisons. There is a scenario where either one of these guys have to pitch for the Jays, but that'd take a ton of injuries.
It's unlikely, and hopefully, it doesn't come to that, but having two experienced pitchers in the minor leaguers to mentor up-and-coming starting pitching prospects is incredibly valuable.
Relief prospects who could pitch for the Jays in 2023:
The Jays have a ton of experienced relievers fighting for the last spot in the bullpen, but they also have a litany of reliever prospects who are percolating in the high minors.
Hagen Danner:
The 24-year-old righty missed the majority of the 2022 season due to injury but looked really good when he pitched for the Salt River Rafters in the Arizona Fall League. He posted a 3.52 ERA in 7.2 innings pitched in the fall league, along with a 28.6 K% and a 3.6 BB%.
He sits in the high-90s, has a sharp downward slider, and has an underrated curveball with plenty of vertical drop. Danner is on the Jays' 40-man roster, and could start the season in Double-A, but expect him to rise up the minors quickly.
It's also worth noting that Danner was drafted as a catcher and only converted to a pitcher to start the 2021 season. He's legit.
Brandon Eisert:
Drafted in the 18th round of the 2019 draft, Eisert posted a 3.41 ERA and a 3.57 FIP in 60.2 innings pitched with the Buffalo Bisons.
Like Matt Gage and Paul Fry, Eisert is a soft-tossing lefty, sitting 91-93 mph with his fastball. Deception and extension help the fastball play up, while he has a sweeping slider and changeup which both generate plenty of whiffs, as he had a 31 K% and 6 BB% (25 K-BB%) in 2022.
Adrián Hernández:
Hernández spent the 2022 season at four different levels, but we'll focus mainly about his time the Buffalo Bisons. Overall, he posted a 4.96 ERA and a 3.79 FIP in 32.2 innings pitched, with a 32.1 K% and an 11.7 BB%. Hernández suffered a shoulder injury in the middle of the season, but had a 1.88 ERA and 3.66 FIP prior to the injury, before struggling once returning.
He has a 75-grade fastball with a slightly below-average fastball and curveball. Furthermore, when he loses command, he gets hit hard. If he can find consistent command in the future, he could be used in high-leverage scenarios for the Blue Jays.
Julián Fernández:
Fernández was signed to a minor league deal and features a fastball that sits in the high-90s, but has touched as high as nearly 103 mph. Fernández also has an underrated changeup with a 41 whiff % in 2022.  While his 6.63 ERA and 7.00 FIP in 57 innings in Triple-A weren't great in 2022, context needs to be applied.
He played in Albequerque, which similar to Coors Field, is played at a high altitude, so his 2.37 HR/9 is incredibly inflated. While he struggles with command (12.3 BB%), he gets a solid amount of strikeouts and could be one mechanical change away from being a pretty darn efficient reliever in the big leagues.
I'm excited to watch Fernández pitch in 2023, and he has a real shot to do so with the Jays at some point.
Hayden Juenger:
Selected in the sixth round of the 2021 draft, the 22-year-old had a successful first full season in the minors.
Between Double-A New Hampshire and Triple-A Buffalo, he had a 3.76 ERA with a 29.5 K% and a 10.2 BB%. There were occasions where he was hit hard for homers (18 on the season), but Juenger's overall body of work was pretty great, considering he was only 21 years old for a large portion of the season.
He sits in the mid-90s with his fastball, and has a plus changeup and slider. It's to be seen if the Jays plan to use him as a starter as they did to start the 2022 season, but he could factor into the Blue Jays bullpen in 2023 at some point.
Who takes the 8th and final spot:
In this article, I listed
18
different pitchers, mainly relievers and a few potential starters. Without question, the Blue Jays have a ton of depth in the organization, but there's a good chance that quite a few of these pitchers, especially the ones with options, aren't on the Jays come opening day.
It's hard to say for sure who'll earn that eighth spot, but my guess is that it's Trevor Richard's to lose.
There may be trades (even for the locked guys), there may be relievers lost over the waiver wire, but the Jays may look externally for a reliever (Andrew Chafin, please), or they may even trade for a guy like Liam Hendriks, albeit, it's unlikely.
All I know is that the Jays have built incredible bullpen depth, and there are even more prospects on the way.
As always, you can follow me on Twitter and Instagram @Brennan_L_D. I hope you enjoyed this article, as I stayed up all night writing this as well as a few others.
---