Looking at the Blue Jays' internal replacements for their upcoming free agents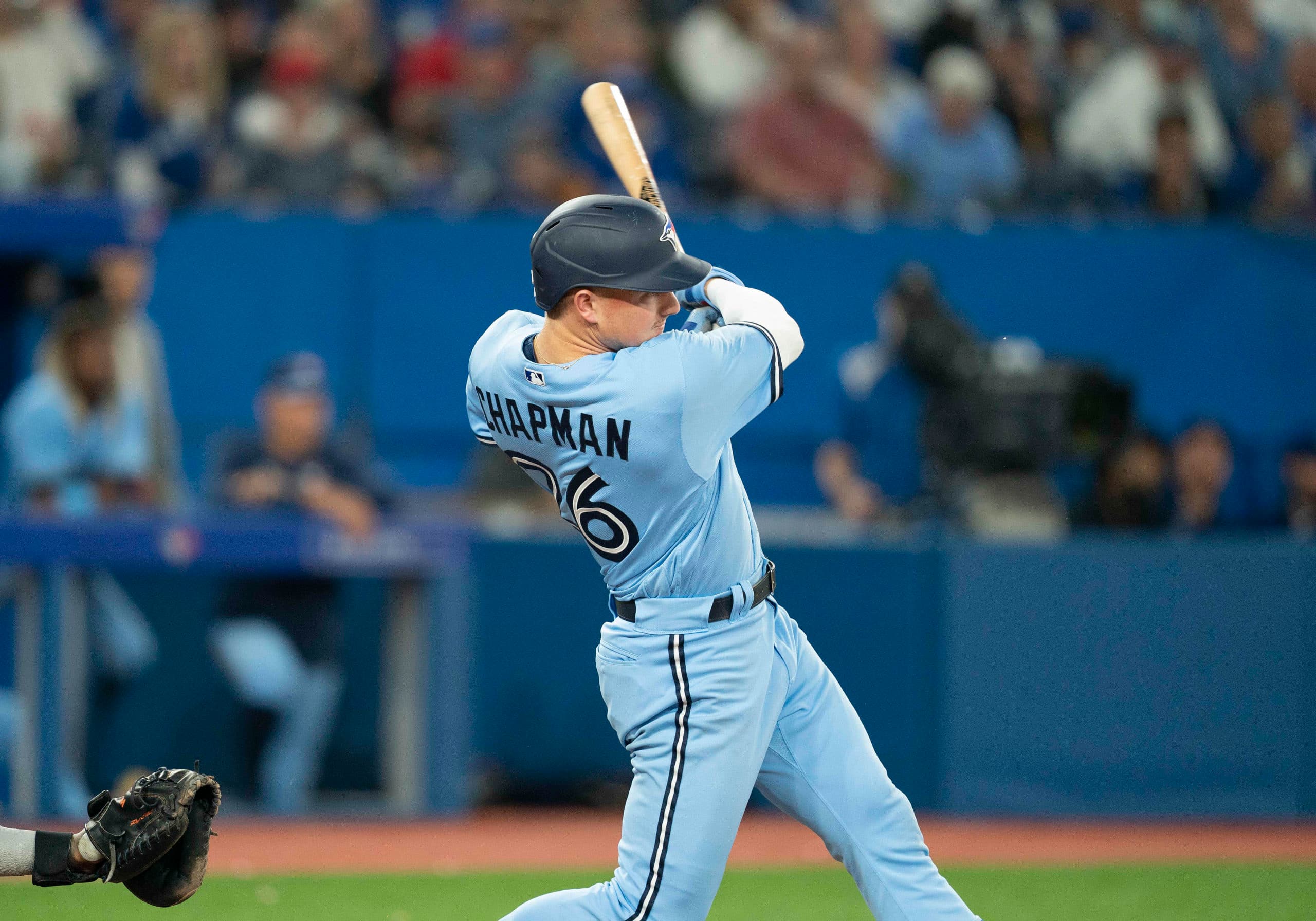 Photo credit:Nick Turchiaro-USA TODAY Sports
As you may know, there are several players on the Blue Jays roster that will become free agents after the season is done.
That begs the question, do the Blue Jays have the players in the system to replace the big leaguers who could depart after season end?
In this article, we'll look at the five free agents' production, and which Blue Jays minor leaguers could replace him.
Whit Merrifield:
Whit Merrifield has been one of Toronto's most consistent players all season, as he's slashing .291/.347/.373 with two homers in 294 plate appearances. He has a 7.1 BB% and a 16.7 K% for a 104 wRC+ and a 1.4 fWAR.
Merrifield technically has a mutual option, but that's worth $18,000,000, and I'm willing to bet my life savings (which is significantly less than 18 million) that he ends up being a free agent unless he's re-signed.
Who could replace Whit Merrifield:
The Blue Jays have
a ton
of second basemen that double as utility players. 
The most immediate player that comes to mind is
Davis Schneider
, as he's slashing .262/.385/.529 with 15 homers in 270 plate appearances, along with a 16.3 BB% and a 24.1 K%.
Otto López
is another player who could end up taking the spot, as he's already on the 40-man roster. The 24-year-old utility player is slashing .244/.301/.303 with a homer in 259 plate appearances this season, but has been slashing .281/.341/.331 in 176 plate appearances since the start of May.
Of course, you have a few other players that could fill the role.
Rafael Lantigua
is one of these players, as he's slashing .272/.412/.415 with four homers in 274 plate apeparances, but has cooled off in recent times.
Tanner Morris
is another option, but he's slashing .238/.328/.349 with three homers in 195 plate appearances this season.
Brandon Belt:
I'd argue that next to Bo Bichette, Brandon Belt has been the Blue Jays best hitter this season.  The 35-year-old first baseman/designated hitter is slashing .263/.368/.427 with four homers in 201 plate appearances. His K% of 37.3% is very high, but he has a 13.9 BB%, and a 125 wRC+. This doesn't even factor in an abysmal start to his season. 
Who could replace Brandon Belt:
This one is pretty easy, as
Spencer Horwitz
is on the cusp of making the big league roster, and has already had a few plate appearances for the big league team. In Triple-A, he's slashing .302/.421/.401 with two homers in 273 plate appearances, along with a 16.1 BB% and a 17.2 K%. He doesn't have a prototypical first baseman's approach, but he could definitely carve out a role on a big league team.
L.J. Talley
has an outside shot at replacing Belt. This season, he's slashing .261/.372/.384 with three homers in 164 plate appearances. He had a solid spring training.
Damiano Palmegiani
and
Ranier Nuñez
are prospects to keep an eye on, but their estimated time of arrival may be closer to 2025.
Matt Chapman:
The best of the possible free agents, Matt Chapman has had a streaky season. For the season, he's slashing .265/.343/.457 with 10 homers in 329 plate appearances, but after a hot start in April, he has cooled off. Still, his 123 wRC+ is among the best on the Blue Jays this season.
Who could replace Matt Chapman:
Realistically, there are two players as it stands that could replace Chapman. The most MLB-ready prospect is
Addison Barger
, who is in Triple-A, but has had his season derailed due to injury. After breaking out in 2022, he's slashing .211/.317/.289 with a single homer in 104 plate appearances, along with an 11.5 BB% and a 32.7 K%. An elbow injury could have a lot to do with his slow start, but the talent is there.
Orelvis Martinez
had a slow start, but has been one of the best hitting prospects in the organization since May. Overall, he's slashing .216/.319/.502 with an organization-leading 17 homers in 253 plate appearances. Moreover, his K% has dropped from 28.5% to 20.2%, while his BB% has risen from 8.1% to 12.6%. He's still in Double-A though.
Kevin Kiermaier:
The 33-year-old has been better than anyone expected. The centre fielder is slashing .276/.332/.444 with four homers in 215 plate appearances. He's not just getting it done with the bat, but with the glove as well. Kiermaier has a 14 Defensive Runs Saved and a 9 Outs Above Average in 508 innings played in the outfield.
Who could replace Kevin Kiermaier:
The Blue Jays don't have a lot of centre fielders in the minor leagues, but one of the more intriguing outfielders is
Cam Eden
. The organization is prepping the 25-year-old to fill in Kevin Kiermaier's role as a second leadoff hitter, and to Eden's credit, he's excelling. He's slashing .240/.354/.318 with two homers in 231 plate appearances, and has a 10.8 BB% and a 27.3 K%. He's also stolen 31 of 32 bases, meaning that if he gets a single or a walk, there's a good chance it essentially ends up being a double.
The Jays also have the option of moving Daulton Varsho to centre field, and bringing up a prospect to play left field. A lot of players we've already covered have experience in left field, such as
Spencer Horwitz, Otto López, Davis Schneider
, and
Rafael Lantigua.
Of course, you have
Nathan Lukes
as an option as well
With the Bisons, he's slashing .311/.415/.556 with two homers in 53 plate appearances.
Yimi García:
The 32-year-old has a club option for $5,000,000 next season, but the Jays may not elect to activate it. García has had a tough season, as he has a 5.18 ERA and a 3.88 FIP in 33 innings pitched, along with a 26 K% and a 6 BB%. His average velocity of 96 mph is the highest it has been in his career though.
Who could replace Yimi García:
The question is, who
can't
replace Yimi García. That isn't a knock on the 32-year-old, the Jays just have a bunch of solid relievers in the upper minors.
Hayden Juenger
has a 6.46 ERA and a 4.32 FIP, but has a good 29.7 K% and a 9.9 BB%, and has been
super
unlucky, with a .431 BABIP in 39 innings.
Hagen Danner
is one of a few relief prospects on the 40-man roster. He has a 4.50 ERA and a 5.72 FIP in 12 innings pitched with the Bisons, along with a 28.6 K% and a 10.2 BB%. Still, he's throwing in the high-90s with great secondaries.
Yosver Zulueta
is another option, he has a 4.34 ERA and a 4.71 FIP in 37.1 innings pitched, along with a 23.9 K% and a 17.6 BB%. He does however, throw pitches over 100 mph sometimes, and missed a lot of his development to COVID, Tommy John, and a freak knee injury.
Of course they have guys like
Jimmy Burnette, Brandon Eisert, Mason Fluharty, T.J. Brock,
and
Connor Cooke
. However, I wrote a 4,500 word article on every single reliever in the organization, which you can read here.
Who will leave:
The only player I think is definitely leaving is Matt Chapman. However, if all five of these players leave, the Jays do have some prospects who are definitely capable of closing the gap.
---
As always, you can follow me on Twitter and Instagram @Brennan_L_D. The stats used in this article are accurate as of June 29th
---