Looking at the Blue Jays position player prospect who are eligible for the 2022 Rule 5 Draft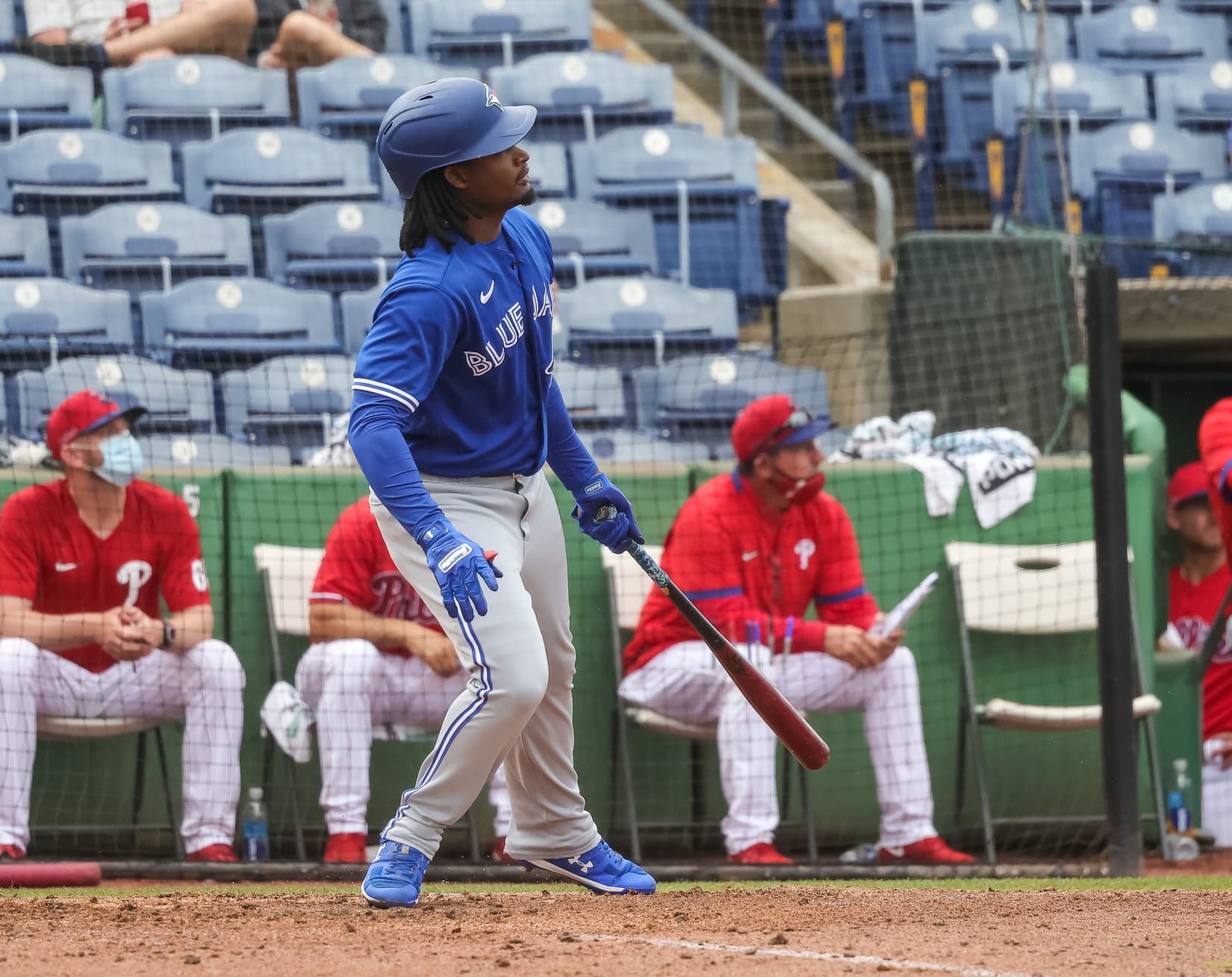 Photo credit:© Mike Watters-USA TODAY Sports
There are likely a few guys you may have never heard of before, while some of them are top prospects. Let's just hop right into it.
Davis Schneider
Selected in the 28th round of the 2017 draft, Schneider played at three levels in 2022 and was a standout for all three teams. The 23-year-old started with the Vancouver Canadians, where he slashed .229/.354/.459 in 189 plate appearances. He had eight homers and a 15.3 BB% and 26.5 K% with the High A team.
Upon his promotion to Double A New Hampshire, he slashed .283/.369/.476 with six homers in 190 plate appearances. There he had an 11.6 BB% and a 24.2 K% for a 131 wRC+, the highest at any level in 2022.
Towards the end of the minor league season, Schneider was promoted to Triple A Buffalo, where he slashed .233/.387/.400 with two homers in 75 plate appearances. He had an absurd 18.7 BB% and a 26.7 K% for a wRC+ of 118.
Throughout the 2022 season, Schneider had 17 steals in 19 attempts and showed a fantastic eye at the plate, walking 69 times (nice), for a walk rate of 15.03% across the three levels.
Not just that, but Schneider can play both left field and second base, giving him some versatility and options.
While he probably won't be added to the 40-man roster to protect him for the Rule 5 draft, he rose his stock massively in 2022 and should rank as a Top 30 prospect in due time.
Chavez Young:
A switch hitter, Chavez Young is in my opinion, the best defensive outfielder in the Blue Jays organization – including in the big leagues.
In Triple A this season, he slashed .234/.331/.350 with five homers and a 12.1 BB%, and a 23.4 K% in 248 plate appearances. While his 86 wRC+ was considered below average, it was due to the lack of extra base hits.
However, once the Bahamian gets on base, he'll wreak havoc on the base paths. In just those 248 plate appearances, he got on base 82 times and stole 20 bases in 21  attempts.
But that isn't the only thing that Young offers, as his defense is just absolutely fantastic. With his speed, he can cover so much range. Not just that, but he has fantastic instincts, is incredibly athletic, and has a strong arm.
He likely won't be added, nor will he be drafted, but Chavez Young is a guy that could easily replace Jackie Bradley Jr. or Bradley Zimmer while offering more on the offensive side.
Rainer Nunez:
Another prospect that raised his stock in 2022, Rainer Nunez also won some accolades.
The 21-year-old first baseman slashed .299/.328/.482 with 15 homers in 384 plate appearances in Low A. He had a solid 21.4 K%, but his BB% dropped from 13% in 2021 to 3.6%. This led to a wRC+ of 126, while also winning the batting title for the Florida State League.
He was promoted to Vancouver with a player that will appear later in the list. Rainer slashed .321/.379/.491 with four homers in 116 plate appearances in High A. His K% jumped to 23.3, but his BB% increased to 8.6%, which leads me to believe that the plan for him was to swing in Low A.
Nunez had an average exit velocity of 87.92 mph, which ranks third amongst the batters with the D-Jays. He had a hard hit % (over 95 mph) of 36.98%, which ranked third as well (behind Peyton Williams and Devonte Brown).
The most promising sign of his season was the fact he was the only Dunedin Blue Jay in 2022 with an exit velocity of 110 mph, which he did five times.
Like the other two players listed above, he likely won't be added to the Rule 5 draft or picked in the Rule 5 draft, but he is a prospect to keep an eye on.
Alex De Jesus:
The only player of the 16 acquired via trade, De Jesus had a whirlwind season, playing for four different teams in two different organizations.
He started 2022 with the Los Angeles Dodgers' Low A team, slashing .259/.398/.483 in 176 plate appearances. He hit seven homers and had a 28.4 K% and an 18.2 BB% for a wRC+ of 129.
He was promoted to their High A team, where he slashed .282/.376/.421 with four homers in 226 plate appearances. His BB% dropped to 12.4%, while his K% increased slightly to 28.8%, but all in all, he continued to play well for a wRC+ of 125.
Involved in the Mitch White deal, the Jays sent pitching prospects Nick Frasso and Moises Brito for the big leaguer and Alex De Jesus. 
De Jesus tapered off with the Canadians, slashing .211/.298/.33 with two homers in 104 plate appearances. His K% skyrocketed to 34.6%, while his BB% dropped to 11.5% for a wRC+ of 79. However, it's difficult moving from one team to another mid-season, so it's hard to judge his performance in the Jays organization until next season.
Some positive signs include the fact that he didn't have a high whiff rate, despite the high K% (meaning he was just more selective). He also had a 25.5 line drive percentage, which is extremely high. As you may know, line drives have a batting average of about .400 points higher than fly balls and ground balls.
Not just that, but he was only 20 years old, rather young for the High A level. Adjustments will have to be made, but overall he's an exciting prospect.
It's unlikely that he'll be added to the 40-man roster, but just due to how young he is and the level that he's at, I find it hard to believe he'll be selected in the Rule 5 draft.
Gabriel Martinez:
G. Martinez is the first prospect in this series that I have no idea if he'd be added or not.
Coming into this season, G. Martinez ranked as my 17th best Blue Jays prospect, slashing .330/.448/.410 with no homers in 125 plate appearances in the FCL in 2021. He had a 16.8 BB% and a 14.4 K% for a wRC+ of 140, but the lack of power knocked him down a bit.
However, G. Martinez proved us all wrong this season. Starting his season with the Dunedin Blue Jays, he slashed .288/.348/.483 with
eleven
homers in his 264 plate appearances. While his 8.3 BB% was a drop from the season prior, while his 17 K% rose, G. Martinez's power put him on basically everyone's radar.
He was promoted to Vancouver with Rainer Nunez, where the outfielder slashed .324/.381/.490 with three homers in 113 plate appearances. He also had an 8 BB% and a 15 K% for a wRC+ of 142.
Martinez still hits for a good average, but now supplies power, as well as plus defense. I wouldn't be surprised if he continues to jump up prospect lists.
However, I have no idea if the Jays will add him to the 40-man roster. Martinez definitely has the raw tools, but he's just so young at a low level. I could see it going either way, but I also don't think a team would take a chance on him.
He ranks as Blue Jays Nation's 9th best Blue Jays prospect. https://bluejaysnation.com/2022/08/31/blue-jays-nation-2022-mid-season-prospect-countdown-10-1/
Spencer Horwitz:
One of the older players to rank on this list, Horwitz arguably has the best hit tool in the entirety of the Jays' organization.
After a 27-game hit streak with the Vancouver Canadians in 2021 put him on my radar, this season was a breakout year for the 24-year-old first baseman/left fielder.
Starting with the Double A Fisher Cats, he slashed .297/.413/.517 with ten homers in 281 plate appearances. He had an outstanding 15.3 BB% and a 19.2 K% for a wRC+ of 155.
Horwitz hit the ground running with the Triple A Bisons, slashing .316/.381/.509 with two homers and a 9.5 BB% and 23.8 K% in 63 plate appearances, but tapered off towards the end of the season.
His last two months were plagued with injuries, one with a sprained right thumb, and one unknown injury that landed him on the IL for the last few series of the season.
Overall with Buffalo, he slashed .246/.361/.363 with two homers in 202 plate appearances. He still drew a ton of walks with a 14.9 BB%, while his K% only rose to 20.3%. Overall, he finished with a 101 wRC+ at the level, likely due to the lack of homers.
Either way, he built upon his 2021 breakout season, while adding more versatility to his game (playing in left field).
Like G.Martinez, it could go either way if he's added to the 40-man roster. I personally gave him a 65 grade hit tool, but I've seen other sites give him as high as 70. He's legit there, and he does have some power that he doesn't always tap into. Would a team draft him in the Rule 5 draft? I think it's a 50/50 chance.
Still, his hitting and the ability to play in left field could certainly benefit the Jays as soon as next season, so definitely keep an eye on the soon-to-be 25-year-old.
Orelvis Martinez:
We looked at one Martinez, but now it's time to look at Orelvis Martinez (who I'll be calling "Orelvis" in this article).
I've gone over Orelvis a thousand times up to this point. As a 20-year-old, he hit 30 home runs in Double A, which is an incredibly advanced level for his age. While his slash line didn't stand out (.203/.286/.446), he put together a good season in the power department and made improvements in his swing decision.
With just how young he is, you cannot look at this season as a failure, in fact, it's quite the opposite. Yes, he didn't hit for average, but as he gains more experience against pitchers that are older than him, it may increase to .230 or .240.
Another thing I often read is the fact that he had a high strikeout rate, which is not really the case. Yes, his 28.5 K% is above average, but when you factor in his age relative to pitchers, as well as that he hit 30 bombs, you should be okay with that type of K%.
It's not like he didn't take a walk either, as he had an 8.1 BB%, which is quite impressive once you factor in that Orelvis only walked once between April 8th and May 3rd.
As he gains more experience, Orelvis will have a better approach at the plate. Also as he grows older, he'll add more strength and have
even more
power. He's not likely to stick at shortstop, but he certainly has the arm to play third base.
He'll definitely be added to the 40-man roster as his ceiling is just too high. Where will he start? My guess is Triple A if he has a good spring training like last season.
Addison Barger:
Like Orelvis, I've written entire articles on Addison Barger, and how he's really become a top 5 Blue Jays prospect. Long story short, as a 21-year-old in Low A, he had 18 homers, but a 32.9 K%, which excluded him from my preseason list (which yes, also nearly excluded Tiedemann.)
This season was his breakout year, slashing .300/.366/.558 with 14 homers in 292 plate appearances with the Vancouver Canadians. His K% dropped to 26%.
He hit the ground running after his promotion to New Hampshire, where he slashed .313/.384/.528 with nine homers in just 198 plate appearances. His K% once again dropped to 25.3%.
After the Fisher Cats' season ended, he was promoted to Triple A Buffalo, where he had an eight game hit streak, once again hitting the ground running. He slashed .355/.444/.677 with three homers in just 36 plate appearances. Although it was a small sample size, he had a 13.9 K%.
Although it hasn't been confirmed that he's been added to the 40-man roster, the 22-year-old shortstop/third baseman was added to the Arizona Fall League roster. Usually, in this case, soon-to-be exposed players to the Rule 5 draft would be hidden from teams, so this leads me to believe that the plan is to add him to the 40-man after the season is done.
Not just that, but if he performs well in both the Arizona Fall League and Spring Training, I think there's a real shot at him starting the season in the MLB, as crazy as that sounds.
I think it's possible he gets reps in an outfield spot, but the Jays need to add lefties to the lineup, and he fits that mold. Moreover, perhaps they plan to slide him over to second base, where I think he could be an everyday player at that position (corresponding moves would need to be made).
In an attempt to stop service time manipulation, the MLB added draft picks to six teams that have Rookie of the Year candidates. As far as I can tell, it is still active, so that's another incentive for the Jays if they believe Barger is ready.
Tanner Morris:
Much like Barger Tanner Morris is a Rule 5 eligible prospect heading to the Arizona Fall League. Like Barger and Horwitz, 2022 was a breakout for the recently turned 25-year-old utility infielder.
Starting his season with the Double A Fisher Cats, he slashed .312/.430/.468 in 186 plate appearances. He added five home runs, while walking as much as he struck out (16.1% of the time).
He was promoted to Buffalo, where he slashed .173/.352/.173 with no homers in 126 plate appearances. While the batting average is quite low, the fact he walked 19.8% of the time is utterly fantastic. He also only struck out 19.8% of the time, which by itself is quite low.
Unlike Barger, Morris had two different stints on the injured list, which is possibly another incentive as to why he's attending the Arizona Fall League.
I believe that there's a good chance he'll be added, as he's a solid defender who can draw quite a lot of walks. He's also shown pop in the past, and could be called up next season in case of an emergency to fill in as the utility infielder on the Jays.
Who'll be taken off:
That begs the question, which players currently on the 40-man roster will be taken off? As it stands, my list of players that will be added are:
Yosver Zulueta
,
Gabriel Martinez/Spencer Horwitz
,
Orelvis Martinez
,
Addison Barger
, and
Tanner Morris
.
So that leaves five or six spots that will need to be cleared out for prospects. Ross Stripling, David Phelps, and Jackie Bradley Jr may leave, but due to incoming free agents, we won't count those spots. 
So, which of the 16 prospects do you think will be added to the 40-man roster to avoid the Rule 5 draft? Who would you take off? Let me know in the comments, or you can just tweet at me.
As always, you can follow me on Twitter @Brennan_L_D.
---