Looking back upon newly-promoted Gosuke Katoh's journey to the majors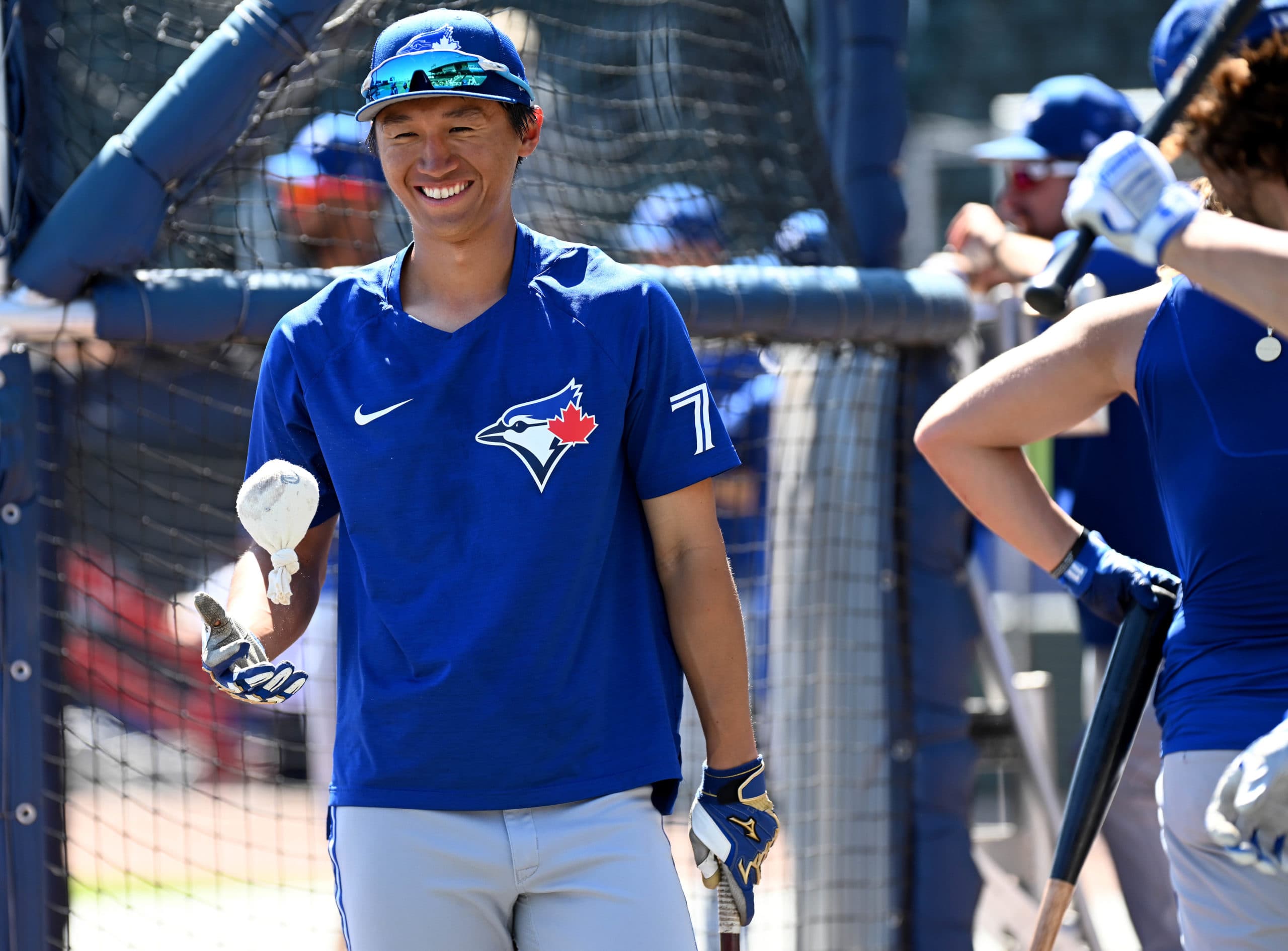 Photo credit:Jonathan Dyer-USA TODAY Sports
In most cases, it's normally about the journey, not the destination. But for career minor leaguer Gosuke Katoh, it's both.
Originally born in Japan, Katoh's journey began at an extremely young age as he and his family moved to San Diego, California, when he was just six years old. He didn't know it back then, of course, but this was the first of many steps he'd take to eventually become a professional baseball player.
Between being drafted by the New York Yankees in 2013, spending nine seasons in the minors and nearly changing his occupation once or twice, the 6-foot-1, 197-pound infielder has certainly overcome plenty of obstacles in his career. Luckily, it wasn't all for nothing.
In the end, after logging over 3,000 plate appearances across 763 minor league games, the 27-year-old's determination finally paid off Monday afternoon as it was announced he had made the Toronto Blue Jays' Opening Day roster.
Now, Katoh is slated to make his major-league debut at some point during the 2022 campaign, which is sure to be a very special moment. As a kid that grew up idolizing Japanese star Ichiro Suzuki, just like so many others did too, his dream of playing at the highest level is about to come true – something he likely didn't believe was possible a few years ago.
It's not every day that a touching story like Katoh's comes around. When they do, however, it reminds everyone how heart-warming sports can be, both off and on the field.
There isn't a straight line to success, which means there's more than just one path to reaching the majors. With Katoh, reaching this monumental point of his career just took significantly longer than anyone previously anticipated.
2013
Nearly a decade ago, Katoh was selected out of high school by the Yankees in the second round of the 2013 MLB Draft. At the time, some experts were caught off guard by this decision, while others thought very highly of the former Rancho Bernardo HS product.
Shortly after having his name called, there was little time to celebrate as high expectations were almost immediately placed on the then 18-year-old. Fortunately, the left-hander rose to the occasion and enjoyed a strong start to his professional career, slashing .310/.402/.522 through 215 plate appearances in the Gulf Coast League.
In just a short time, Katoh showcased his impressive bat-to-ball skills along with his ability to reach base consistently, as he registered a .378 BABIP and a .434 wOBA. Better yet, he also flirted as a power hitter at times, too, resulting in six home runs and a .212 ISO.
All things considered, the youngster's inaugural campaign inside New York's organization was a resounding success.
2014
Rewarded for his progress, Katoh quickly jumped to the next level as the Yankees assigned him to low-A Charleston in hopes of testing his craft against advanced competition. Sadly, this promotion ended up slowing his development rather than fast-tracking it.
No longer did this young lefty serve as an above-average run producer. Instead, he succame to high amounts of strikeouts, recording a 30.5 per cent clip – a 10 per cent increase from '13.
Adding to his woes, Katoh struggled to replicate his contact and slugging metrics from the previous season, which also negatively impacted his on-base results. In total, he finished with just three round-trippers, a .339 BABIP, a .322 wOBA and a .222/.345/.326 slash line in 465 plate appearances with the RiverDogs.
Judging by his respectable BABIP, it seems Katoh was unlucky on occasion while putting balls in play, leading to his poor batting average. Still, he didn't help his case by striking out as often as he did.
2015
Coming off his disappointing performance, management ultimately decided it was best to send Katoh back to rookie ball during the 2015 season, although he was assigned to the Appalachian League this time around.
There, the versatile infielder – who can play all four infield positions and both corner outfield spots – compiled 254 plate appearances with the Pulaski Yankees. During that time, he returned to the reliable on-base threat that he had been known as previously.
Overall, he made a considerable impact via his .390 BABIP, .399 wOBA and .287/.426/.416 slash line. Not to mention, his strong bounce-back performance also saw him hit five home runs, easily surpassing last season's total in a significantly shorter time.
Thanks to these results, Katoh made his way back to low-A Charleston later that season, unfortunately, he couldn't finish on a positive note. Across just 39 games, his swing-and-miss concerns returned once again, as he performed to a career-worst 33.6 per cent strikeout rate over 149 plate appearances.
The struggles didn't stop there for Katoh, who concluded his season with a miserable .253 BABIP, .234 wOBA and .161/.264/.202 slash line. At which point, he seriously considered stepping away from baseball.
But after mulling his options, he opted to stick with it and ultimately returned the following year. Thankfully, this was a decision he wouldn't regret.
2016-2017 
Proving that a third time's the charm, Katoh opened the 2016 campaign with the RiverDogs and this time around, he made some steady improvements at a level that had proven extremely challenging in the past.
Though he didn't produce eye-popping statistics, his strikeout rate at low-A Charleston dipped below 30 per cent for the first time as it came in at 26.1 per cent. Given his 10.3 per cent walk rate, he was still striking out more often than his coaches would've preferred, nonetheless, this was still viewed as notable progress.
Along with his improved plate discipline, Katoh's contact and on-base metrics also faired much better than compared to '15. As a result, he earned a .320 BABIP, a .307 wOBA and a .229/.320/.335 slash line across 253 plate appearances in 65 games.
Then, during the 2017 season, the contact-driven lefty received his first taste of high-A competition as he spent the entire schedule with the Tampa Yankees. Before too long, he caught the coaching staff's attention while enjoying one of the best statistical showings of his career.
Building off his success from '16, Katoh hit six home runs and slashed .293/.376/.440 over 346 plate appearances in 84 games. Additionally, his walk (11.6 per cent) and strikeout rates (20.8 per cent) were also very encouraging, leading to his outstanding .377 wOBA – his highest mark since '15.
If not for making these strides in 2016-2017, it's worth wondering if Katoh would still be playing professional baseball in '22. Based on his trajectory back then, he might have given up on his dreams if his career didn't turn around, luckily, it has.
2018
In 2018, Katoh continued climbing through New York's system and earned a well-deserved promotion to double-A Trenton, where he remained for the entire season.
For a third straight year, the former top prospect spent the whole summer at just one level, but unlike the previous campaign, this one required some adjusting against more advanced pitchers. Despite his best efforts, he couldn't perform consistently and faltered to a .229/.327/.335 slash line over 503 plate appearances (career-high) in 118 contests.
There was one positive that did come out of this poor offensive showing: his plate discipline. Picking up where he left off in '17, his walk rate increased to a 12.3 per cent clip, whereas his strikeout rate sat at 24.5 per cent.
Obviously, this wasn't how Katoh wanted to follow up his promising 2017 performance. Having said that, there were still a few encouraging signs he took away from his 2018 season.
2019 
In a surprising turn of events, Katoh opened the following campaign at triple-A Scranton/Wilkes-Barre in hopes of improving his underwhelming production. While it didn't happen immediately, that's exactly what transpired.
In the first half, though, he struggled to make much of an offensive impact and was optioned back and forth between double-A and triple-A several different times. During that span, the left-hander compiled 294 plate appearances through 84 games across two different levels, slashing .247/.321/.365 along with a .307 wOBA.
Digging deeper, Katoh's plate discipline also took a step backwards during this stretch, resulting in a 9.2 per cent walk rate and a 28.9 per cent strikeout rate.
Then, out of nowhere, he suddenly turned a corner and excelled over his final 29 games with the RailRiders. Once that happened, his quiet first-half showing was practically forgotten as he concluded his season with a remarkable .323/.463/.500 slash line and four home runs – including a grand slam against former Blue Jays product Thomas Pannone on Aug. 31.
When the dust settled, Katoh not only finished the year hitting for both contact and power, but also walked as much as he struck out, which saw him evenly register 25 free passes and strikeouts.
This was finally the moment Katoh had been waiting for all these years. Even though he was ultimately let go by the Yankees, it seemed like he was knocking at the door of the majors. But then, the COVID-19 pandemic hit.
2020-2021
Prior to the shutdown, Katoh signed a minor league deal with the Miami Marlins and also received an invitation to spring training. After everything halted, he was eventually invited back to summer camp – or spring training 2.0 – and was later assigned to the club's alternate training site.
Over the next couple of months, the veteran infielder worked on his craft while training next to some of Miami's top prospects, however, he never gained an opportunity to appear in any major league games.
Shortly after the ensuing off-season began, Katoh acted quickly to sign a minors deal with his hometown franchise, the San Diego Padres. As someone who went to high school just a 30-minute drive away from Petco Park, this was an opportunity he was determined to make the best of.
Unfortunately, the Mountain View, California, native never received a chance to play for the Padres last season, although that didn't prevent him from enjoying success in the minors. If anything, it motivated him for what was to come next in his baseball life.
In his ninth minor-league season, Katoh earned 402 plate appearances in 114 games with El Paso, posting eight home runs, 42 RBIs, a .381 BABIP, a .374 wOBA and a .306/.388/.474 slash line. Also, he featured an 11.4 per cent walk rate and a 20.9 per cent strikeout rate – his lowest percentage since '17.
The left-hander might not have been called up to the majors in '21, however, there's no question his stellar results earned him his current contract with the Blue Jays.
2022 
Starting the new year on a positive note, Toronto signed Katoh to a minor league deal just a few days into 2022, which also included an invitation to spring training. Once he picked up a pair of Robbie Ray's old pants, he quickly went to work.
For most of this spring, it appeared Katoh was on the outside looking in as first baseman Greg Bird – who was ultimately released and has since returned to the Yankees organization – seemed to be ticked for a roster spot.
No matter the case, Katoh focused on himself and worked his way onto the Blue Jays' radar, courtesy of his defensive flexibility and impressive .348/.400/.565 slash line. The former second-round pick has only logged 25 plate appearances this spring, but that's all he required to break camp with the big club.
While he'll likely still have to wait a little bit longer to make his major league debut, as he's slated to assume a reserve role, there's no doubt about it this time – it's coming.
No, Katoh certainly won't need to order another pair of Ray's pants after a tear in his old ones forced him to throw them away.
When Katoh arrives in Toronto later this week, he can wear his own version of tight pants this season, and unlike before, they'll feature his name on the label rather than Ray's.
---