Luis Castillo is someone worth going all-in on via trade
Photo credit:Charles LeClaire-USA TODAY Sports
As the off-season begins, so does the rumour mill across the major leagues, which may suggest a potential blockbuster trade between the Toronto Blue Jays and Cincinnati Reds could be on the horizon in the coming months.
Starting with the Reds, who finished third in the National League Central Division this past season, they're facing financial restrictions this winter and will be looking to significantly reduce their payroll prior to the 2022 campaign. Wasting no time addressing this difficult situation, their franchise has already parted ways with expendable pieces such as Wade Miley and Tucker Barnhart, freeing up $17.75 million.
Unfortunately for their fanbase, this recent purge will likely extend beyond those two players and could ultimately include some of the club's talented starting pitchers, most notably, Luis Castillo. While the 28-year-old has reportedly been made available in previous off-seasons, this might finally be the one where he's dealt to a playoff contender.
Since Castillo will become eligible for free agency after the 2023 season, it'd make plenty of sense for the Reds to capitalize on his current value this winter rather than waiting closer to the mid-summer trade deadline. That being said, any interested teams looking to acquire his services could be forced to pay a high premium in the way of prospects.
When it comes to the Blue Jays, who'll actively be attempting to improve their starting rotation over these next few months, they appear to be a perfect fit for the front-line starter – both from a position of need standpoint and in regards to his acquisition cost.
Though Cincinnati is likely to command a fairly expensive package of prospects, with Castillo on the trade block, making a strong push for the talented right-hander could be worth surrendering a couple of highly-touted minor leaguers. Considering Toronto sent Austin Martin and Simeon Woods Richardson the other way in exchange for Jose Berrios, sacrificing young pieces for the right player is something they're already seemingly comfortable doing.
With this in mind, paired with the Reds' current weaknesses involving their position player group, constructing a hypothetical package surrounding Alejandro Kirk and Jordan Groshans – two of the Blue Jays' top young players – could be a solid starting point for both sides.
Granted, including both Kirk and Groshans in this trade would be a significant reduction from the Blue Jays' prospect system, however, completing this move would undoubtedly strengthen their already impressive starting rotation. If Robbie Ray were to depart through free agency, adding Castillo to the mix would immediately fill that vacancy.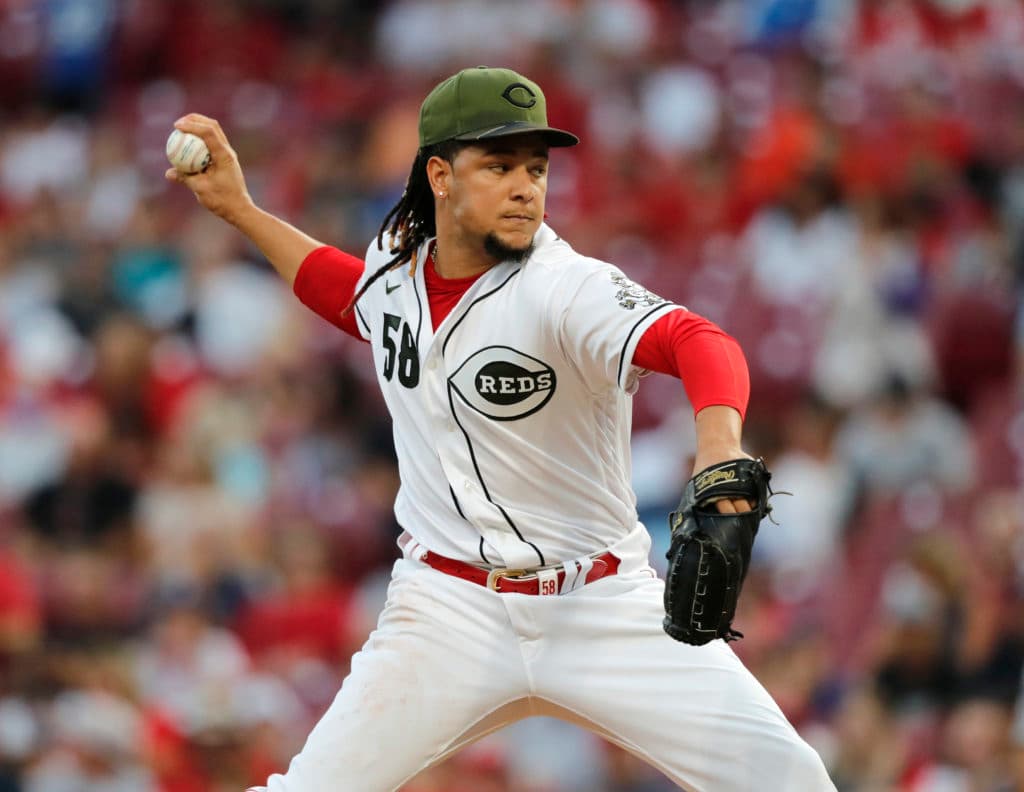 Credit: David Kohl-USA TODAY Sports
For those unaware of Castillo's history, the 6'2″ starter has been viewed as one of the top hurlers in the majors over the last couple of seasons, and has served as his team's ace pitcher since becoming a full-time major leaguer in 2018. During that time, he's compiled at least 150.0 innings in three of the last four campaigns, although a lack of consistent run support has plagued him throughout that same span.
While the soon-to-be 29-year-old has yet to make more than one post-season start in his career, his performance in the regular season has been exceptional thus far, which has seen him generate a 14.4 fWAR rating over 707 1/3 career innings.
Most recently, Castillo was aiming to lead Cincinnati back to the playoffs in 2021 – albeit in a non-expanded format – and while he was unsuccessful in his attempts, that didn't take away from his impressive showing. In turn, he was able to enjoy plenty of success on the mound, making for a third straight dominating performance from the Dominican native.
In total, the 2019 NL All-Star compiled 187 2/3 innings through a career-high 33 starts, posting a 3.98 ERA, 90 ERA-, 3.62 xERA, 3.75 FIP, 3.63 xFIP, 23.9% strikeout rate, 9.3% walk rate and a 3.7 fWAR rating – the second-highest rating of his career.
Digging deeper, Castillo endured a pretty slow start this past season and struggled to keep balls on the ground through the first two months of the schedule. But as the summer progressed, the talented righty bounced back from those woes and finished his fifth campaign in the majors on a very high note.
| | | | | | | | |
| --- | --- | --- | --- | --- | --- | --- | --- |
| | ERA | FIP | xFIP | SO % | OPP AVG | HR Allowed | GB % |
| April – May (11 starts) | 7.22 | 4.81 | 4.34 | 19.3 | .314 | 8 | 49.7 |
| June – October (22 starts) | 2.73 | 3.34 | 3.35 | 26.0 | .223 | 11 | 59.9 |
For Castillo, along with creating a respectable amount of swings and misses, one of his biggest strengths is acting as a reliable ground-ball specialist. Despite his early-season struggles in that department, he still proved to be atop of the leaderboard in that category in 2021, making him the most effective starter in the majors regarding batted-ball metrics.
Backing up this sentiment, the former amateur free agent finished with the highest ground ball rate (56.6%) and the lowest fly ball rate (24.6%) among all qualified starters in the majors, according to
FanGraphs.com
.
Assuming the Blue Jays can address their current holes at second and third base, which more than likely will occur this winter, they wouldn't encounter any issues providing quality defence behind Castillo in future seasons. Furthermore, the ground-ball hurler would be able to continue pitching to his strengths – an aspect that hasn't always been supported in his current surroundings.
Exploring his explosive four-pitch arsenal, the Reds' starter features a high-90s four-seamer, high-80s changeup, high-90s sinker and a mid-80s slider, utilizing all four of these offerings very frequently.
Looking back on his pitch usage from this past season, Castillo leaned on his changeup the most, throwing it 30.4 percent of the time. Behind his off-speed weapon, his primary fastball (four-seamer), which saw its average velocity of 97.1 mph
place in the 95th percentile
, ranked second on that list as its usage climbed to 28.5 percent.
As for his secondary options, the hard-throwing right-hander called upon his sinking fastball 23.8 percent of the time, down 1.4 percent from 2020. Leading the charge at the bottom of his weaponry, his slider was utilized just 17.4 percent, still, it registered the highest whiff rate (41.4%) among all of his pitches.
If Castillo were to join forces with pitching coach Pete Walker – The Pitching Whisperer – and the rest of Toronto's staff, there's a chance he could elevate his game even further, especially considering this club's recent track record. As a result, perhaps his ability to generate strikeouts could reach a slightly higher level, an achievement both Ray and Berrios accomplished in 2021.
But even at his current form, Castillo would be headlining an elite rotation that consists of Berrios, Hyun Jin Ryu, Alek Manoah and potentially Nate Pearson – depending on the status of his off-season surgery. Together, this group could help lead the Blue Jays to the playoffs in 2022, while also providing them with another reasonably aged starter to build around moving forward.
So while this route may cost a couple of talented position players, given this team's current state and determination to compete for a post-season spot, the chance to acquire another controllable front-line arm might be too appealing to pass on – but only time will tell.