Max Castillo keeps up with former World Series MVP + Dahian Santos is the real deal – Minor League Round Up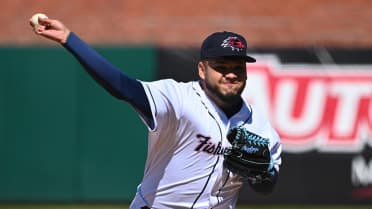 In a game Stephen Strasburg pitched in, Max Castillo really stood out.
Everyone loves a pitching duel. Strasburg went
6 IP, 1 H, 0 ER, 1 BB, 4 K
while the 23-year-old Castillo went
6.1 IP, 2 H, 1 ER, 1 BB, 5 K, 1 HR
in just 68 pitches. This domination from Strasburg is expected, as the rehabbing pitcher has pedigree.
He went first overall in the 2009 draft, he won the World Series MVP in 2019, he's a three time all-star and is making $35 million until the end of the 2026 season. Castillo, on the other hand, was signed in the 2015 International Free Agency with a bonus of just $10,000.
It feels like Max Castillo has been in this organization forever, but he's made a slow and steady climb to the last test before the majors.
The 23-year-old righty started his season with the New Hampshire Fisher Cats in Double A, where he posted a 3.10 ERA in 29 innings pitched. His FIP was relatively low at 3.94 and he had an impressive K/9 of 10.86. There were some concerns about his elevated BB/9 of 4.34 though.
Despite this, Castillo was promoted to Buffalo on May 15th. He has pitched 18 innings since his promotion, giving up just a single run for an ERA of 0.50. Furthermore, his BB/9 has dropped to 2.50 while his K/9 sits at 9.
The last time Castillo ranked in MLB Pipeline's Top 30 was in 2018, expect the 23-year-old to make that list come their re-ranking after the draft.
Unless a bunch of injuries to starters occur, I don't think it's likely that Castillo will make the Blue Jays this season. However, he'll be Rule 5 eligible at the end of the season, so if he continues his dominance, expect him to be added to the 40-man roster for 2023.
Dahian Santos also impresses:
Due to his 2021, Santos didn't rank in my preseason Top 20. I must say that I am a complete dumbass for this exclusion.
On Friday night, Dahian Santos had a line of
4 IP, 1 H, 0 ER, 2 BB, 7 K
, bringing his season ERA to 1.32 with the Dunedin Blue Jays. This season, he has a K% of 48.5% (17.38 K/9) and a FIP of 2.63 (xFIP of 2.11).
Since the 24th of April, Dahian has allowed just two earned runs in 28.2 innings pitched for an ERA of 0.63 and FIP of 1.90. During that time, he has also struck out 56 batters, for a K% of
51.4%!!!
and a K/9 of 17.58.
There are still issues with his control as MLB Pipeline has it a 45 grade, while Fangraphs has it at a 20 grade with room to grow to a 45. When looking at his statistics, Dahian's BB/9 of 4.54 does jump out. However, we must remember that he's only 19-years-old and still developing.
Either way, these are two more pitchers you should keep an eye on.
As always, you can follow me on Twitter @Brennan_L_D. Promise me you won't tweet @DunedinBlueJays saying that Dahian needs to be called up.
---