Meet The Baby Blue Jays: CJ Van Eyk could be a quick riser through the system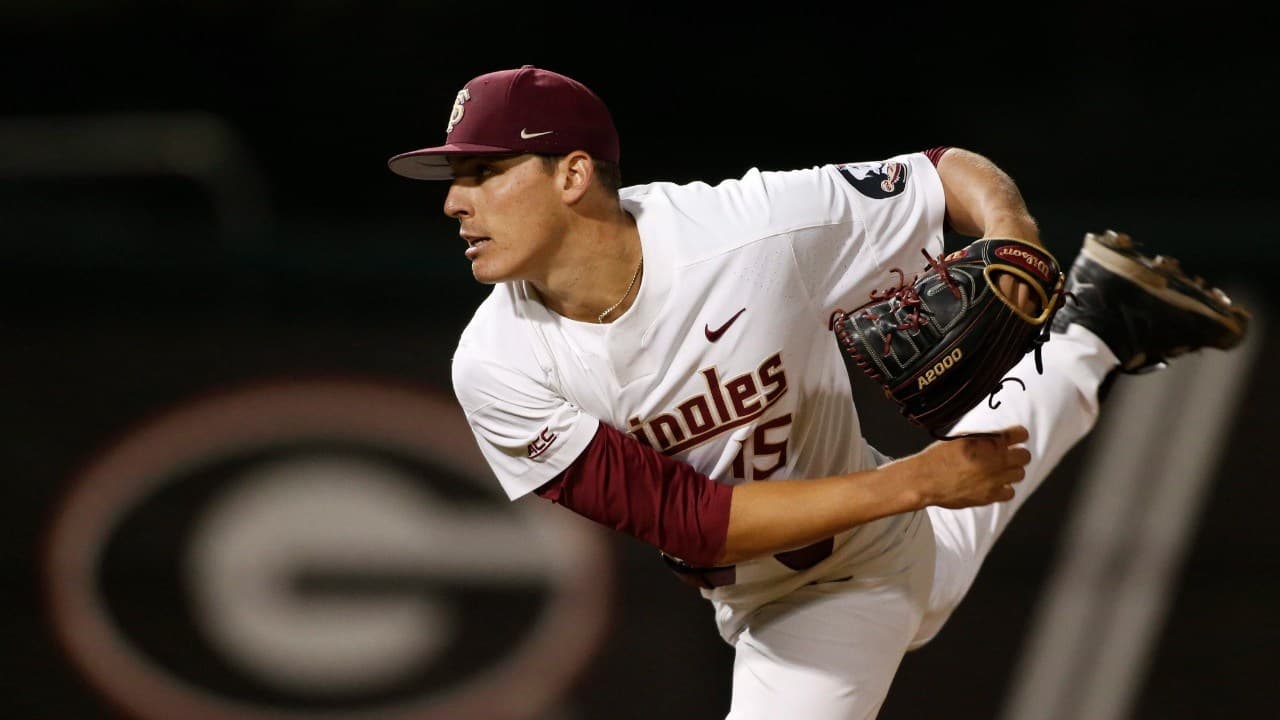 Welcome to Meet The Baby Blue Jays, a series in which I'll profile a handful of lesser-known young prospects in the Blue Jays' system.  
Bio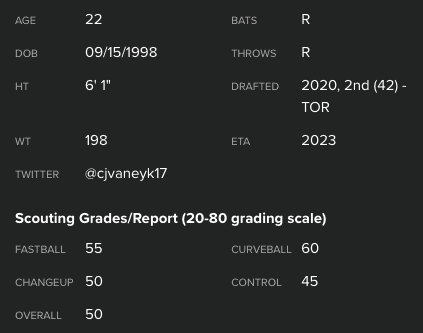 The Toronto Blue Jays bolstered their pitching prospect pipeline even further by selecting CJ Van Eyk with the 42nd overall pick in the 2020 MLB Draft.
After being selected in the 2017 MLB Draft by the New York Mets, Van Eyk elected to go the collegiate route, and attended Florida State University. Shortly after arriving there, Van Eyk's sheer dominance was apparent right away.
In his freshman year as a 19-year-old, Van Eyk posted a 7-0 record along with 71 strikeouts and a 2.86 ERA through 56.2 innings pitched. He had a bit of a down year in 2019 in terms of ERA, but Van Eyk also posted the best SO/9 rate of his collegiate career that season (11.7).
Van Eyk likes to rack up the strikeouts and has the pitch arsenal to do it. Throughout his entire three-year collegiate career, he never posted a SO/9 lower than 10.9. Those are impressive numbers, and it was enough to catch the eye of the Blue Jays' scouts.
Van Eyk has three pitches that he's comfortable using in any situation. A fastball that sits in the 90-95 range, an 81-84 mph changeup, and his most dangerous pitch: his 78-80 mph curveball.
Van Eyk's curveball seems to be his calling card. It has sharp, downward 12-6 action, and breaks late, making it extremely difficult for hitters to pick up. His command of it is excellent, and he's not afraid to throw it when behind in the count.
This overlay shows quite nicely just how hard Van Eyk's curveball is for a hitter to distinguish from his fastball:
Another thing seen in that overlay is that Van Eyk's arm action and arm angle are almost identical when throwing his fastball and his curveball.
This is an especially promising sign to see from young players, as it contributes further to that deceptiveness that separates great pitchers from good pitchers.
Van Eyk's Upside and 2021 Outlook
Van Eyk has all the tools to be an effective starter at the major league level, and 2021 will be his first year of pro ball. There's could be some growing pains that come with that, and that's okay. The developmental path for pitchers is seldom a straightforward one.
Here's what MLB.com has to say about him:
The Blue Jays got another brief look at Van Eyk as part of their fall instructional league, and those within the organization already praise his poise and maturity. Van Eyk comes with a full arsenal that's headlined by a plus curveball, while he spots his fastball well in the low-90s. Van Eyk's changeup is his third pitch, and while it could benefit from some added depth, his arm speed keeps hitters off-balance. The development of that slider will be key long-term, especially late in counts.

Van Eyk will have an opportunity to move quickly once he's in full-season ball, given the depth of his arsenal and his maturity on the mound. The athleticism in his delivery, which the Blue Jays always love, leaves evaluators optimistic that he'll keep a clean, repeatable delivery. The Blue Jays are very comfortable with the right-hander sticking as a starter long-term, and the '21 season will offer the first extended look at Van Eyk in pro ball. He's a candidate to make a jump over the next season, especially as some of Toronto's more advanced arms graduate.
Van Eyk is currently ranked as the Jays' #11 best prospect by MLB.com and will try to start to put it all together in 2021.
He pitched three seasons at the NCAA level, most recently posting a 1.74 ERA for Florida State in 2020, so he could be the type of arm to rocket up the system quickly. Expect him to start in High-A this year with a late-season Double-A promotion a possibility.