Meet The Baby Blue Jays: Rikelvin De Castro is a smooth-fielding shortstop with a high baseball IQ
Welcome to Meet The Baby Blue Jays, a series in which I'll profile a handful of lesser-known young prospects in the Blue Jays' system.  
The Toronto Blue Jays put pen to paper with international prospect Rikelvin De Castro in July of 2019, and are hoping his high baseball IQ and exceptional glovework can translate to big-league success.
Bio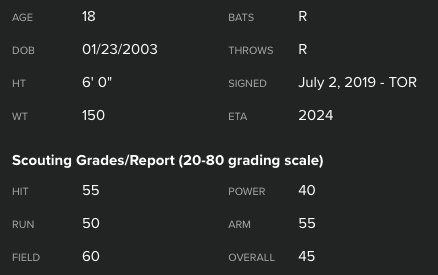 De Castro's fielding ability is his greatest strength, and when you watch him pick it, it's hard to disagree. His footwork, arm strength, and ability to quickly transfer the ball from his glove into a ready throwing position make him an intriguing middle infield prospect. Watch here as De Castro smoothly fields these ground balls and shows an ability to throw on the run seamlessly.
De Castro is a contact first hitter who stays extremely loose in the box. His swing is quick, effortless, and he possesses legitimate gap power, which allows him to leg out extra-base hits, despite not being the fastest runner.
As can be seen in the video above, his weight transfer is smooth, his hips are activated nicely, and he brings the knob of the bat down before bringing the barrel of the bat through the zone. Additionally, he can make adjustments to hit the harder-to-reach pitches without compromising his mechanics while doing so. These are all promising signs for young hitters.
Jesse Sanchez of MLB.com had this to say about De Castro:
He is a high-energy athlete with an impressive set of tools across the board. De Castro is slender, but he's strong. He's a prospect with good hands, solid footwork, speed and a high baseball IQ.
And here's a report from FanGraphs:
No change here as de Castro was part of the rookie camp group (along with Van Eyk) that was less focused on playing scoutable games. All of de Castro's defensive attributes (his range, footwork, hands, and actions) are fantastic, and he has a chance to be a spectacular, athletic defensive shortstop at maturity. All of what he ends up doing with the bat depends on how his body develops. Right now, like most fresh-faced prospects about to embark on their first pro season, de Castro has room on the frame for 20 or 30 pounds. His swing has a good foundation from both a mechanical and timing standpoint, but he has to get stronger or that's not going to matter very much. There's plenty of time for that, though, and a chance for an everyday role if it happens.
De Castro's Upside and 2021 Outlook
De Castro is a solid infielder whose defensive abilities can quickly swing momentum for his team by making difficult plays look simple. His contact first approach makes him a candidate to be a potential leadoff hitter if all goes right, as he has drawn comparisons to both Jose Reyes and Andrelton Simmons.
In 2021, De Castro will embark on his first professional season. He'll spend time training at the Blue Jays' new complex in Dunedin and then he'll likely join the Low-A Blue Jays once their season gets going. He'll be an interesting name to follow and could move up Toronto's prospect depth chart and become a well-known name quickly.