MLB News and Notes: Yusei Kikuchi back on the mound, Toronto Blue Jays trade plans, and could Mike Trout retire?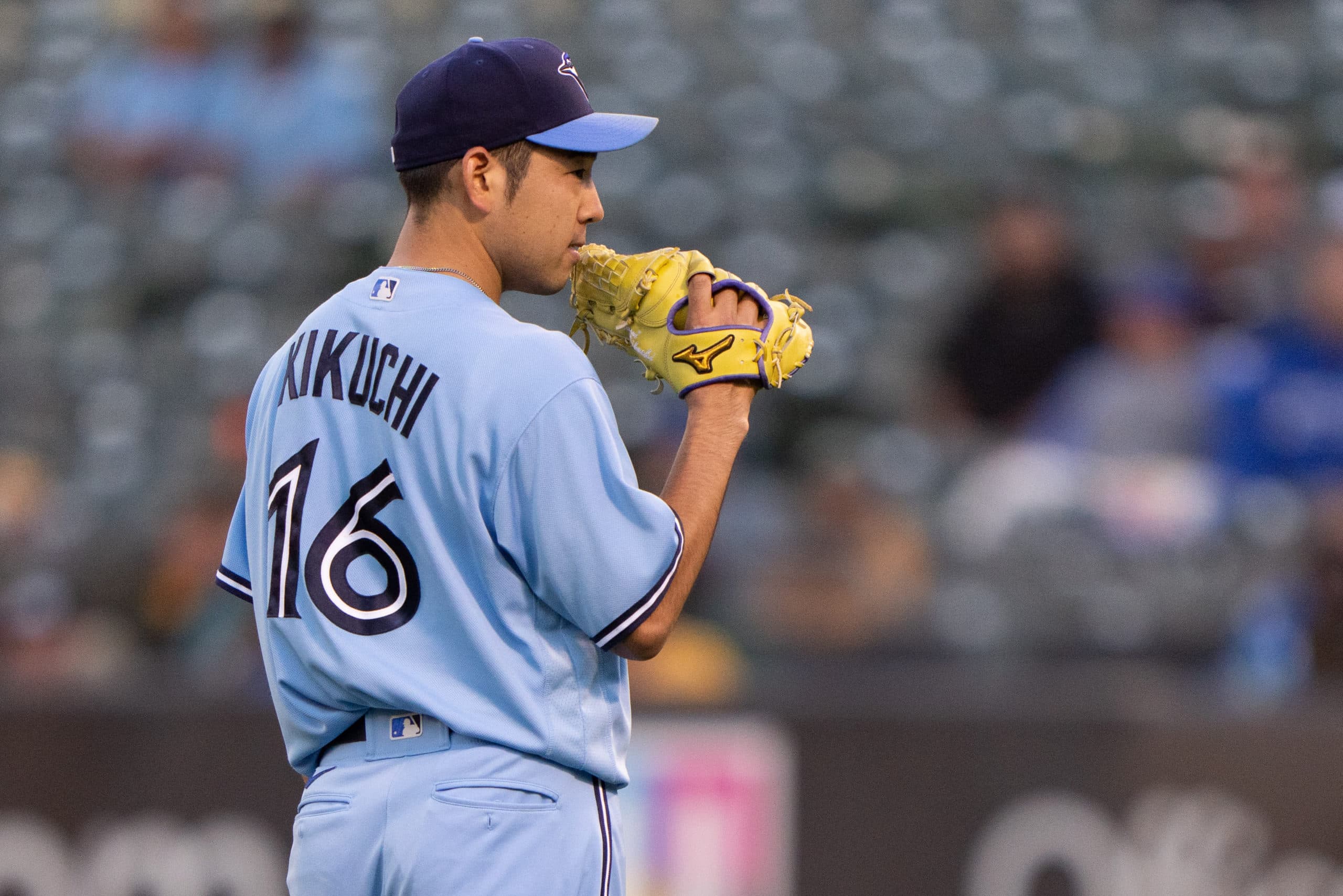 Photo credit:Stan Szeto-USA TODAY Sports
Toronto Blue Jays starting pitcher Yusei Kikuchi will be back on the mound.
GM Ross Atkins met with media Wednesday where he said Kikuchi would get the mound in the series opener against the Detroit Tigers Thursday.
It'll be a nervous night for Jays fans given the sloppy first half of the year for the newcomer, but it sounds like some work has been done on his slider, and his delivery.
As noted by Sportsnet's Arash Madani, Kikuchi has changed the grip on his slider, making it more of a true slider. On top of that, Madani reported that Kikuchi changed his throwing program "to create a more natural and athletic arm motion, which he believes he has developed."
I wait with bated breath.
Blue Jays trade plans
The MLB's trade deadline is slowing creeping up, and we're starting to get a better idea of where the Jays sit and what lies ahead.
During his Thursday availability, Atkins said prices on the market are high, but to be expected for this time of year.
"Right now, in order to move quickly, you're probably going to pay a premium," Atkins said, via
Sportsnet's Shi Davidi
.
Atkins also said the club is looking to add more "swing and miss" in the bullpen. Let's see what he can pull off.
While the Jays seem content with their fielders, I can't help but fell like the big power lefty Juan Soto is just what they are missing in the batting order. That being said, I'm sure there's quite a few teams out there thinking the same thing.
ESPN's Jeff Passan reported the Jays are among a number of teams interested in Cincinatti Reds starter Luis Castillo and Oakland Athletics starter Frankie Montas.
Mike Trout's future in doubt
Brutal news out of Anaheim as Angels star center fielder Mike Trout has been diagnosed with a rare back condition. It's called costovertebral dysfunction at T5 and is
described
as "a painful condition where the joints between the ribs and the vertebrae are irritated, compressed or rotated."
The injury could be long-term, Angels head athletic trainer Mike Frostad told The Athletic.
"I think we have to have some concern on that," he said. "He's a little more upbeat today. And I think he's starting to feel like he's getting the benefits.
"But long-term we do have to look at this as something that — he has to manage it, not just through the rest of this season, but also through the rest of his career probably.
"This is a pretty rare condition that he has right now in his back. The doctor (Robert Watkins), who is one of the most well-known spine surgeons in the country, if not the world, doesn't see a lot of these. And for it to happen in a baseball player, we just have to take into consideration what he puts himself through with hitting, swinging on a daily basis, just getting prepared. And then also playing in the outfield. … There's so many things that can aggravate it. But this doctor hasn't seen a lot of it."
What a brutal series of events here for Trout, and it's hard not to think his future playing career could be in serious doubt given what's going on. Trout left a game on July 12th with back spasms, and nearly drew back into the lineup six days later. Now, he remained on the injured list after getting a cortisone shot that takes weeks to kick in.
---
Zach Laing is the Nation Network's news director and senior columnist. He can be followed on Twitter at
@zjlaing
, or reached by email at zach@oilersnation.com.
---
PointsBet is live in Ontario.
Get started here
.