My goodness, Vladdy just went absolutely nuclear on the Nationals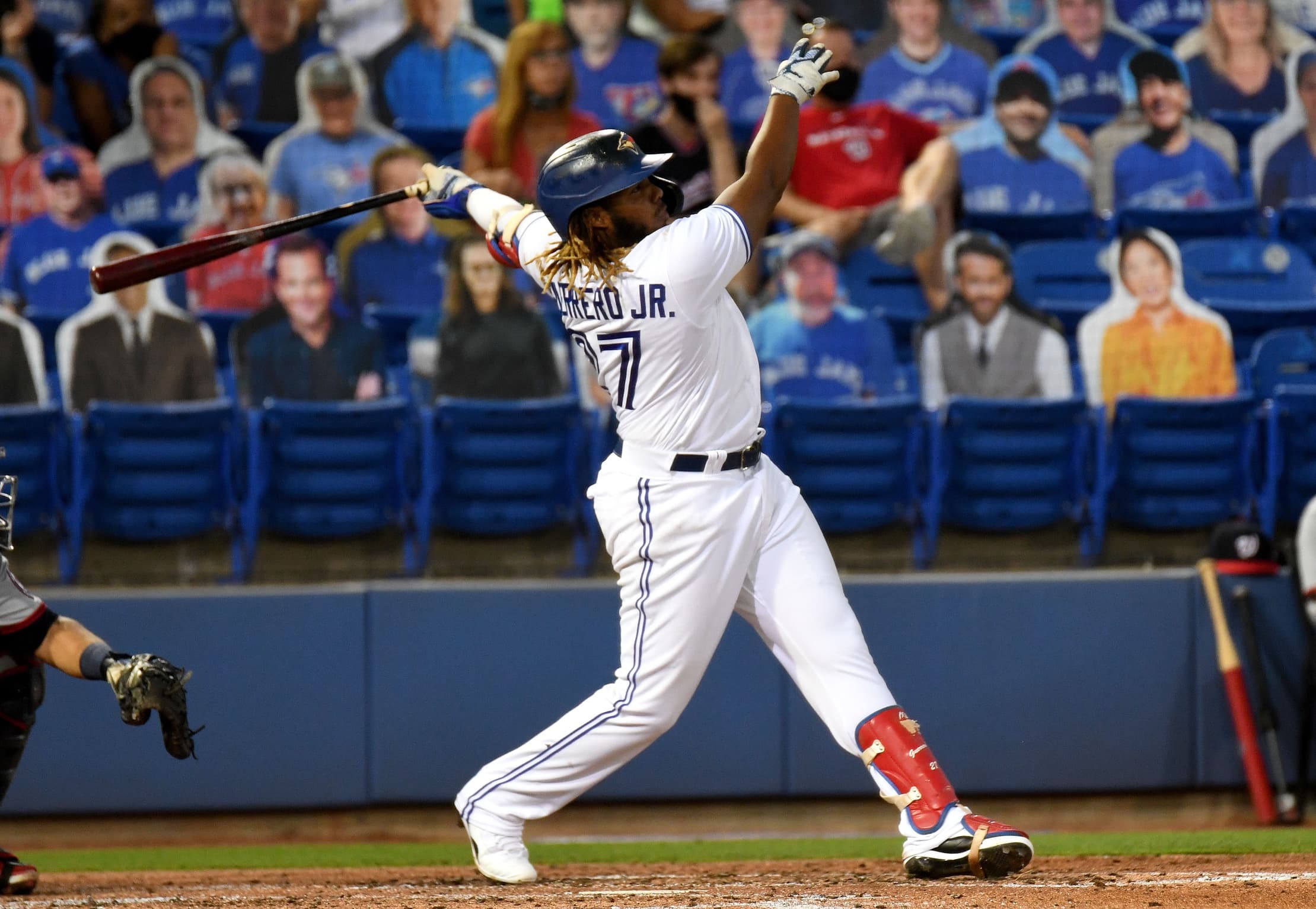 Photo credit:© Jonathan Dyer-USA TODAY Sports
When Max Scherzer is starting for the other team, you sorta kinda accept that it's more than likely going to be a scheduled loss and that it's going to be a bit of a slog watching your team get mowed down. That is absolutely not what happened on Tuesday night.
Amidst the general frustration that Springer Day was cancelled, Vlad Jr. absolutely went off. He drilled two bombs, including a grand slam, off of Scherzer and then added another homer later in the game to complete the hat-trick. Holy shit, what a spectacle. Just in case there was still an inkling of doubt left out there, yes, Vladdy has arrived.
Here's one:
Here's two:
Here's three:
Things worth mentioning…

The Blue Jays absolutely pounded the ball on Tuesday night, coming up with eight of the game's nine hardest exit velocities. There's Vlad, of course, with the top three and one later on at seven. It's hilarious that his one out, which was a double play, was also one of the hardest-hit balls of the game. Nothing was fooling him tonight.
Another crazy note… Coming into the game, Scherzer had allowed four earned runs over 25 innings of work. On Tuesday, the Blue Jays (well, Vlad, really), tagged him for five earned in five innings. Remember what happened after Kevin Pillar teed off of Scherzer in 2015…? Maybe this is the turning point!
Though this will go down as a Remember When Vladdy Did That…? game, there were quite a few performances to like. Cavan Biggio, who many of us have been dumping on all season, put together a great performance at the top of the lineup, going three-for-three, and his OPS has quietly crept up to .679 for the season. Alejandro Kirk also had a couple of hits and he gunned down Josh Harrison trying to steal a base early on in the game. Speaking of Kirk, he put the ball in play which gifted us this incredible sequence…
The bullpen, as per usual, was also excellent. Trent Thornton got the start and get through seven outs but allowed two solo dingers to Trea Turner. Tommy Milone recorded three outs of his own after that but also allowed a solo bomb and a couple of hits and a walk. Anthony Castro came into the game in the fourth inning in what felt like an early save situation but induced a double play to get out of the jam. Joel Payamps allowed a two-run bomb but, honestly, it was a nicely-placed pitch and the fact it was hit out has more to do with TD Ballpark than anything else. Tyler Chatwood had a very good outing, recording five outs, four of which were strikeouts, and then Rafael Dolis had an easy ninth inning to end the game. All told, it was 5 2/3 from the 'pen with only two earned runs after Thornton and Milone's piggyback start. Very, very good stuff.