News and Notes: Blue Jays are looking to add another outfielder, Arizona looking to trade a left-handed batting outfielder, and more!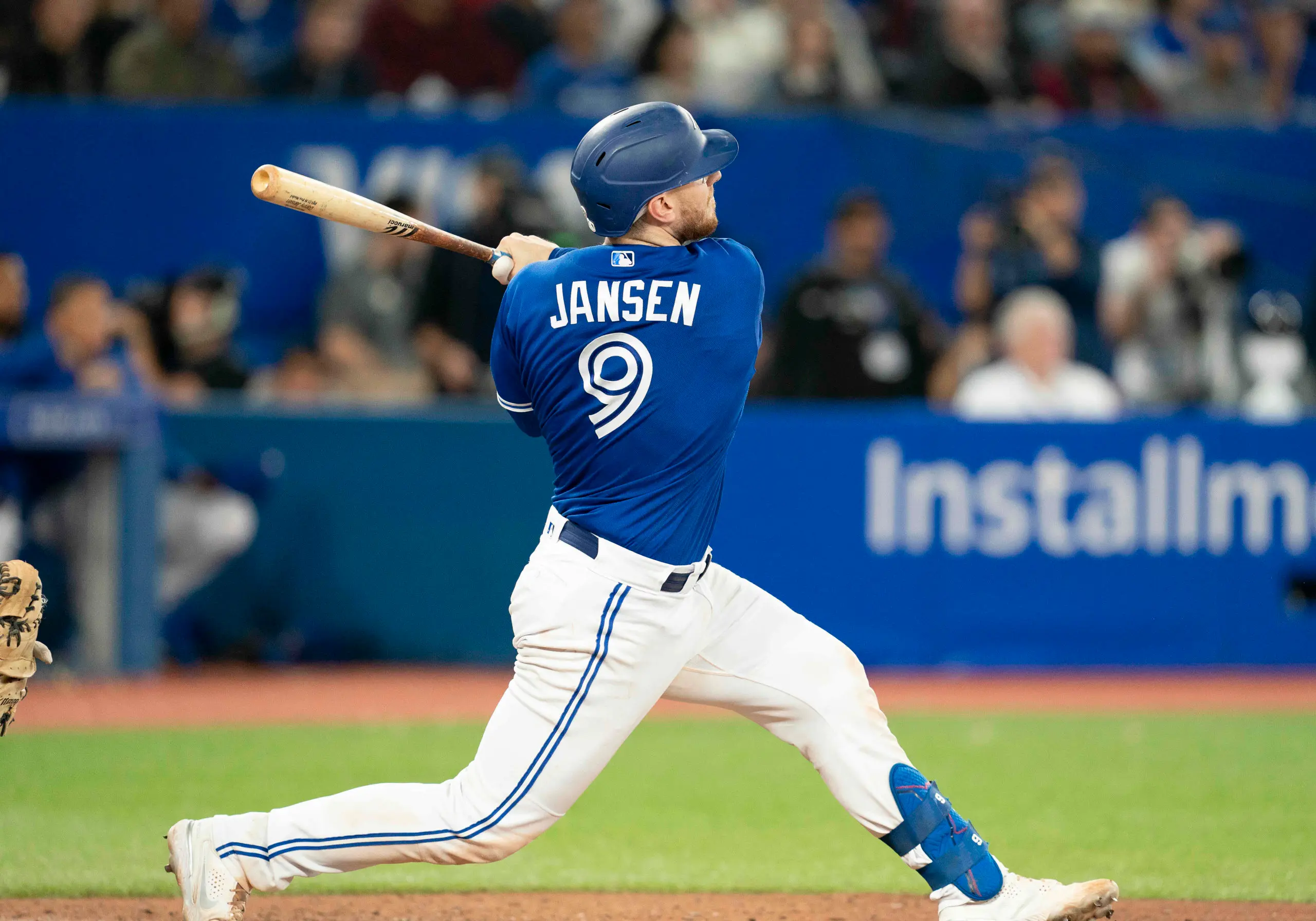 Photo credit:Nick Turchiaro-USA TODAY Sports
It's Monday morning, so it's time for another News and Notes!
While there haven't been many Blue Jays rumours as of late, there are some interesting tidbits regarding potential outfield targets. Let's start with the Jays-related news.
Blue Jays still looking to improve the outfield:
Despite the Jays signing Kevin Kiermaier on Saturday, it is pretty evident that it won't be their only move. Kiermaier is a fantastic defender and a great replacement for Raimel Tapia, but the Jays still need to acquire an outfielder to fill
Teoscar Hernández's production.
According to Ben Nicholson-Smith (and relayed by Ben Turner), the Jays are still actively looking for a left-handed batting outfielder with a plus bat. The two free agents mentioned in the tweet were Michael Brantley and Michael Conforto, but it was also noted that Daulton Varsho and Bryan Reynolds were trade options as well.
Nicholson-Smith also speculated on a potential Max Kepler for Danny Jansen trade, but one would figure that the Minnesota Twins would have to add quite a bit to make that work.
Notes from Ken Rosenthal's "What I'm Hearing":
This section will mainly focus on notes from The Athletics' Ken Rosenthal, as there is some interesting news regarding some players the Jays may be into. We'll start with the Jays' centric news.
Jays chasing "young outfielders" via trade:
This one was pretty obvious, but Rosenthal notes that along with the New York Yankees, Texas Rangers, Tampa Bay Rays, and Miami Marlins, the Blue Jays are also looking at also acquiring an outfielder by trade.
This plays into Nicholson-Smith's suggestion that the Jays could be exploring the market for Daulton Varsho and Bryan Reynolds…. Speaking of which:
The Pirates are looking for a "Juan Soto-Esque" package:
To me, this is pretty damn laughable. The 27-year-old outfielder is certainly good, as he slashed .262/.345/.461 with 27 homers in 2022. However, if the Pirates seriously expect to receive a similar package as the Washington Nationals did for Juan Soto at the 2022 trade deadline, they are crazy.
Juan Soto, who is about four years younger than Reynolds, is legitimately the best hitter in the game, and while he only plays a corner outfield, his bat alone makes him more valuable than Reynolds.
Yes, Reynolds has three seasons of team control compared to Soto's two, and Reynolds does play centre field (although he shouldn't), Soto is a generational talent, Reynolds is not.
The Pirates aren't in a place where they need to trade Reynolds even though he asked for a trade request. It wouldn't surprise me if he spends another year or two playing for the Jolly Roger.
The Diamondbacks are looking to trade a left-handed batting outfielder:
The more you look at the Diamondbacks, the better they look as a trade partner. They currently have three tradeable left-handed batting outfielders, Jake McCarthy, Alek Thomas, and Daulton Varsho, with the latter making the most sense.
However, it doesn't stop there, as the Diamondbacks also have some interesting starters who could help the Jays out. The first one is obviously Zac Gallen, but just like Corbin Carroll, he isn't in play. Merrill Kelly or Madison Bumgarner on the other hand? Well, there could definitely be some interest.
This isn't to mention Ketel Marte, which was a big name that many Jays fans had wanted prior to the start of the 2022 season.
Perhaps at a later date, we'll look at Varsho, McCarthy, and Thomas to decide which player fits the Jays the best.
Interest in Sean Murphy is picking back up:
Since Willson Contreras signed with the Cardinals a week ago, it looked as if the trade market for catching slowed down. This wasn't good for the Jays, as their most valuable trade pieces stem from the fact they have three major league catchers.
However, it's noted in Rosenthal's article
that discussions have picked back up for Oakland Athletic catcher Sean Murphy. The Jays may wait for Murphy to be dealt, but there are still many teams looking for catching help, including the Cleveland Guardians, Houston Astros, Minnesota Twins, and quite a few others.
It feels as if once something happens, the market will accelerate, so stay tuned!
The Jays said no to Danny Jansen for Ryan Helsley:
This one comes in per Sportsnet's Shi Davidi.
Whenever you trade a catcher for a reliever, you pretty much instantly lose that trade. Relievers, especially a closer like Ryan Helsley, are super important, there's no denying that. However, a catcher is the single most important in the game of baseball, and moving a catcher who just had a 146 wRC+ for a closer is not a great idea, especially since Jansen has two years of team control remaining.
This isn't to say Helsley isn't great, because he was one of the best relievers in 2022. He had a 1.25 ERA and 2.34 FIP in 64.2 innings pitched. He'd also help solve the lack of swing and miss in the bullpen, as he amassed a 39.3 K% with an average fastball of 99.7 mph.
But again, a catcher just has a ton more value than a reliever, and the Jays
really
need to capitalize on moving a catcher for a starting pitcher, or at the very least, an outfielder like Varsho.
Do the Jays have an interest in Nathan Eovaldi:
I don't really think this rumour has a lot of legs, but I want to reiterate that if the Jays sign Eovaldi, I'm going to bang my head against a wall.
The soon-to-be 33-year-old isn't a bad pitcher in the slightest. He had a 3.87 ERA and 4.30 FIP in 109.1 innings with the Red Sox. For his career, he has a 4.16 ERA and 3.83 FIP in 1257.2. He is a solid backend of the rotation starter who for the right price, actually makes a lot of sense.
However, the Red Sox decided to extend a qualifying offer to the 32-year-old who didn't really have a great season, as well as a velocity drop.
Look, losing a second-rounder is usually worth it. The Jays lost that pick when they signed George Springer before the 2021 season, a move which was
well
worth it. Eovaldi isn't that guy, though. 
Unlike the other three big North American sports, those prospects take a much longer period to develop. However, those prospects either fill out spots on a roster (such as
Jeremy Peña replacing Carlos Correa), or they're involved in trades (such as Gunnar Hoglund for Matt Chapman). Plus, those prospects may not help immediately, but it's how you extend your window of contention. Just look at the Dodgers or the Astros.
Losing a second rounder is fine… for the right player such as Carlos Rodón or even Chris Bassitt.
To me, Eovaldi is incredibly similar to Ross Stripling. Identical in age, they have similar career ERA and FIP, and don't walk a lot of batters while not striking out many either. The only difference is that Eovaldi has pitched 1257.2 innings compared to Stripling's 672 innings, while Stripling was good in 2022, and Eovaldi was not.
If you're going to sign Eovaldi, you may as well just re-sign Ross Stripling.
What to make of the rumours:
It's been a pretty slow off-season for the Jays, and it may not pick up for awhile. They still have a left-handed batting outfield need, as well as a starting pitcher or two,
and
possibly another high-leverage reliever.
Expect the pace to pick up soon… hopefully.
As always, you can follow me on Twitter @Brennan_L_D. You should also follow Ben Turner @BenTurn22. He compiles all these rumours and just does a great job in the community.
---