News and Notes: Chris Bassitt throws another gem, Blue Jays have some upcoming roster decisions, and more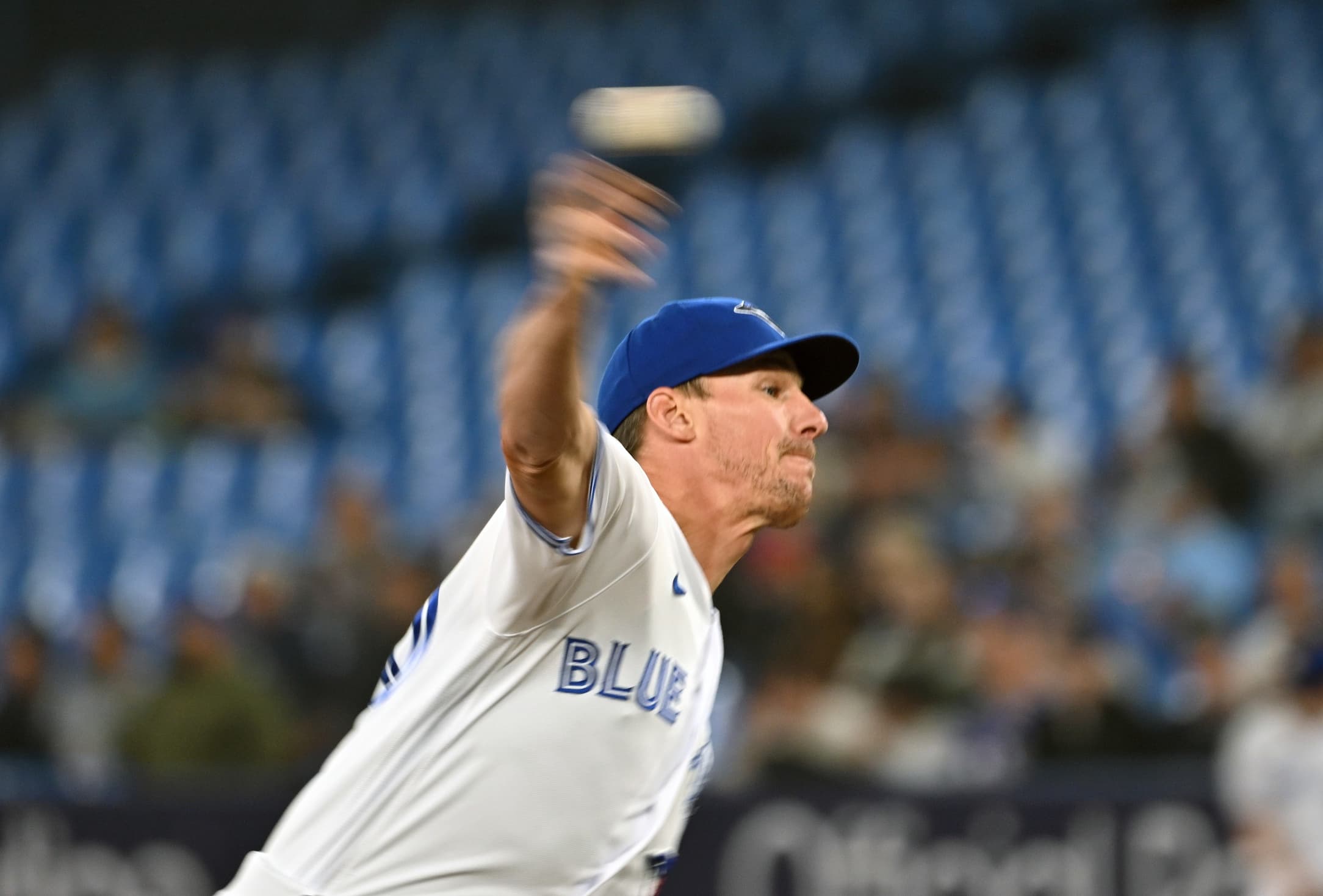 Photo credit:Dan Hamilton-USA TODAY Sports
Blue Jays right-hander
Chris Bassitt
was tasked with righting the ship against the New York Yankees, as the Jays were looking to try and get their first win in the series after dropping the previous two fun-filled affairs that had lots of drama including coaches yelling at each other, Aaron Boone getting ejected,
Domingo German playing with sticky stuff
(and also getting ejected), and the Aaron Judge debacle.
Bassitt was riding a 20-inning scoreless streak coming into today's contest and the former Mets starter was outstanding against the Bronx Bombers, going seven innings while allowing just three hits and one walk to the tune of zero earned runs with seven strikeouts. More impressively was the fact that Bassitt appeared to be battling something physically, whether it be the back issue that limited him in a previous outing or the stomach bug currently going around in the clubhouse, yet he still made a fantastic play at first base to tag Jose Trevino and end the inning.
The Ohio product put the Jays in the best spot to win the game but the bats struggled to get him any run support, as Yankees starter Gerrit Cole allowed seven hits but put up zero earned runs with six strikeouts and really stymied the Blue Jays bats, who struggled to bring around runners in scoring position all evening. After this last appearance, Bassitt is currently at 27 innings of scoreless baseball, a single-season record for the Toronto Blue Jays (as mentioned on the Jays broadcast).
Vladimir Guerrero Jr. Knee Injury News
After leaving Tuesday's game with knee discomfort following a bunt attempt from Yankees infielder Gleyber Torres, an
MRI revealed no structural damage
to
Vladimir Guerrero Jr's
and the slugger was listed as day-to-day. He did not start in Wednesday's contest but the righty-batter appeared ready to go if needed late in the game, likely in a pinch-hit scenario as needed. We shall wait and see if he makes an appearance in today's game, whether it be as a pinch hitter or possibly in the DH position.
Danny Jansen With His Second Walk-Off in Four Days
Danny Jansen has been an absolute hero for the Blue Jays these past few days, notching a walk-off single against the Atlanta Braves this past weekend and crushing a home run in the tenth inning off Yankees reliever Wandy Peralta to get a much-needed win for the Blue Jays.
Cimber and White Close to Returning – Looking at the Bullpen Picture
Down in Triple-A,
Adam Cimber
and
Mitch White
are continuing to get reps with the Bisons as both players try to work their way back to the big league squad. Cimber went down on April 24th with a right rhomboid strain while White has not seen any action with the Jays after struggling through spring training with a shoulder impingement and then elbow tightness that has kept him limited to rehab assignments to start the season.
Cimber has made two appearances, one with Dunedin and one with Buffalo, and has one hit, one walk, and two strikeouts through 1 2/3 innings combined while White has struggled in Triple-A, posting an 8.56 ERA through four outings with 17 hits and 13 earned runs allowed through 13 2/3 innings. Slated to likely be the long-man should he be promoted to the Jays, White worked in relief on Wednesday night's contest and allowed five runs through four innings of work.
It will be interesting to see how the Jays choose to work the roster, as Cimber will likely take Thomas Hatch's spot in the bullpen when he is ready to go but White will also require a roster spot shortly, as his rehab timeline is starting to wind down and he is out of MiLB options. The club could choose to DFA him and hope he squeaks through the waiver wire or they would have to promote him to the big leagues, with right-hander Nate Pearson likely going down as he has options remaining (and Zach Pop is on the IL) unless the club chooses to DFA a different reliever. Pearson has pitched well since being brought up from the Bisons, posting a 2.25 ERA through relief appearances while sitting in the high 90s with his fastball, so it will be tough to see the Jays demote him given his pitching as of late.
Brandon Belt is Starting to Figure it Out
Signed to a one-year deal this past offseason, veteran first baseman
Brandon Belt
struggled early with the Blue Jays, posting a .534 OPS with 27 strikeouts through 59 at-bats with just 10 hits on the ledger much to the chagrin of the Jays fanbase.
Since the calendar has flipped over to May, Belt has seen a resurgence at the plate, posting a .375 batting average with four doubles, one home run, and four RBIs while walking four times prior to Wednesday's game. He added to that total tonight, battling against Yankees starter Gerrit Cole that generated two walks for the lefty-batter while lining a key single to right field in the eighth inning to help the Jays start a rally. With his batting average now up to .247, Belt is starting to find a rhythm at the plate which is hopefully a sign of things to come.
---