News and Notes: ESPN says Teoscar Hernandez is a non-tender candidate (he's not), Scott Boras says there's a lot of interest in Michael Conforto, and more!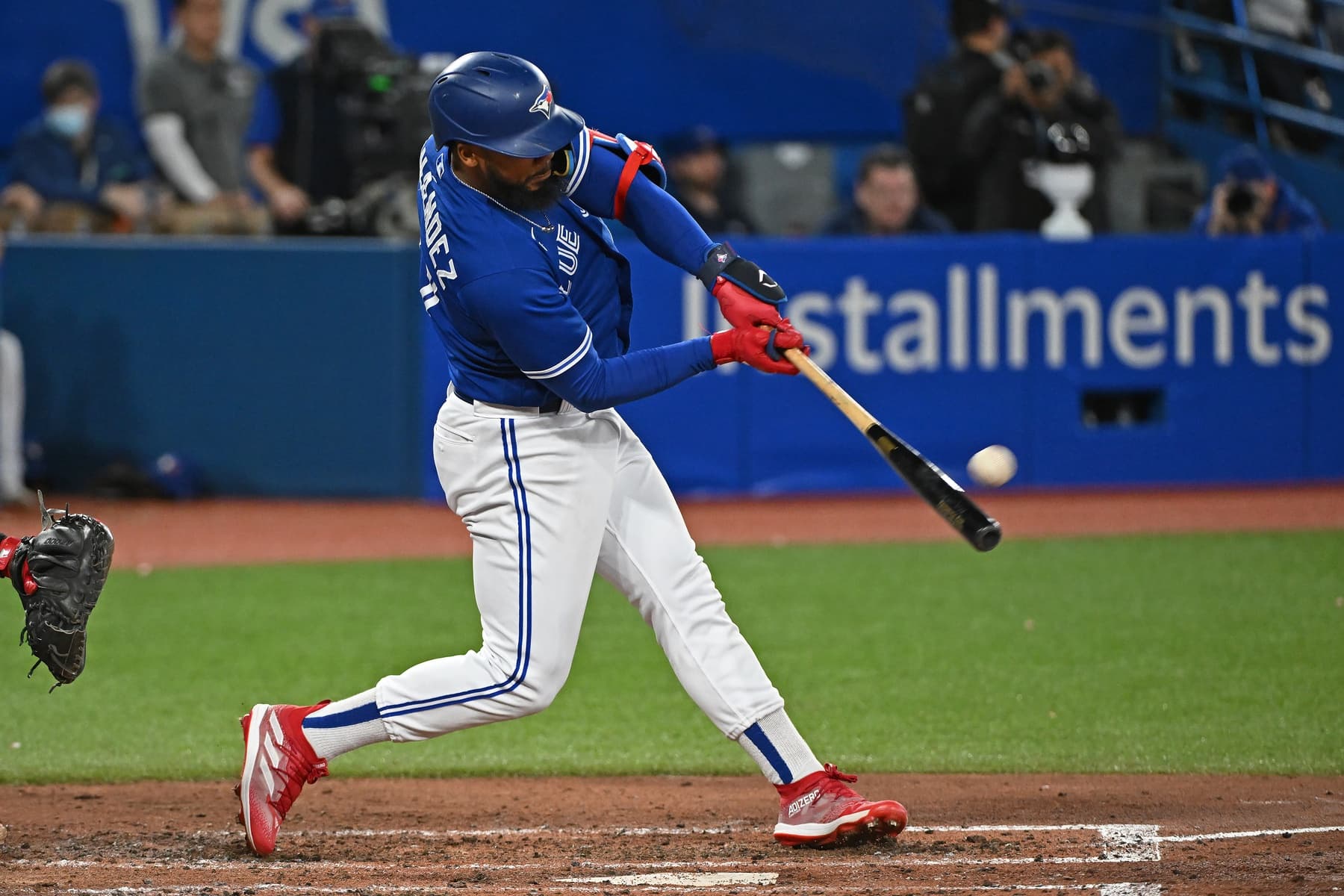 Photo credit:© Gerry Angus-USA TODAY Sports
Blue Jays fans, we're approaching the opening of free agency.
I wrote an article featuring some news regarding the Jays on Tuesday evening. This featured Anthony Bass' option being picked up, Ross Stripling news, the fact teams are looking at Blue Jays catchers and relievers, and the fact the Jays may look overseas.
Well, there is a new batch of rumours on the mill, so let's take a look at them.
Teoscar Hernandez, a non-tender option?
This off-season will be the final year of arbitration for the 30-year-old outfielder, and he will become a free agent at the end of next season. MLB Trade Rumours estimates that Teoscar Hernandez will make $14,100,000 million in 2023 after making $10,650,000 in 2022.
That's a lot of money for a team with around $180,000,000 in projected payroll (after arbitration cases), but before any adds. However, Hernandez is well worth the money.
The outfielder has been the most consistent Blue Jays hitter for the past three seasons,  posting a 142 wRC+ in 2020, a 132 wRC+ in 2021, and a 129 wRC+ in 2022. As for his slash line, Hernandez has slashed .283/.333/.519 with 73 homers in 13337 plate appearances since the start of 2020. 
Moreover, he's spent the start of the past two seasons on the injured list, first with COVID in 2021 and an oblique injury in 2022, yet still posted a 132 and 129 wRC+ respectively.  Hell, from June 1st to the end of the season, Hernandez slashed .285/.331/.536 with 23 homers in 435 plate appearances, good enough for a 146 wRC+.
If the Jays non-tender him, they will lose one of their best hitters for literally nothing. That would be idiotic, at least wait until the end of next season to get a compensation pick if his trade value is too little.
Michael Conforto:
Now moving to free agents, but sticking with outfielders, we have Michael Conforto. Per Jon Heyman, super agent Scott Boras noted that there has been a ton of interest for the 29-year-old outfielder.
Conforto, who spent all of 2022 as a free agent, missed last season due to a torn labrum. He hit .232/.344/.384 in 479 plate appearances in 2021 for a wRC+ of 106. His best season came in 2017, where he hit .279/.384/.555 with 27 homers in 440 plate appearances for a 147 wRC+, but also posted a career-high in homers (33) in 2019.
Conforto is an outfielder that bats left-handed as well, which has been argued is a need for the Jays. It's possible he signs a one-year "show me" deal with a player option. Don't non-tender Hernandez just to replace him with Conforto though, that would be dumb.
Robert Suárez:
This seemed to be speculation, but Robert
Suárez
is potentially a reliever the Jays could look to for the perceived bullpen needs. The 31-year-old spent the majority of his professional career pitching in Japan but made the transition over to North America in 2022. 
With the Padres, he posted a 2.27 ERA and 3.22 FIP in 47.2 innings pitched. He had a high 31.9 K% and an above-average BB% of 11. If you want high velocity in the bullpen,
Suárez sits in the high-90s and has touched 100 mph in a playoff game.
Corbin Burnes available?:
Not just that, but Burnes has two more seasons of arbitration remaining (estimated to make $12,713,840 this off-season), before hitting free agency after 2024.
If Burnes is truly available, he is one of the few players I would want to see the Jays trade Kirk for. Burns throws a cutter (95 mph), a curveball (82 mph), a changeup (90 mph), a slider (88 mph), and a fastball (96 mph). He's also hit 100 mph.
So yeah, if he's truly available, get him.
Will the Jays trade a catcher:
In Ben Nicholson-Smith's latest article for Sportsnet, he runs down which teams would be the most likely for a trade (the Cardinals, being the most obvious). Another nugget he dropped is the fact that yes, the Jays won't force a trade, but there are actually some at the GM Meetings who don't believe a team will match the Jays' wants.
In that case, the 2023 Blue Jays will have Alejandro Kirk, Danny Jansen, and Gabriel Moreno all on the roster. To me, this is the most likely outcome, as you could realistically move Morero around the field and make Danny Jansen an often-used designated hitter.
Yes, it's a surplus and trading from the depth could help in other positions, but the Jays have a solid prospect pool and a ton of money. Teams that want a catcher will have to meet their demands or overpay, and the Jays
really
don't need to force a trade.
Thursday will be the start of free agency, so stay tuned, because it's (hopefully) going to be action packed!
As always, you can follow me on Twitter @Brennan_L_D.
---