News and Notes: The Blue Jays again have interest in Andrew Heaney, Ronald Acuna Jr. trade speculation, and more!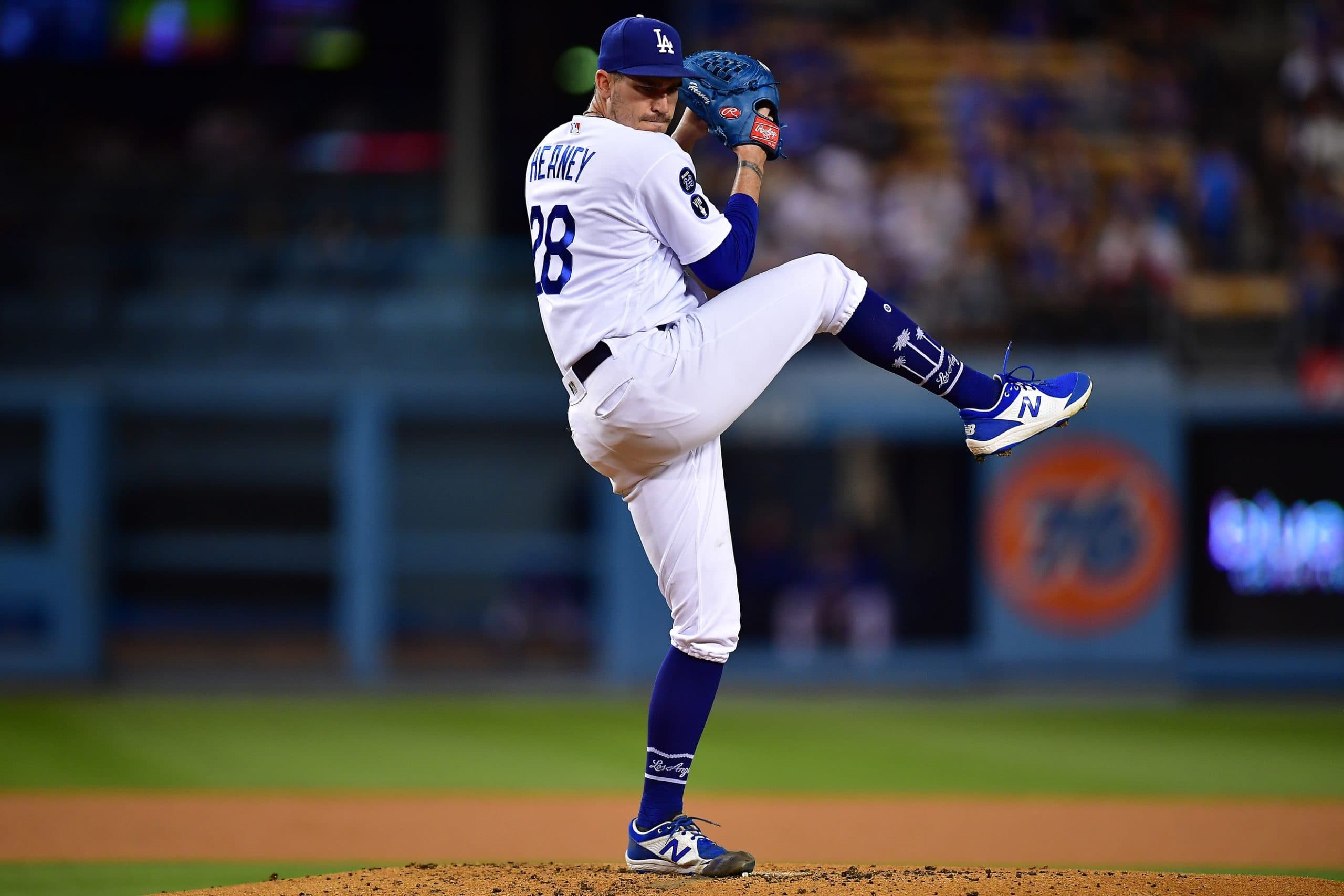 Photo credit:© Gary A. Vasquez-USA TODAY Sports
A familiar name has entered the Blue Jays Rumour Mill early in the off-season.
According to Sportsnet's Ben Nicholson-Smith, the Blue Jays have interest in signing left-handed pitcher Andrew Heaney…
Heaney wound up inking a one-year, $8.5 million deal with the L.A. Dodgers and posted a 3.10 ERA over 72 2/3 innings while striking out a whopping 13.6 batters per nine innings. The Dodgers didn't issue Heaney a qualifying offer so he'll head to the open market without draft pick compensation attached to his name.
We've seen the Blue Jays carry interest in certain pitchers over multiple off-seasons in the past, which is why Toronto's interest in Heaney is more notable than the usual 'The Blue Jays Are In On This Guy' rumours we'll see in the coming weeks. They were in on Kevin Gausman back in the off-season following the 2019 season before he wound up signing a one-year deal with the San Fransisco Giants and they finally landed him two years later.
Heaney, who was selected No. 9 overall by the Miami Marlins in the 2012 draft, throws a fastball that averages 93 miles per hour and a wipeout slider that leads to his elite strikeout rate. The trouble for Heaney has never been his stuff, it's durability, as he's thrown more than 100 innings in just three of eight seasons since he broke into the big leagues full-time in 2015. Last year, it was shoulder discomfort that limited Heaney to 16 appearances with the Dodgers.
Adding another left-handed starter to the mix is pretty important for the Blue Jays. With Hyun Jin Ryu likely to miss all of 2023 following Tommy John surgery, Yusei Kikuchi is the only lefty starting pitcher on the team's 40-man roster. The next names on the list of left-handed pitchers who could hypothetically make a start are Anthony Kay and Foster Griffin, so this is definitely an area that the organization would like to upgrade.
And then there's this weird speculation about the Atlanta Braves that's resulted in a whole bunch of Ronald Acuna Jr. for Bo Bichette talk…
Earlier this week,
Matt Vasgersian speculated on MLB Network
that Acuna could be bothered if Dansby Swanson inks a contract with a higher average annual value than the $100 million contract that he signed back in 2019. Shortly after,
Jon Morosi suggested
that the Blue Jays could look to sign one of the big-name shortstops on the free-agent market (Trea Turner, Xander Bogaerts, or Carlos Correa) and move Bo Bichette to fill a need elsewhere.
So, when you put it all together, you have this wild idea that the Blue Jays could go ahead and sign one of those three aforementioned names and then pull the trigger on a deal for Acuna that involves Bichette. Things really went wild when Baseball Trade Values farted out a number that says the two players carry the same value…

The Blue Jays signing Turner, Bogaerts, or Correa isn't totally insane, as they were in the mix on Corey Seager last winter before he ultimately signed a $325 million deal with the Texas Rangers, but the Atlanta end of this hypothetical situation doesn't make much sense.
Matt Olson inked a deal with a higher annual salary than Acuna's deal back in March, so Swanson doing the same thing shouldn't matter that much. Even if it did and Acuna wanted to leave Atlanta, the Blue Jays dealing a shortstop for a right-handed outfielder wouldn't fill the most glaring holes on the team, which are a left-handed hitter and middle-of-the-rotation starting pitcher. Further to that, Bichette wouldn't make sense for Atlanta if Swanson, their shortstop, signs long-term, because Bo wants to play short. It would just be moving one drama for another.
To finish off, another top reliever is off the market, as Rafael Montero has agreed to a three-year, $34.5 million contract to stick around with the Houston Astros…
Between Edwin Diaz, Robert Suarez, and now Montero, three big-name relief pitchers have signed for roughly $180 million combined. The market for free-agent relievers is absurd and I would expect the Blue Jays to pursue bullpen upgrades either through trade or through bargain-bin diving this winter.
---