News and Notes: Yankees suffer a major blow to their pitching staff, Jonathan Papelbon says Blue Jays are a fourth place team, and more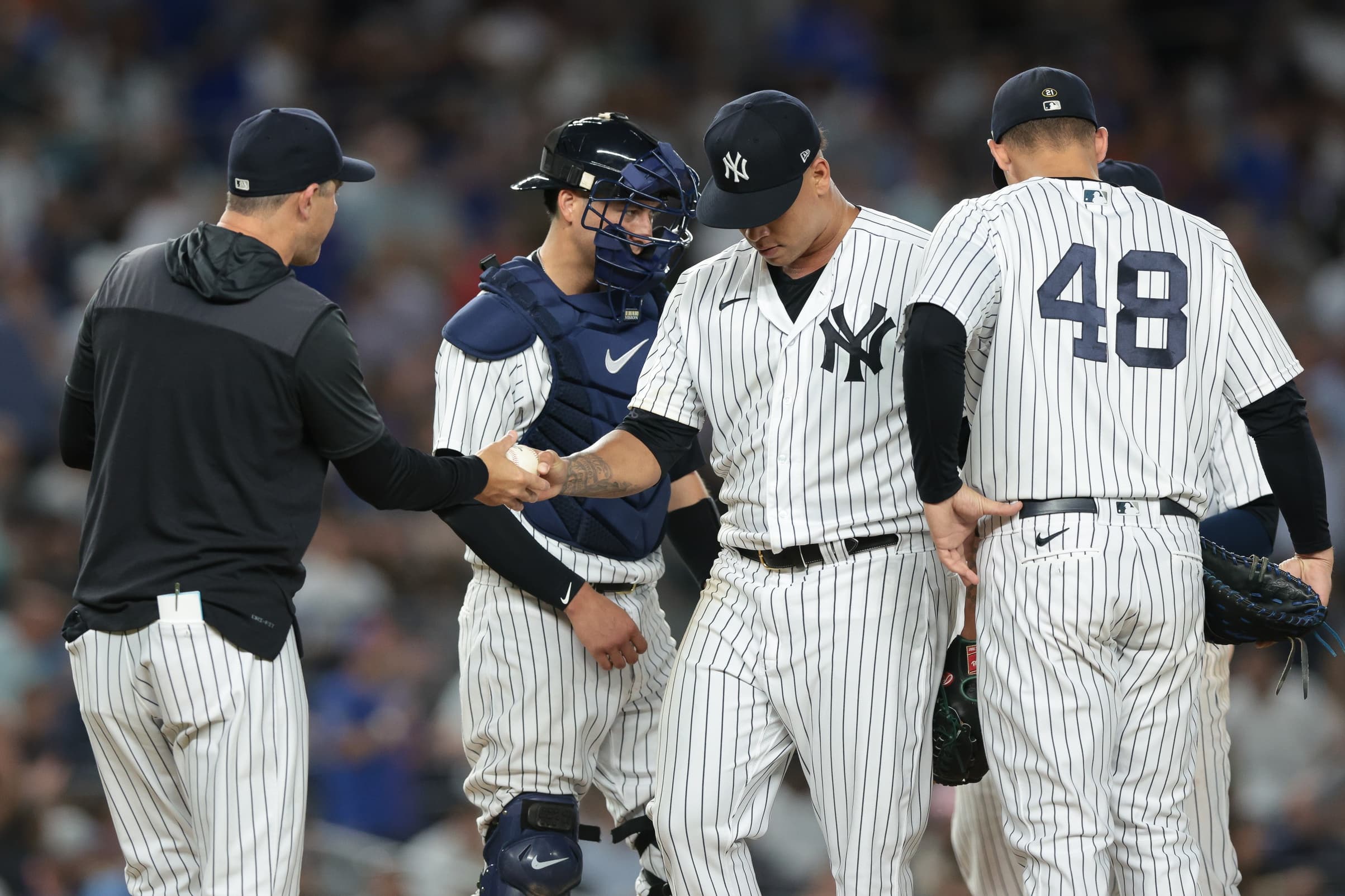 Photo credit:© Vincent Carchietta-USA TODAY Sports
Things have gone from bad to worse for Frankie Montas.
A few weeks ago, New York Yankees general manager Brian Cashman said that shoulder inflammation would result in Montas getting started at spring training behind schedule. On Wednesday, Jeff Passan of ESPN reported that Montas could miss the entirety of the 2023 season after undergoing shoulder surgery.
Montas was the Yankees' big add ahead of last summer's trade deadline, as they sent a handful of prospects to the Oakland A's with the hope of solidifying their rotation down the stretch in 2022 and into 2023. He had been putting together an excellent season for the A's but left a start in early July because of inflammation and didn't pitch again for nearly three weeks.
After arriving in New York, Montas made eight starts and posted a 76.35 ERA before ultimately landing on the Injured List. He made just one appearance for the Yankees during the playoffs, allowing one run in one inning of work during Game 1 of the ALCS.
This situation sheds light on how fragile New York's starting rotation looks heading into the season. Gerrit Cole is about as reliable of a workhorse as you could have at the top of your starting rotation but there are concerns after that.
Carlos Rodon, their big off-season signing, missed a good chunk of the 2017 season due to shoulder issues and made only nine appearances in 2019 and 2020 after undergoing Tommy John surgery. Nestor Cortes Jr., their breakout ace last season, had to withdraw from the World Baseball Classic because of a hamstring strain and might not be ready for Opening Day. And then there's Luis Severino, the once-top prospect who's only made 22 starts over the past four seasons.
There aren't really any starting pitching options left on the free-agent market, as Michael Wacha recently inked a one-but-maybe-four-year, Chad Green-style deal with the San Diego Padres, so the Yanks will have to test their depth.
Might New York's pitcher injury concerns and top-heavy offence make the Blue Jays the team to beat in the American League East? Jonathan Papelbon certainly doesn't think so.
The former flamethrowing closer who won the World Series with the Boston Red Sox in 2007 and got kicked out of a game in Philadelphia for grabbing his crotch at the fans after blowing a three-run lead to the Marlins and who choked out Bryce Harper in the dugout while with the Nationals had this to say about Toronto's off-season…
Apparently, the Blue Jays did nothing this off-season other than add Chris Bassitt who wins a few games despite having an ERA of 4.00. They also had a bullpen that allowed six runs per game last season and they only have one starting pitcher other than Kevin Gausman.
I was really excited about the addition of Daulton Varsho to the outfield and Erik Swanson to an already-good bullpen and I was hoping that Alek Manoah could build on his Cy Young-calibre season but, unfortunately, it appears that I've imagined all of those things!
Moving along… A big thing this week has been Major League Baseball walking through what the rule changes for 2023 will look like. MLB's VP of In-Game Strategy Joe Martinez was in Dunedin on Wednesday and demonstrated how the new pitch clock will work, where infielders are allowed to go without the shift, and the new bases,
as outlined in a Twitter thread from Hazel Mae
.
Those aforementioned new bags, which are designed to increase action on the bases and help player safety, produced one of the funniest baseball-related photos I've seen in a while…
Also worth noting, MLB is trying to crack down on "rolling" or "bouncing" deliveries, so more balks will be handed out to pitchers who have unique deliveries. Among those pitchers is Kevin Gausman, who's going to now have to come to a complete stop before he winds up.
Here he was on Thursday, tossing with less bouncing and a complete stop before his wind-up…
---