Next up: Blue Jays host up-and-coming Nationals team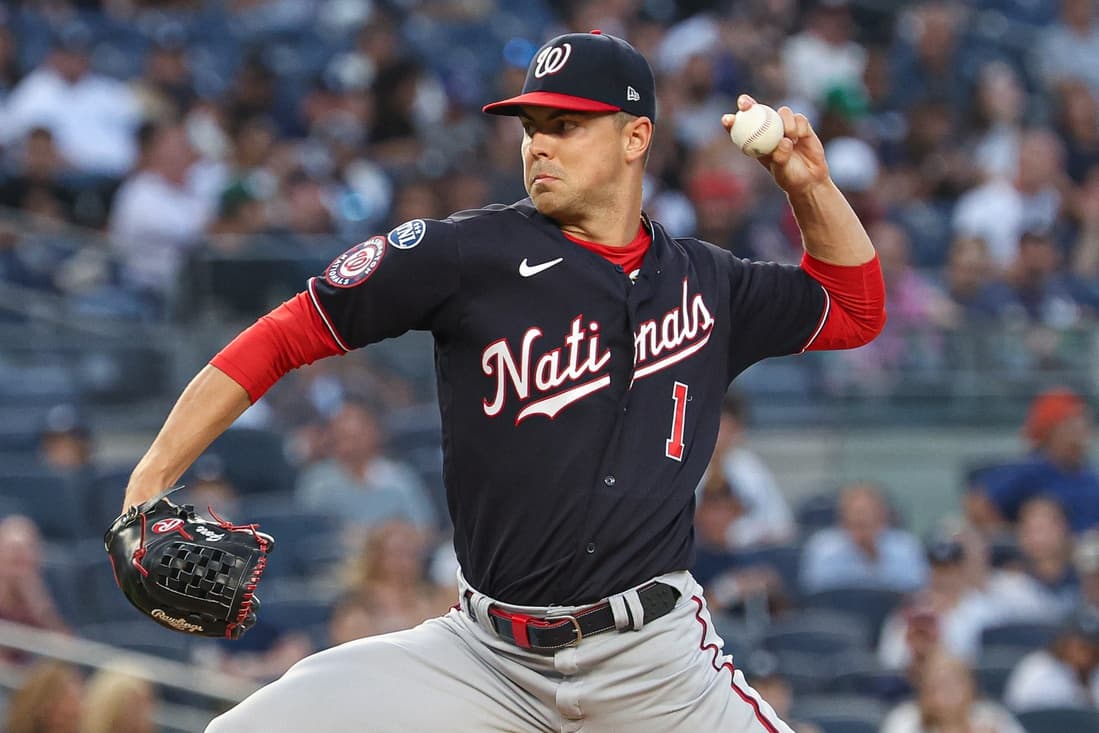 Photo credit:© Vincent Carchietta-USA TODAY Sports
While a feisty Guardians team came to the six and gave the Blue Jays a run, Toronto will continue their schedule against clubs sitting below .500 and clubs that they should pick up must-wins against. As Cleveland departs, Washington will roll in for a quick three-game set starting on Monday.
The Nationals sit 4th in the National League East with a 61- 69 record at .469. They are a whopping 24 games back of the top spot and numerically counted out of even the thought of divisional contention. They sit in the 8th spot on the National League Wild Card race, seven games out of a spot with four teams ahead of them.
Numerically, there is nothing special or dangerous about the Nationals. Their top batting average sits at a .284 in Lane Thomas who also leads the team in home runs with 20 on the year. Joey Meneses leads the team with only 73 RBIs. On the mound, Patrick Corbin is their top dog, leading the team with nine wins and Josiah Gray leads in ERA with a 3.85. Despite the team's status and seeding, they are 8-2 in their last 10 games and are playing well against teams in the hunt for a postseason birth. They picked up two recent wins against the Miami Marlins along with a 2-1 series win against the NL Wild Card leading Phillies, and 2-1 against a chasing Red Sox club.
The Nationals come into Toronto red-hot as they've won each of their past five series. They started off this hot stretch with a sweep of the Oakland A's, they took two of three from the Boston Red Sox and Philadelphia Phillies, they won two of three at Yankees stadium, and they just went into Miami and won two of three against the Marlins.
The Blue Jays are 12 games above .500 and are hovering beneath that third wild card spot which is currently occupied by the Houston Astros. The Blue Jays are one game out of the third spot and will need to continue to put up Ws to stay at pace. There's no doubt that Washington will come to town with spoiler intentions.
The two teams will kick off the series on Monday evening with Kevin Gausman going up against Josiah Gray.
TORONTO – Kevin Gausman
Sitting 9-8, posting a 3.00 ERA in the past 7 days, Gausman has a 3.23 ERA so far on the season and continues to battle on the bump. His repertoire is still the best in the Toronto Rotation and will execute his weapons to go deep.
WASHINGTON – Josiah Gray
He sits 7-11 on the year with a team-leading 3.85 ERA with 118 strikeouts and 1.44 WHIP. His last start saw a win against the struggling New York Yankees with a 2-1 victory going 6.0 innings pitched allowed only one run on one hit with four strikeouts.
GAME 2: WASHINGTON: Mackenzie Gore (6-10) vs. TORONTO: Jose Berrios (9-9)
GAME 3: WASHINGTON: Patrick Corbin (9-11) vs. TORONTO: Chris Bassitt (12-7)
---