Not Sunny in Philadelphia: Bo Bichette's error wins the game for the Phillies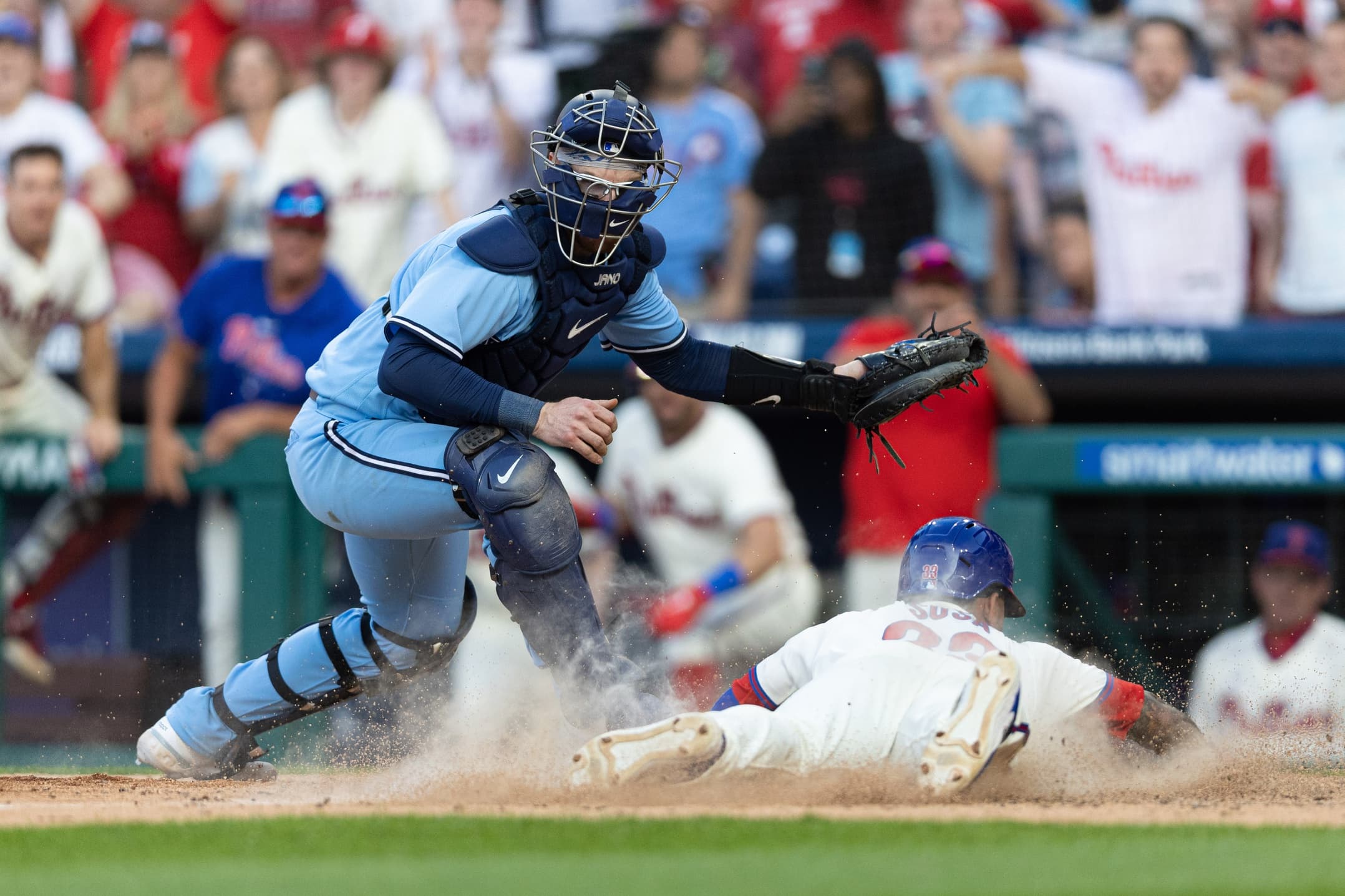 Photo credit:Bill Streicher-USA TODAY Sports
Part of baseball being a beautiful sport is that a game can be a snooze-fest through eight innings, then must-see, intense TV for two innings. That's exactly what happened this afternoon, as the Blue Jays lost the lead and eventually the game 2-1, and the Phillies swept the mini two-game series.
With runners at first and second with one out in the 10th, Tim Mayza fielded a tailor-made double play ball and threw to second to get the first out. Bo Bichette's throw to first, however, was wide to the left, and it took Vladimir Guerrero Jr. off the bag allowing the lead runner to score. It was Bichette's fourth error of the season.
While this play will get magnified, Bichette was not the sole reason Toronto lost the game. Unfortunately, it was the final play of the game, and the Blue Jays lost their second game in a row.
Blue Jays Nation's Player of the Game: Kevin Gausman
Gausman needed a rebound start after his last outing against the Red Sox in which he gave up eight earned runs after 3.1 innings. That's exactly what he produced, with his stat line today featuring a whole lot of zeros. Gausman pitched six innings of shutout baseball while only allowing three hits, no walks, and striking out nine batters. I don't mean to harp a whole lot on the "what ifs", but it would be remarkable to see Gausman's season numbers if his starts against Houston and Boston went differently. Nonetheless, his outing today brought him down to a 3.38 ERA, and it was a special performance considering the potent lineup that was in front of him.
Gausman allowed back-to-back singles with two outs in the first inning, but after that, he retired 15 consecutive batters. That streak ended with two outs in the 6th inning after a Trea Turner double, but Gausman was able to put away Bryce Harper on a ground ball to first – a ball that was fielded by Guerrero and was nicely tossed to Gausman who was covering the bag for the final out.
Things worth mentioning
Brandon Belt was responsible for the only run for Toronto in this game. On the day, Belt was 1-for-3 with the home run, a walk, and two strikeouts (because of course). Belt's homer was one of only three hits on the day allowed by Phillies pitcher Zach Wheeler, and it came on a hanging curveball in the 5th inning.
Perhaps it's the transition to AL pitching that is the cause of Belt's slow start, he's been much better against NL teams, albeit with a smaller sample size. In six games against NL foes, Belt is 7-for-20 with four doubles and a home run.
Yimi Garcia and Erik Swanson both stranded a base runner in their respective innings, and it was up to Jordan Romano who was handed Harper, Nick Castellanos, and Kyle Schwarber for the 9th inning. As Dan Shulman noted, not all three outs are created equal, and that was definitely the case for Romano today. Harper singled, followed by a stressful at-bat from Castellanos. The AB lasted nine pitches, and it included a foul ball that looked like a home run to left field off the bat. Castellanos would ultimately reach on an infield single; there was an opportunity for Santiago Espinal to get the lead runner out at second, but he chose to throw to first and it unfortunately took Guerrero off the bag. It would've been a tough play, either way, Espinal wanted to go.
After Schwarber struck out, JT Realmuto doubled to left to tie the game at 1. Alec Bohm was next, and he grounded a ball to Guerrero at first. Castellanos was charging home plate from third, but Guerrero threw a perfect ball to Danny Jansen at home for the tag. It was also great execution on Jansen's part, as he gave the runner a lane to slide and applied the tag in time.
The Blue Jays head home to kick off a tough 10-game home stand that starts with the Atlanta Braves. Chris Bassitt gets the nod against Spencer Strider.
---