Off Day Thoughts: Vladdy and Kikuchi are trending upwards, unexpected former Jays are thriving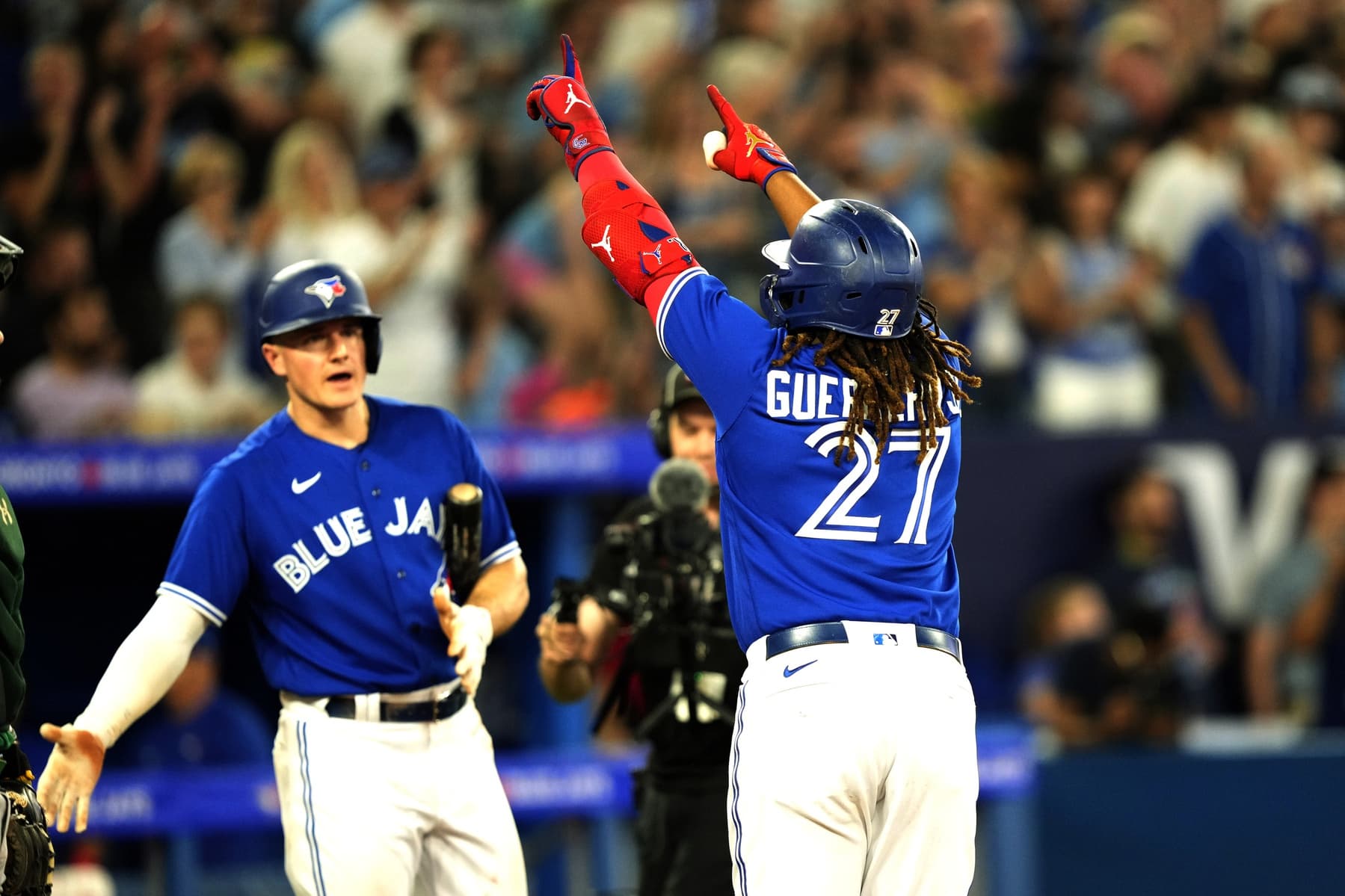 Photo credit:© John E. Sokolowski-USA TODAY Sports
It would've been nice to sweep the A's this past weekend, but winning the series is always good and so is being in a playoff spot. Winning a series almost always has some positive storylines, so I'll touch on a couple of them here.
Is this the Vladimir Guerrero Jr. hot streak we've been waiting on?
Friday night marked the first time since September 30th, 2022 that Vladimir Guerrero Jr. hit a home run at Rogers Centre. Home run or not, it was encouraging to see Vladdy show the amount of emotion he exuded as he rounded the bases. A lengthy stare, a loud "Vamos!", and the emphatic skip before he hit third surely took a weight off of his shoulders, as well as allowed many a Jays fan to exhale.
Yes, it was against the A's, but Guerrero Jr. has been amidst a relatively long funk where ground ball outs were rearing their ugly head once again. In June, his batting average dropped to as low as .275, the OPS dipped to .767, and he had gone almost a whole month without a home run off of an actual pitcher. Those aren't demotion numbers, they were just concerning relative to Guerrero's standards. Even during that stretch of games, Guerrero only has six games in June without a hit. It could've been a LOT worse.
I won't break down his swing like I coach baseball, because I don't. But the below is a very interesting thread on Guerrero's swing, including comments from Joe Siddall and Caleb Joseph.
Now, we're hoping that the home runs are back. The Blue Jays are a different beast when this happens; in games where Guerrero homers at least once, the Blue Jays are 70-35 in his career. Guerrero was 6-for-12 with two homers, two doubles, and seven RBIs this weekend. Again, it was against the A's, but hopefully, it's all Vladdy needed to see so that the homers can start coming in bunches.
It's time to extend the leash on Yusei Kikuchi
It's been quite the bounce-back year for Kikuchi, a guy who many fans would've been OK had he been DFA'd last year. While Jose Berrios is garnering a lot of attention for his renaissance, Kikuchi's has been just as good, as well as somewhat heartwarming (at least to myself). After today's phenomenal start against Oakland, Kikuchi is flaunting a 7-2 record through 16 starts with a 3.75 ERA and 1.23 WHIP.
There have been multiple noticeable improvements from his dreadful 2022; his K/9 is starting to distance itself from his BB/9, and he's having far better results against common opponents. Last year, his K/9:BB/9 ratio was 11.09-to-5.19 compared to 2023's 9.11-to-2.68. That BB/9 this season is a career-best. While he is leading the MLB in home runs allowed, he's avoiding the multi-run bombs and keeping those things solo, which is a direct benefactor of the low walk rate.
As far as common opponents go, he's had revamps from last season to this season against Milwaukee, New York (Yankees), Oakland, and Kansas City. He's also given Pitching Ninja an opportunity to show off the "Kick-uchi" and K strut.
The biggest knock on Kikuchi this season has been his durability game to game. His months of May or June have consisted of eight games where he has pitched between four and five innings. Despite this, he is the only Blue Jays starter to pitch into the 5th inning in each of his starts. The only one.
My proposition now is that there are some outings in which Kikuchi has pitched well enough to go further into the game, and John Schneider has not given him that chance. There have been multiple visual instances where Kikuchi has wanted that extra inning or extra batter, and I think he's deserved it.
April 26 vs. CWS: 5.2 IP, 4 H, 0 ER, 1 BB, 8 K's / departed at 89 pitches with Eloy Jimenez due up (0-for-2 against Kikuchi before then). 5, 6, and 7 batters due up in the 7th inning (only one hit off Kikuchi up to that point from those scheduled hitters).
June 4th vs. NYM: 5 IP, 4 H, 2 ER, 1 BB, 8 K's / departed at 89 pitches with 3, 4, and 5 hitters due up in the 6th (only one hit off of Kikuchi up to that point from those scheduled hitters).
June 9th vs. MIN: 5 IP, 4 H, 2 ER, 1 BB, 4 K's / departed at 82 pitches with 3, 4, and 5 hitters due up (0-for-5 with a walk against Kikuchi up to that point from those scheduled hitters).
June 20th vs. MIA: 6 IP, 2 H, 0 ER, 0 BB, 6 K's / departed at 87 pitches with 2, 3, and 4 hitters due up (0-for-6 against Kikuchi up to that point from those scheduled hitters, and had just gotten Luis Arraez out to finish the 6th).
So, the theme is that the middle of the order has been due up for the majority of these examples. After diving into the statistics, Kikuchi's opponent batting average the 3rd time through the order is lower than the first time through, and only two points higher than the second time. Furthermore, the OPS the third time through is lower than the first and second time through. If any part of Schneider is analytical, the stats defend Kikuchi for that extra inning.
Earlier in the season, Schneider kept a tight leash on Kikuchi for good reason. They didn't have enough sample size to trust him too deep into a game. But all he's done now is earn it, and with a bullpen game having to be thrown in the mix now, any extra inning Yusei could give you could save an arm. Again, he's done nothing but earn it.
Old pals Billy McKinney, Brandon Drury, and Brock Stewart are making noise
We poke fun on our podcast often that former Blue Jays are destined to flourish as soon as they are on a different team. This year, there are several former less-than-impressive Blue Jays that are having great years.
Let's start with Billy McKinney, who is popping off for the Yankees during the absence of Aaron Judge. McKinney was DFA'd by Toronto in 2020 and has bounced around quite a bit to this point. Through only 16 games this year, McKinney is batting .302 with a .950 OPS, 4 home runs, 7 RBIs, 3 doubles and a triple. The sample size is small, but he is greatly helping the Yankees right now.
Brandon Drury, also DFA'd by the Blue Jays in 2020, was a Silver Slugger last season with the Reds and Padres and has found a nice home in Anaheim with the Angels. This season, he's batting .273 with a .815 OPS, 13 homers, and 42 RBIs. For context, Drury had a .206 batting average and a .606 OPS in almost 500 ABs with Toronto.
Brock Stewart is a name you may not be familiar with, but he was a stopgap pitcher during the 2019 season. Stewart had an 8.31 ERA through 10 games with the Blue Jays that year, but he has now become an electric reliever for the Minnesota Twins. Through 25 games this season, Stewart has a 0.70 ERA, 1.01 WHIP, and a 12.3 K/9.
The list goes on – check out Jimmy Cordero, Julian Merryweather, Andrew Vasquez, Joel Payamps, and more. It would've been nice to see them all work out for Toronto, but nonetheless, good for all of those guys!
---