Off-season News and Notes: Anthony Bass' option picked up, Blue Jays interested in a Ross Stripling reunion, and more!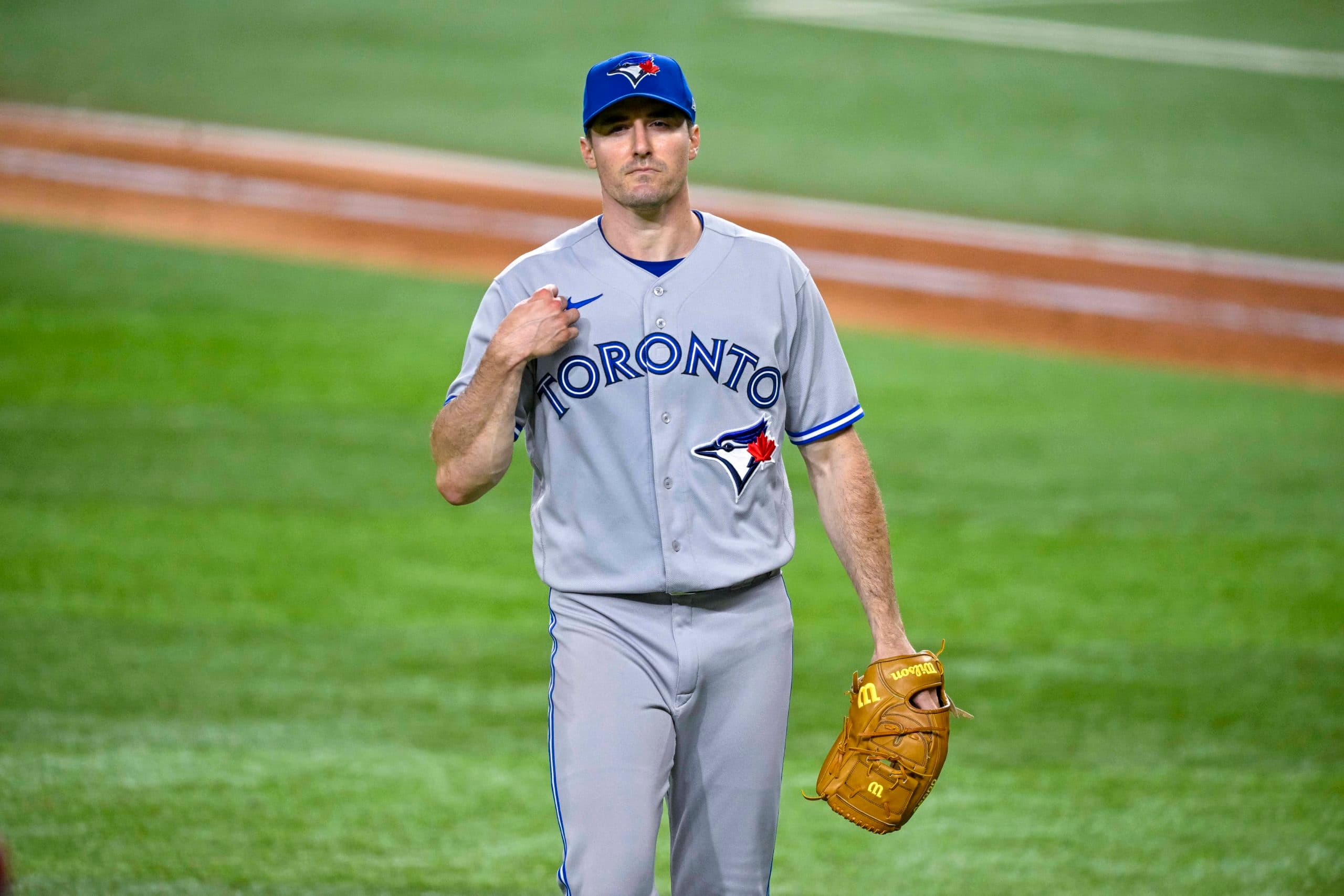 Photo credit:Jerome Miron-USA TODAY Sports
The transaction news is coming fast and curious as we come ever so close to Thursday's opening of free agency.
We all love transaction news, right? Well, on Tuesday evening, the news came fast and furious. Let's look at the obvious news before looking at the more surprising news.
Anthony Bass:
As expected, the Jays have exercised their team option worth $3,000,000 on reliever Anthony Bass' contract. The 35-year-old reliever was picked up in a deadline deal trade along with reliever Zach Pop and prospect Edward Duran. Going the other way to the Miami Marlins was former first-rounder Jordan Groshans.
Bass posted a 1.54 ERA and 3 FIP in 70.1 innings pitched between the Jays and the Marlins. He also had a 26.5 K%, the highest in his career, and well above his 18.8% average for the statistic.
With the Jays, Bass had a 1.75 ERA and 4.63 FIP in 25.2 innings pitched. His K% jumped to 27.5%, while he still had a solid, albeit a bit high, BB% of 9.8%.
This was a pretty obvious move to make, as Bass is an important part of the bullpen.
Ross Stripling:
Another pretty obvious piece of news that was dropped, but the Jays have been in contact with the 32-year-old and are interested in bringing him back. He posted a 3.01 ERA and 3.11 FIP in 134.1 innings pitched this season.
I don't think it's a stretch to say that if not for Stripling and what he provided in 2022, the Jays may not have made the playoffs. Originally penned as the swingman, Ross broke out as the Jays' #3 in the rotation. A big reason for this was because of an improved changeup.
It's not been announced whether or not he has been given a qualifying offer, but it's still very possible, and it's a no-brainer in my opinion. If he accepts, you're paying $19.65 million for a #3 in the rotation with great numbers. If he declines, well you get a compensation pick.
If I were Stripling, I would decline, as this off-season may be the last real chance at a payday. The qualifying offer may impact what he would sign for in free agency, but it's still incredibly likely he'd make at least $12 million a season over three years even with the loss of a draft pick.
Ideally, the Jays will re-sign him, making all of this a moot point.
Trade interest in catchers:
Jon Morosi (whose news I take with a grain of salt) made the point that there has been interest in the Jays catchers. Sportsnet's Ben Nicholson-Smith confirmed the information, as you can see from the same tweet.
What's interesting to me is that Ross Atkins noted that the Jays won't make a move, especially for the catchers. This means that if a trade is to be made, the other team would have to offer fair value or overpay.
The Jays are in a position where they can use Danny Jansen in the designated hitter role, or they could even move Gabriel Moreno around the pitch. I really don't think that any of their catchers will be moved.
Trade interest in relievers?:
Hey, look, another section regarding the same tweet. We're moving away from the obvious news, to the more surprising news.
This time we'll focus on the "other teams have interest in Blue Jays relievers" part. This is rather surprising to me, as one would figure that subtracting from the bullpen probably isn't ideal.
The only relievers I could see traded are Tim Mayza and Adam Cimber, but I don't think the Jays are looking to move on from relievers. Perhaps there's interest in Trent Thornton or Julian Merryweather? No idea.
Looking overseas:
So take this with a grain of salt, but Jon Morosi is reporting that Atkins has a strong relationship with Japanese star pitcher Kodai Senga's agent. The Jays' GM also stated that he's expecting "to have a dialogue with Senga's camp." What's the validity of this rumour? I couldn't tell you.
However, it never hurts to look at a player. Segna has pitched his entire 11-year professional career with the Fukuoka Softbank Hawks in the Japan Pacific League. He has a career 2.42 ERA in 1340.2 innings pitched, including a 27.32 K% and 9.36 BB%. With the team in 2022, he posted a 1.89 ERA in 148 innings pitched, along with a 27.46 K% and 8.63 BB%.
The 29-year-old right-handed hits 100 mph on occasion, but sits in the mid 90s with his fastball. He also throws a forkball (which has the nickname "ghost fork", a cutter, and a slider.
Also noteworthy is the fact that the Softbank Hawks also employ former Blue Jays Freddy Galvis. That one is for you Shawn (@Junk_Baller on Twitter).
Hagen Danner:
This new is less surprising, but it deserves a mention. According to Sportsnet's Shi Davidi, there was a scout that texted him noting that Blue Jays prospect Hagen Danner was the best looking reliever in the Arizona Fall League.
The 24-year-old reliever has an interesting story, as he was drafted in the second round of the 2016 draft. He spent his first three seasons playing catcher, before converting to a reliever in 2021. 
While he missed most of the 2022 season, Danner has looked fantastic during the AFL season, sitting in the high-90s with his fastball. Danner also features a hard slider (mid-80s) and a curveball with a lot of depth.
Danner was added to the 40-man roster before the lockout last season, so he's certainly an option for a call-up next season.
That's all… for now. Stay tuned, because Thursday is going to be absolutely crazy.
As always, you can follow me on Twitter @Brennan_L_D.
---