Pitchers in the Blue Jays system to keep an eye on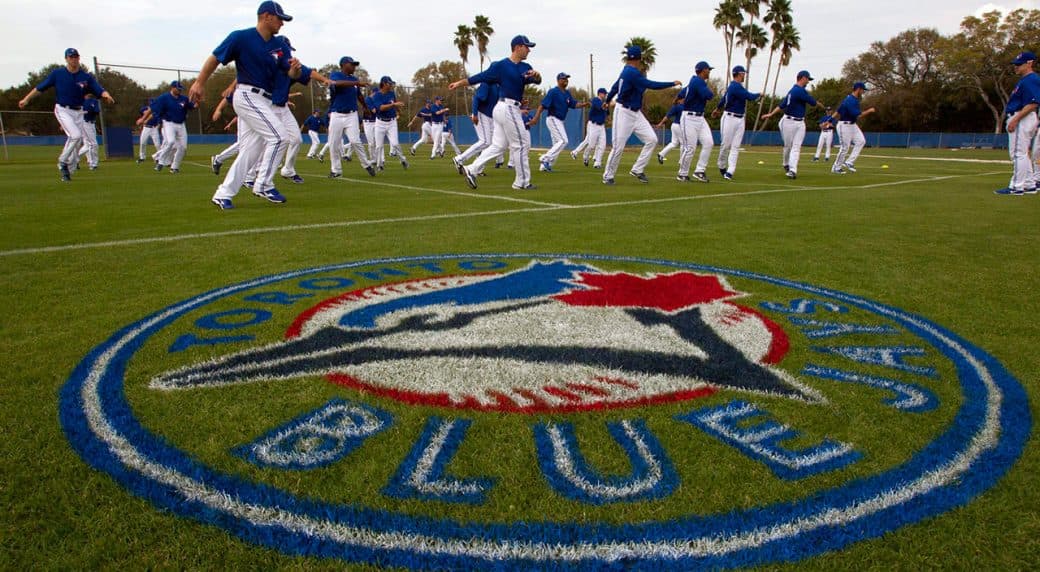 We've heard a lot about the breakout season that Ricky Tiedemann has had in the minor leagues this season, but what about the rest of Toronto's young arms? In this article, I'll be looking at other pitchers in the Blue Jays' system who fans should keep an eye out for…
Hayden Juenger 
I find Juenger an intriguing arm. First, he was assigned aggressively to high-A Vancouver where he pitched the seams off the ball, owning a 15.3 K/9 while only owning a BB/9 of 1.8. This shows his potential to be a lockdown strike throwing righty out of the pen, in addition to the Jays really wanting to test him hard. He also had an ERA of 2.70 which earned him a promotion to Double-A at the start of this season. His stuff grades out extremely well and has one of the highest future values of any Blue Jay pitcher currently in their system.
With the team's Double-A affiliate in New Hampshire, he pitched effectively in 56 innings. While he did have an ERA of 4, he showed his ability to miss bats to a tune of 10.77 k/9. He did struggle more with command (which is a reoccurring theme with Jays' pitchers) against tougher competition. His stuff still translated well and earned him a promotion to Buffalo within the same year.
In Buffalo, he owns a 1.46 ERA in 12 innings.
He is currently on track to surpass his career high in innings pitched too. While he is only a single-inning reliever, the Jays have worked him as much as 4 innings in a game which has allowed him to work on his repertoire. Juenger also is surpassing his streamer projections this year in k/9, Hr/9, BABIP, and ERA. He has currently managed to keep his strong k/9 stats in Triple-A as it is the same since he's been promoted (AA k/9 = 10.77, AAA K/9 = 10.95).
Juenger does seem to struggle a bit with command as his walk rates have been climbing at every stage in the minors. In 68 innings pitched in the minors, he has walked 26 batters which will need work if he is to be called up to the big-league club in September. He is also not on the 40-man roster which could cause problems for calling him up, however, he is a very intriguing young bullpen arm that could find his way closer to the big leagues sooner rather than later. If the Jays are serious about adding another strike-throwing type of reliever, Juenger could be that guy, or at the very least, some MLB experience in September could see what they truly have in him. The Jays have been nothing but aggressive with him so far, so I would not be surprised if they did find a way to call him up.
He has a great fastball which he tends to lead with the most and is known to be aggressive in attacking batters with it. To complement this, he throws a slider as his primary secondary pitch which could end up taking a backseat to his changeup as he progresses through his career. His fastball right now is the pitch he throws the most, and it sits around 95-96 mph. While that does not jump off the radar, that is still good enough to mix in with his great slider and ever-improving changeup, which has been generating more whiffs than last year. At only 6ft 180 pounds, the changeup could be more important as he makes his way to the majors according to MLB.com.
In conclusion, Juenger could be a solid set-up man in a bullpen either this or next year if he can develop his changeup and limit walks. It is a shame he does not throw left-handed, but a prospect who can miss bats, as well as Juenger, does could be enough for a September call-up.
Yosver Zulueta
This name might seem familiar to some Jays fans, however, if you do not recognize Zulueta let me give you a breakdown.
Zulueta was signed by the Blue Jays for a million dollars back in 2019. He is widely regarded as the prospect in the system with the best fastball. It grades out of a 70 on the scale 70/80 scale. He has a slider that has a velocity in the mid-80s with a high spin rate, which according to MLB.com, sweeps across the zone. Zulueta also has a low 80 curveball which equates to two solid breaking pitches and a plus fastball.
Zulueta started his minor league career in 2021 when he debuted in Low-A.
In his age 23 season, he managed to start one game but there are no innings pitched. This is because he tore his ACL and it's the start of what will be a continued tragedy for the right-hander, as he has been on and off the injured list his entire career. While he does struggle with injuries and has only pitched in 46 innings throughout the three levels he has played at, he still has one of, if not the best, stuff in the entire farm system.
Now that we have a better understanding of the background of Zulueta, let's dive into the numbers to see what kind of pitcher he is.
Looking at his most recent season (2022), he has only 10.1 innings pitched to date. While this is not a lot of innings to pull any clear analysis from, it does tell us that health has been a major issue. His k/9 is close to 14 which is an insane strikeout rate. However, before you get too excited, he also struggles massively with command, his BB/9 sits at 8.71 which is not good. In fact, every year the right-hander's BB/9 has been on a steady incline. Zulueta will have to find a way to reign in all these walks before he is to make his way higher up the prospect board.
As for this year, the adjustment to double A might be a bit too much for Zulueta. While his stuff still plays extremely well and is MLB-ready, his numbers and his lack of command will always hold the promising right-hander back, and at 24 years old, there is still time to right the ship, but will need to keep progressing or fall behind other prospects. If he does reach his potential, Zulueta could be the heir to Romano's closing spot.
He has much better stuff than Jordan Romano had at age 24, but with all these continued injuries it is difficult to say what the future will bring long-term for his development. Zulueta has the biggest boom or bust potential in my view. I am not a fan of comparisons personally, but if I had to make one, he could be considered in the mold of Félix Bautista (or Dustin McGowan) of the Baltimore Orioles, because of his high strikeout rates, struggled for a while with command and did not put it all together until later in his career.
Prospects are no sure thing, and Zulueta might fetch more in a trade than he would in immediate impact for the Jays.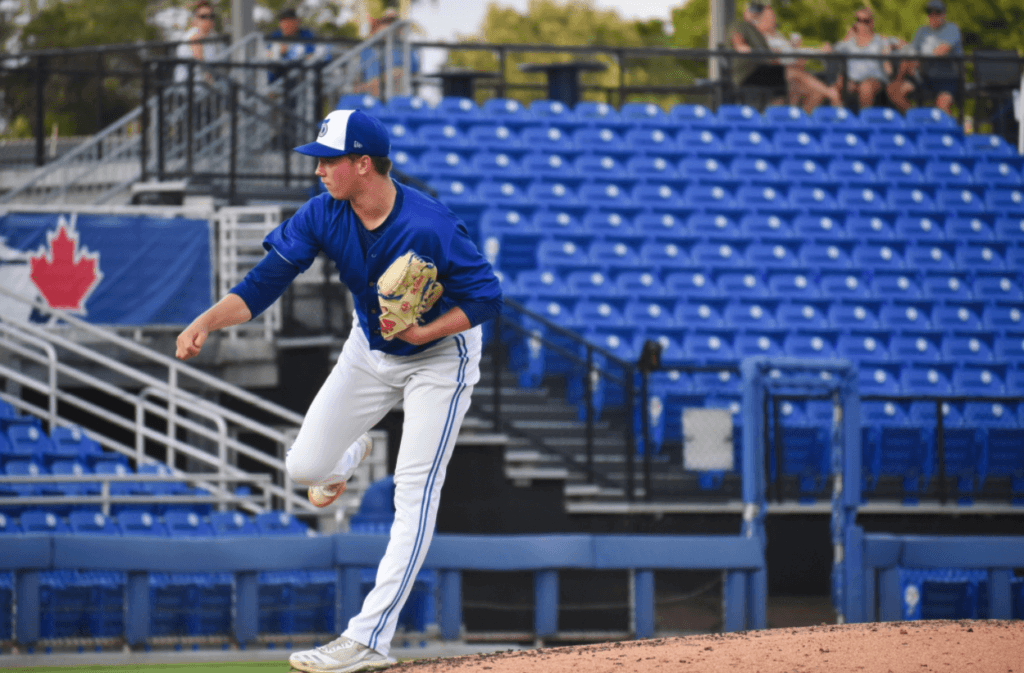 Sem Robberse
Sem Robberse is one of my favorite prospects in the Jays system. The right-hander from the Netherlands stands at 6'1 160 pounds. He is one of the youngest players in the Jays system at only 20 years old and is one of the pitchers in the Jays system with solid fundamentals.
While I would not expect him in the big leagues this year, he is one of the fastest risers in the system because of his incredibly hard work ethic. He was signed in 2019 and had much of his development time interrupted by the Covid-19 Pandemic, he made the most of his time off working on his mental game and getting his weight up while attending the Jays developmental facility. The Jays started his development slow and steady since coming from the Netherlands undrafted, it was uncertain where he was in his development path. After dominating Rookie Ball with an ERA of 0.87 and most importantly no walks or home runs, he was promoted to Single-A the Dunedin Blue Jays, and it is here where we got to see what kind of pitcher Robberse could become. In 14 games (12 starts), he had a WHIP of 1.14 and an ERA of 3.90 in 57.2 innings pitched.
This was enough to impress the Jays' development team to send him to the Vancouver Canadians where he struggled and had to repeat the level. Keep in mind that, from what I could gather, Robberse has a plus fastball which sits around 93mph, if he can get his weight back up to where it should be that number could get higher. He does throw a slider and curveball, but it is unclear if either pitch will be in his repertoire long-term.
What is important to understand about Robberse is that he is incredibly raw. While he does have a natural feel for pitching as described by scouts, and is very athletic and an adaptive learner, his stuff still needs to be able to catch up to the level he is pitching at. The Jays are willing to be a bit more aggressive with now since they recently just promoted him to their loaded Double-A affiliate the New Hampshire fisher cats. This will be a great test for Robberse to see how he will finish the year playing alongside top prospect Ricky Tiedemann.
Personally, I will be tracking Robberse as I find him a very intriguing fit with the Jays long-term. MLB has his ETA set for the 2024 season, but a strong finish in Double-A this year might make the Jays consider him playing him in Triple-A next season and be in line for a September call-up next season. Personally, I see Robberse as a back-end rotation starter, someone who can eat innings (IP:88.2 MiLB), keep walks in check, and not strike a lot of guys out (K/9: 8.1). But can get outs efficiently by inducing groundballs (2022 GB%:47, 2021 GB%: 51.5%). The main thing that I would hope to see change is his LD% go down a bit, but in his last season at high A he reduced it to just 17% a 5% decrease from last year. Clearly, this guy can improve quickly.
It seems to me that Robberse has a high ceiling, and the Jays would be served well for having a cheap starting pitcher sooner rather than later.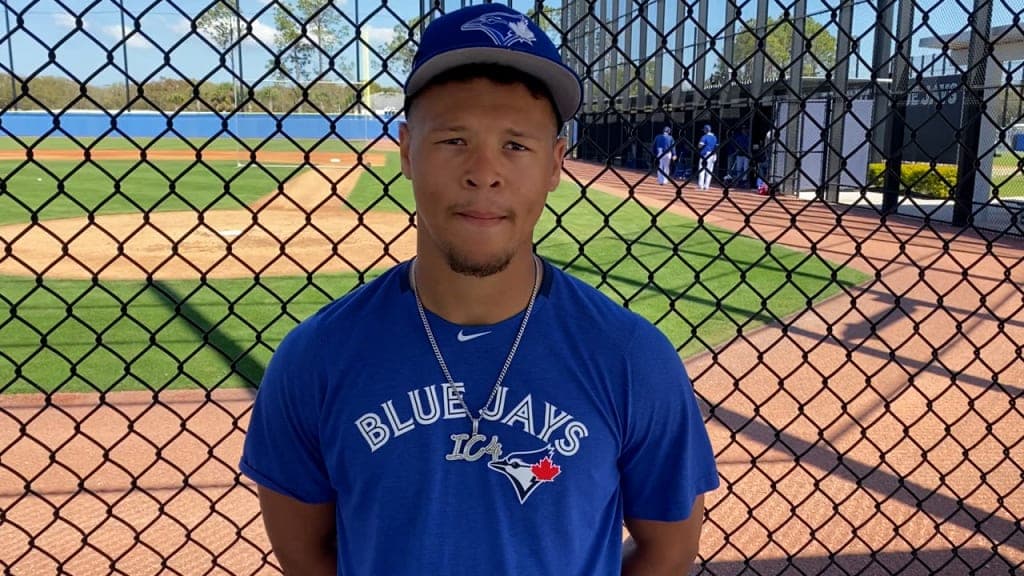 Irv Carter 
Irv Carter is a right-handed pitcher from Florida. Born in 2002, the towering righty was drafted in 2021 in the fifth round of the draft. Carter is currently pitching for the Single-A affiliate the Dunedin Blue Jays. Carter is a massive man at 6' 4"/210 lbs., he is one of the most physically imposing pitchers on the team. He has a heater of a fastball, which can top around 96mph this year in spring training. What is interesting is that Carter has the potential to add even more heat on his fastball by simply just engaging in higher-level coaching as it's already moved up 2 mph since he was drafted. He did not play in college which would explain his young age, however, the word from scouts is that he is extremely raw but has MLB potential.
While that might seem like the bare minimum to get excited about, what is important for fans to remember is once we start looking below double A, there are a lot of question marks and only once in my life do I remember a player playing so low that I was certain would be a major leaguer (Vladdy). So, the fact that a pitcher who is only 19 playing in professional ball is certainly something to hang your hat on.
While it might seem like a fruitless endeavor to see what exactly Carter could look like once he is in the majors, we can look at his production right now to see what kind of pitcher he is right now, to see how he fits in the Jays plans long term.
Carter has had a mixed season production-wise, to say the least. He has an ERA that sits around 6 if counting his time at FCL and Dunedin. Fans (and me) are more familiar with the competition level of Dunedin so I will focus more of my analysis on this league instead.
As mentioned above, he does have an ERA at Dunedin of 6.43 which is not good. However, since he is still so young, he will no doubt repeat this level, and fans should consider this as a trial run of sorts. The Jays are dipping his toes in the water sort of speaking, to see how he will react to batters (IP: 7, in 2 games started). At this level, the Jays will not let him pitch more than 4 innings so this should not worry Jays fans. This is not a Kikuchi thing where he gets lit up, so they must pull him necessarily, rather than just start stretching him out and teaching fundamentals on how to be a starter. No biggie here.
What is important for Carter to monitor will be his strikeout numbers, walks, and his GB/FB/LD rates. In my opinion, when analyzing players, this is what should matter the most as these will tell you what kind of player, you're looking at. In Carter's case, since he is so big and likes to throw hard with a good slider, he will no doubt be looking to strike guys out. That is no surprise, and I am sure Jays fans will get excited to hear that.
Currently, if you were to look at fan graphs, in Dunedin he only has a K/9 of 6.43. Again, I do not think this is much to worry about. Even if this number is not where anyone would like it, at the level he was playing before he had a K/9 of 11 in 33 innings pitched (of course against lighter competition but still it's not a massive jump from Dunedin, and FCL). Also, if we look at his FIP, it's only 4.20 which is not perfect but better than his ERA for sure. And while his xFIP is 5.18, still says that he is a better pitcher than his ERA is saying about him. He has also improved on his groundball rate however it's unclear if that is sustainable or if it's due to the lack of innings pitched. I expect next year with a full year of pitching as a pro, that Carter will make improvements in these categories.
The main issue with Carter is that he just gets hit a ton. His BABIP sits .409 on the season which no matter how you look at it is not good. He tends to give up a lot of hard contact as he gave up 8 home runs in the 33.2 innings pitched in FCL which will need to be improved upon. His command is what really holds him back in my opinion (11 walks in that same time too).
However, he is still so young that he has years to improve upon this.
One stat that I did find troublesome for Carter, is related to his command. When playing for Dunedin, his pitch splits for balls and strikes are what really jumps out at me. As of writing this, he has thrown a total of 133 pitches. 50 of those have been balls while 83 of those have been strikes. That means he is only throwing strikes around 62% of the time. While not bad, for an MLB player, this is something he is going to must improve upon especially while playing against hitters in the lower minors. While he is raw, at this level, especially next season we should see a strike rate closer to the high 60%.
In conclusion, Irv Carter is an interesting prospect in Dunedin. He is a massive man, throws hard, and is loved by his coaches. He just needs to work on his stuff and his command, and he should be making his way up hopefully sooner rather than later.
---