Pitching Depth and Roster Building, Part 2: The Prospects and Lower Minors
Photo credit:Vancouver Canadians - Twitter
Having wandered about in the thicket of Toronto's major league starting options (and, may I add, I think it's a pretty cool thing to have that set of options in Triple-A given what most such rotations look like) we can now get into the more prospect-y side of this discussion.
My good friend over at Future Blue Jays
did a series of rotation projection posts earlier in the off-season, and he started at the bottom and worked his way up. I found that too difficult to do because it seems to me that often a player might not land as high as he otherwise would have simply due to opportunity. So, for example, the guys in Double-A are guys who have earned at least that level but potentially also guys for whom there's just no opening at Triple-A.
The other framing assumption is specific to this season, which is to say that in many cases, a player may be promoted to the level that he would have been had they played a 2020 MiLB season. For example, top-5 prospect Simeon Woods Richardson pitched at High-A Dunedin in 2019 (albeit not for a full season) and might reasonably have been expected to pitch the majority on 2020 in Double-A in a normal year, and thus be in consideration for a AAA assignment in 2021. If the opportunity existed. This sort of thing will likely play out across the minors to the extent that you really won't have much of a problem with players facing competition too advanced for them, but at the same time, if a team is particularly deep in legitimate candidates, this advancement assumption may not play out on opening day assignments.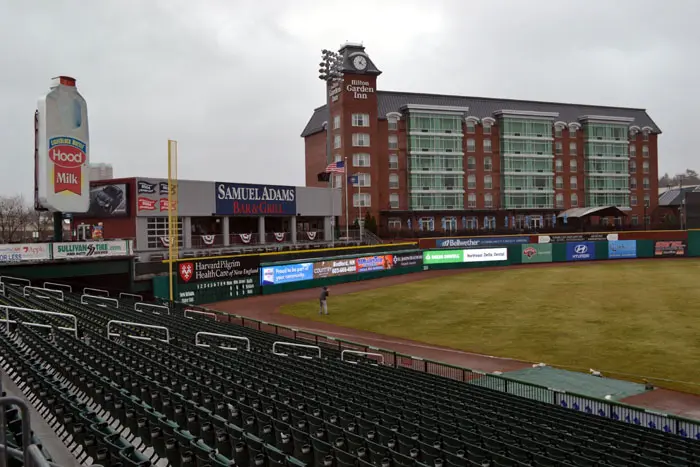 Double-A New Hampshire
So then, turning our attention to the AA New Hampshire Fisher Cats, we're looking at the five-to-seven most advanced SP in the system beyond those overflowing the Buffalo rotation. Woods Richardson is the star player here. Despite my previous illustration, his having had only six starts in High-A in 2019 means, to me, that this is much more a function of where he needs to be rather than being blocked out of AAA. If you don't count Pearson anymore (despite technically still being rookie eligible) SWR is the top pitching prospect in the system and being this advanced heading into his age 20 season, there's every reason to anticipate even more.
The next most highly regarded candidate for this rotation is crafty Joey Murray. Usually falling in the 20s on long prospect lists, he doesn't have overwhelming stuff but has shown impressive skills at using what he has. He made eight of his 25 starts in 2019 at AA and he's going into his age 25 season so he actually is a case who might well have drawn a AAA assignment in a less crowded system (and likewise would stand to be the first from this group promoted if he continues to impress).
Like Murray, Zach Logue is a lefty who turns 25 this year (in April). Apart from one appearance in Buffalo, he played all of 2019 in Double-A and – stop me if you've heard this one – in a less-deep system would surely be a consideration for Buffalo. He seems to be less well regarded than Murray (Joey has notably better strikeout rates) but he has a 3.33 ERA in almost 300 minor league innings so he's not easily dismissed either.
Currently listed on the New Hampshire roster is a name many of you may have forgotten – Justin Maese. A third-round pick out of high school in 2015, he was showing up in the back third of some top 30 lists after a nice 2016 season. but he regressed in an injury-marred 2017 before being shut down and has pitched a total of five in-game innings since. He's 24 now, so an argument can be made but I'm inclined to think when the rosters are put together it's no more than 50/50 that he's here rather than High-A.
Another candidate for Double-A is Nick Allgeyer, also coming into his age 25 season. He pitched well in Dunedin in 2019 which was his first full season post-draft. There's no reason to think an advanced college arm who has a solid record wouldn't make the AA team if healthy. The other guy I'm looking for here is Maximo Castillo. This will be his age 22 season but he's paid his dues, accumulating 359 innings since making his debut in 2016. In rising from Lansing in 2018 to Dunedin in 2019, he pitched almost exactly the same number of innings and maintained his K rate while dropping his walk rate by over 40 percent and his H/IP rate by almost 20 percent. He's a personal favourite of mine and has the feel of being one of those guys who regularly exceeds expectations.
High-A Vancouver
Next up in the revamped organizational ladder is the newly anointed High-A affiliate the Vancouver Canadians. This rotation stands to have a pretty interesting mix of names you'll recognize at the top of the rotation.
Leading the way is 2019 first-rounder and also Big Ol' Boy Alek Manoah. A top prospect (rated as high as No. 3 in the system by Kieth Law) he'll be very much at the front of this rotation and if he does well the odds on favourite for a fast promotion.
Behind him is the erstwhile Rule 5 project Elvis Luciano. Admittedly this is the level where the now-21 year old would have played in 2020 if/as/when but given his age, his odd track record of spending 2019 in the majors, and the crowding above him, this is logical.
The third interesting guy in this rotation is bonus baby Brazilian Eric Pardinho. Shut down after seven starts in 2019 and eventually refereed for Tommy John surgery, he's had the luxury of over 18 months to recover and barring some unreported setback should be able to go full speed when delayed Spring Training opens. The injury has cooled the enthusiasm in some parts for the one-time Top 10 prospect but he could easily get back in the headlines this year and this is just his age 20 season.
After that, it gets a little more uncertain. There's an argument for Adam Kloffinstien here. He's also 20 (four months older than Pardinho), put up impressive numbers pitching for (then short season) Vancouver in 2019, and found his way onto an organized team last summer to clock some innings pitched. The counter-argument is that this would mean skipping over Low-A Dunedin but Vancouver is the first rotation we've come to that's not filled to overflowing with obvious candidates. I'd originally assumed he'd land in Low-A, Dunedin but the more I look at it the more I think he fits here, which would surely make this the most potential-heavy rotation in the system.
Rounding out the Top 5, I suppose, is Kyle Johnston. A guy with marginal numbers when the Jays picked him up at the 2019 deadline, he was absolutely horrific with Dunedin down the stretch, to the tune of a 10.07 ERA. But you occasionally see someone mention him as a sleeper so… I don't know, I don't see it, but he's 24 (until July) and if he's pitching at all it in this organization it would be here.
If you need a sixth name, just to stick to my previous pattern, you've got a grab bag of older guys who would gain little from being in Low-A again. Likely they'll be mixed up in a ST battle with the 2020 draft choices (three of the five being college pitchers) and Johnston for that matter to see who earns the chance. Some of these guys could as easily be cut altogether as make this team. The names include Sean Wymer, Troy Miller, Cobi Johnson, Fitz Stadler, Troy Watson, and Juan DePaula. All of them have some significant shortcomings to judge by their 2019 stats.
Low-A Dunedin
Now, this is where it gets truly chaotic.
Including the marginal holdovers listed above, I could mention as many as SIXTEEN pitchers who have some potential to land in this rotation. Maybe more depending on how the organization chooses to handle the choices between a Low-A assignment or complex teams.
So let's work more or less from the top down. The six names at the end of the previous paragraph are basically the incumbents but none of them have a firm grip even on a spot in the organization, let alone this rotation (albeit some of them might be seen as having some upside in the bullpen). Setting those aside, it's relatively easy to assume the 2020 draft pitchers will land here.
As noted previously, there's an open spot or two at Vancouver and second-round choice CJ Van Eck, who's been ranked generally just outside the top 10 prospects in the organization, could very well claim it. He's more advanced and polished than the other two and that possibility (four of the organization's Top 5 pitching prospects – per Pipeline and BA – in one rotation) should keep Van C's fans up all night in anticipation.
But for ease of organization, I'm going to assume for the sake of this post that the team is conservative on Opening Day and puts all three recent draftees at the top of this Low-A Dunedin rotation, at least initially, with Van Eck pegged for a fast promotion.
The other two are third-rounder Trent Palmer, who's relatively new to starting, and fourth-rounder Nick Frasso who is relatively new to pitching, but both have considerable upside. College pitchers, at least those from upper rounds (which that's all we had last year) seldom linger on complex teams.
The next pool of potential Dunedin starters is made up of players who showed well in short-season ball last year, and particularly those drafted out of college who are of age to be playing full-season ball in any case.
Setting aside the previously mentioned Manoah and Kloffenstein, the next most effective starter in Vancouver last year was 23-year-old Nick Fraze, a 22nd round choice (remember when that was a thing?) in the 2019 draft. He posted a 2.12 ERA with good underlying ratios and this would suggest he's a strong candidate for the Dunedin rotation (and a somewhat dark horse to skip up to High-A in certain scenarios).
Another name to know from that 2019 rotation is Grant Townsend. He's 23 and was a 34th round choice in 2018, and his 2019 stat line – and yes scouting stats is problematic but it's hard to find scouting comments on guys outside the top 30 –  suggests he's in the same category as Fraze.
The last guy I'll mention from Vancouver is Luis Quinones. His immediate future is uncertain because he got a suspension after the 2019 season and it's unclear if the missed 2020 season counts against that penalty. Technically the Van C's piggyback arrangement had him starting less than half of his games but it's my impression that they see him as a starter for now. He got rocked, once, in his last outing of 2019, but take that one away and he put up a 1.29 ERA for the season over 28 IP, while giving up a minuscule 11 hits and striking out 43.
So, I mean, there are six solid candidates and I haven't even gotten to Bluefield, the complex guys, and the international free agents.
Still, while there are four or five international guys who pitched for Bluefield in 2019 that are thought to have upside, only one of them – Jol Conception – produced results that suggested he had the polish to compete for a spot in Dunedin. But wait, I forgot someone else! Eddison Gonzalez was acquired from the Rays during the 2019 season but never got to throw an inning in the Blue Jays organization. He's 21 now and threw 62+ quality innings of work in the NY-Penn league that year. By any measure, he earned a shot at the Dunedin rotation.
Beyond those, the most well-regarded prospect that we've not yet assigned is intriguing Dutch hurler Sem Robberse. This will be his age 19 season and while he's only logged 10 innings in the organization, reports are that the team, as well as scouts generally, are really impressed and he lands in the mid-20s on both the aforementioned top 30 lists. Lacking a short-season team to assign him to, a good spring camp likely earns him consideration for this rotation, but with so many pitchers already in this line, he may end up waiting until some room opens up.
Another international name of note from the same year (albeit at the tail end of the previous class) is Cuban Yosver Zulueta. Apparently 22 now (I've been unable to determine a birth date) he had Tommy John after signing but has had the requisite time to get back to full health. Before the injury, he could touch 98 MPH heat complemented by a respectable curve and other projectable pitches. Given that he's older than most IFA signings he might make this team if he shows well in the spring.
Yet another international free agent signing with noticeable buzz (which came to my attention via those FBJ columns I mentioned) is Dahlian Santos whom he noted has been described by Andrew Tinnish as "an absolute steal". Like Robersse, he was snagged in the 2019 J2 signing class and to be fair, it's rare for Latin players signed this young to jump to full-season ball without some time in the complex. But these are unusual times so file his name away.
So, while allowing that one or more of them might skip over Dunedin, some will slide to bullpen work and some will go home, that's an absolutely insane battle for spots in the Dunedin rotation.
Other names to watch for that I haven't yet mentioned (despite surpassing 2200 words!) include the following players who (A) are the other Latin guys I mentioned at Bluefield, or (B) showed well in the complex in 2019: Rothier Hernandez, Alejandro Melean, Naswell Paulino, Rafael Monison, Elixion Caballero – all international signings – and Michael Dominguez who was a 15th round choice in 2019 and might pop up strong in camp.
Recent articles from Tammy Rainey