Pitching prospect Yosver Zulueta added to the 7-day IL due to shoulder soreness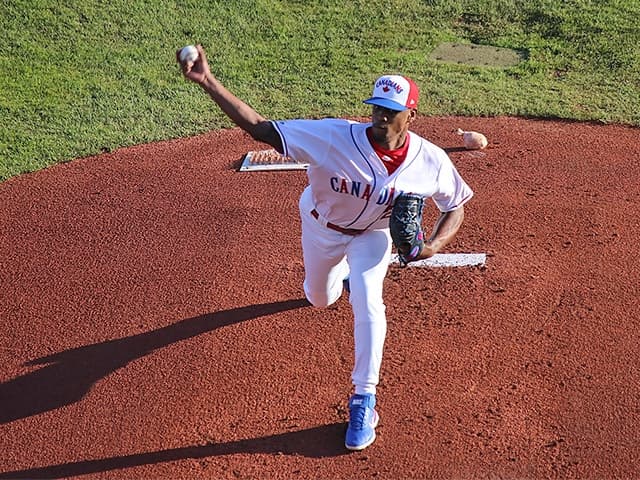 Photo credit:csplusbaseball.com
Per the Blue Jays transactions, Yosver Zulueta was added to the 7-day injured list in Double A on August 10th.
On Thursday, it was confirmed by Sam Dykstra of MLB Pipeline that Yosver Zulueta was added due to shoulder soreness. He also notes that it's more of a "precautionary stint" than a "worrisome one."
Zulueta signed for $1,000,000 in 2019 and underwent Tommy John in 2020, meaning he would've missed that season if there was one. He impressed during spring training in 2021 but tore his ACL covering first during his first professional at bat.
Aside from the precautionary IL stint, the 24-year-old has remained healthy throughout the season.
He started with the Dunedin Blue Jays, posting a 3.00 ERA and 1.41 FIP in 12 innings pitched. Zulueta had a 45.1 K% and 5.9 BB%. He was promoted to Vancouver, where he posted a 3.80 ERA and 3.23 FIP in 23.2 innings pitched. He had a 30.4 K% and 10.8 BB%.
He has only pitched 10.1 innings with the New Hampshire Fisher Cats in Double A, but has been solid. While his 4.35 ERA and 4.77 FIP don't stand out, he has a 32.7 K% and a 20.4 BB%.
The increase in walks for the past two levels can be excused due to the fact that he hasn't really pitched for two seasons since being signed. However. Zulueta will have to command that high-90s fastball to progress to the next level.
Zulueta will be eligible for the rule 5 draft this coming offseason, so I'd say it's next to impossible that he won't be added to the 40-man roster in the offseason at the very latest. Who knows, perhaps he could come out of the pen in September and help the Blue Jays make the playoffs?
As I had mentioned, he has a fastball that can touch 100 miles an hour. However, he also features a devastating sweeping slider, as well as a changeup that is an above-average pitch. His curveball is behind those three pitches, but I still think it could be above average in the future.
All of this is to say that I think that Zulueta has the opportunity to be a mid-rotation starter in the future.
Hopefully, this IL stint is a short one and that shoulder doesn't bug him for the rest of his career.
As always, you can follow me on Twitter @Brennan_L_D. There have been people I've spoken to that believe that Zulueta has ace potential, so that'd be very nice.
---