Pre-2022 Blue Jays Top Prospects Countdown – No. 10: Yhoangel Aponte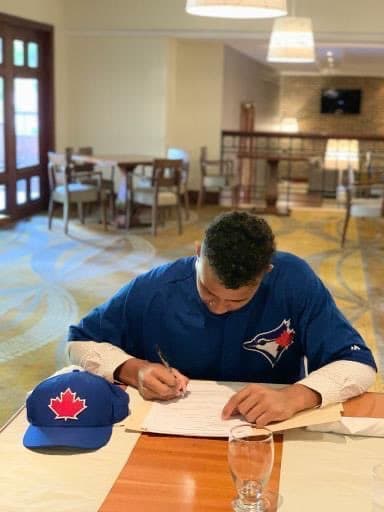 Photo credit:Ben Badler, Baseball America
The Blue Jays don't have a lot of high ceiling outfielders. 
That is until you look at the 2021 Dominican Summer League (DOSL)'s roster and see Yhoangel Aponte.
Background:
Like many prospects that played on the DOSL in 2021, little is known about Aponte's life prior to being signed by the Jays. The now 18-year-old outfielder was signed out of Venezuela for $360,000 in the 2021 International Free Agency. 
Thus far, he only ranks in Baseball America's Top 30 list, and they make a note that his talent is comparable to other top talent in this class. That begs the question, how did the then 17-year-old do in the 2021 DOSL season?
Aponte's 2021:
In his age 17 season, the outfielder slashed .240/.393/.749 with no home runs and a wRC+ of 122 in 163 plate appearances. He also stole five of his nine stolen base attempts. He had a rather impressive walk rate of 15.3%, but that came with a high strikeout rate of 27%.
During the minor league season, I made note of standouts from each level every single day. One name that continued to pop up, especially early in the DOSL season, was Aponte. At one point in the season, he had nearly the same amount of walks (12) as strikeouts (15). After that point, he walked only 10 times compared to 29 strike outs.
As for his batted ball percentage in 2021, his line drive percentage sat at 17.1%, ground ball percentage at 36.8% and his fly ball percentage at 46.1%. Interestingly, 25.7% of his 35 fly balls stayed on the infield. As he ages and grows stronger, one can assume he'll develop more power to drive the ball out of the park. Most impressively, he hit multiple balls with an exit velocity of over 110mph.
The young player also had three outfield assists while only committing two errors in his 236 innings played in the outfield. Let's talk more about what the scouts see in him.
What the scouts say:
Unfortunately, this will be the first article that will not feature a table, I am sorry. In fact, he only ranks as the 23 best prospect in Baseball America's preseason list. However, this will change once MLB Pipeline releases their top 30 prospects.
So using words, not tables, what do some scouts say about him? Baseball America's bio is glowing for the 18-year-old, as they note that Aponte could potentially develop his five tools to average, possibly even better.
It's noted in Fangraphs Top 37 prospects (where he's a young sleeper) that the 5'11, 190 pound frame may not develop much further in terms of power. However, Baseball America's bio mentions that he has a good eye and a patient approach, despite the 27% strikeout rate.
While he isn't a burner in centre field, he reads the game intelligently as he has a good read off the bat and has the range to cover each side. He has a solid arm, which he showed off with his three outfield assists. 
When MLB Pipeline releases their Top 30 list, this will be updated with a table. Furthermore, Ben Badler, who covers prospects for Baseball America, considers Aponte as one of the best sleepers that was signed in the 2021 class.
Aponte in 2022:
It's likely that the 18-year-old centre fielder will start his season in the Florida Complex League. If he is to break out, it starts by increasing his contact rate, as a 27% K% is worrisome, especially at the DOSL level.
As he grows, he'll add more power to be able to drive his high percentage of fly balls out for homers. In the meantime, here's him taking some hacks during the minor league spring training.
Previously:
As always, you can follow me on Twitter @Brennan_L_D. Due to the Matt Chapman trade, Yhoangel Aponte fills in as the #10 prospect. Is he the Jays tenth best prospect? Probably not. In fact, the same could be said for the last prospect in this list. I just think these two were the most notable prospects left off my list.