Previewing the Buffalo Bisons: The Blue Jays Triple-A team has an MLB-calibre bullpen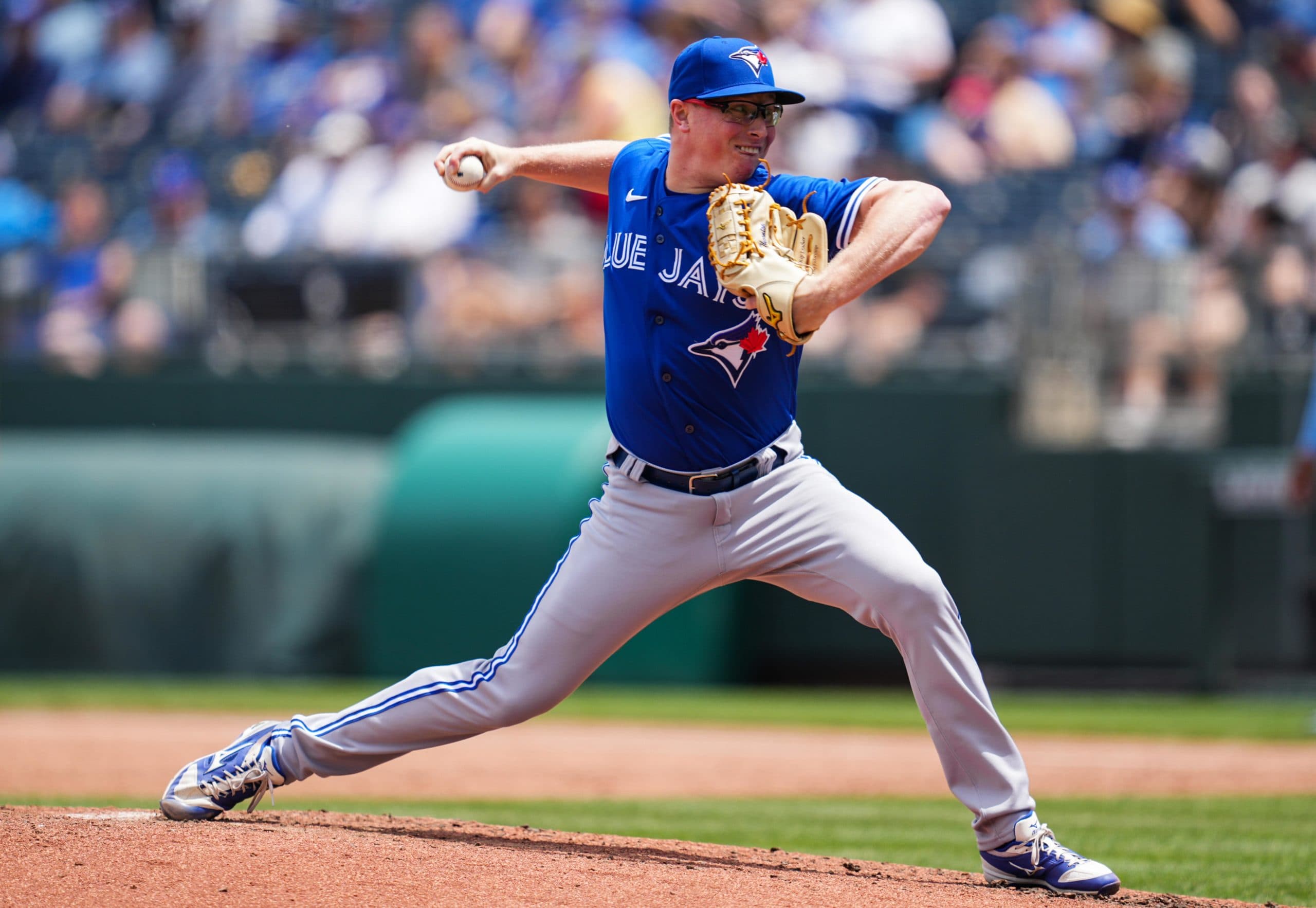 Photo credit:Jay Biggerstaff-USA TODAY Sports
The Buffalo Bisons have 12 relievers in the bullpen, all of which could pitch for the Toronto Blue Jays in 2023
In fact, I'd argue that the Buffalo Bisons' bullpen could be considered better than a few major league teams, as it has some pretty darn good players pitching out of it.
This is the last article of three that previews Toronto's Triple-A team. You can read the article about the position players here, and you can read the article about the starters here.
We'll start with some Blue Jays Nation Top 50 prospects, before moving to the bullpen as a whole. 
The Buffalo Bisons' deep bullpen:
Brandon Eisert
starts us off in this article. Last season with the Buffalo Bisons, the 25-year-old left-handed reliever posted a 3.41 ERA and a 3.57 FIP in 60.2 innings pitched. More impressive are his 31 K% and 6 BB%. Out of pitchers in the Blue Jays system with more than 30 innings pitched, his 26 K-BB% ranked the fifth highest. Eisert only sits 91-93 mph with his fastball, but he is utter hell on left-handed batters. He ranked as Blue Jays Nation's 44th-best prospect.
Hayden Juenger
rose up the minor league system quickly in 2022. Drafted in the sixth-round of the 2021 draft, the 22-year-old started as a 21-year-old in Double-A, where he posted a 4.02 ERA and 5.04 FIP in 56 innings pitched with a 29.5 K%. In his 32.2 innings pitched with the Triple-A Buffalo Bisons, he posted a 3.31 ERA and a 5.34 FIP. However, his K% dropped to 24.6%, while his BB% increased from 9.3% to 11.9%. Either way, he ranks as Blue Jays Nation's 17th-best prospect heading into 2023.
Adrián Hernández
isn't technically on the Buffalo Bisons roster as I write this, but he'll more than likely start the 2023 season with Toronto's Triple-A team. Hernández started off the 2022 season well, posting a 1.88 ERA and a 3.66 FIP with a 36.6 K% and a 10.8 BB% in 24 innings pitched. After a shoulder injury partway through the season, he struggled in his return to Buffalo. From August 17th to the end of the season, he had a 9.95 ERA and a 6.19 FIP in 12.2 innings pitched. This saw his K% drop to 26.2%, while his BB% rose to 14.8%. Hernández ranked as Blue Jays Nation's 27th-best prospect heading into 2023.
Nate Pearson
isn't a prospect at this point, but his potential is still rather high. Last season in Triple-A, he had a 3.55 ERA and a 4.38 FIP in 12.1 innings pitched. Moreover, he had a 36 K% and a 14 BB%, but struggled with injury. He dominated the Dominican Winter League, not allowing a run, and striking out 36.4% of the batters he faced. He also showed why he was once a top prospect in spring training, owning a 3.24 ERA in 8.1 innings pitched, touching 100 mph+ multiple times with a nasty knuckle curveball. If he can stay healthy, expect Pearson to see time with the Blue Jays in 2023.
Julián Fernández
signed a minor league deal with the Blue Jays late in 2022. Last season with the Colorado Rockies Triple-A team, he posted a 6.63 ERA and 7 FIP in 57 innings pitched but had a solid 24.9 K% and a 12.3 BB%. Fernández's potential comes from his hard, high-90s fastball, and a nasty changeup which has a large separation in terms of velocity. While his 10.80 ERA in 5 innings pitched in spring training wasn't great (mainly due to one game), he walked one batter while facing 22 (4.5 BB%). He also struck out seven for a 31.8 K%. Like with everyone else on this list, he has a shot at seeing some innings with the Blue Jays in 2023.
Junior Fernández
is another hard-throwing reliever in the Blue Jays system. He has pitched 54 career innings in the big leagues, and has a 5.17 ERA and a 5.57 FIP. Last season, he had a 2.41 ERA and a 5.79 FIP in 18.2 innings pitched between St. Louis and Pittsburgh. Jun Fernández had a solid spring training, posting a 3.38 ERA in 5.1 innings pitched. Despite throwing the ball hard (he averaged 99 mph on his fastball last season), he only stuck out 20.8 of the batters he faced in spring training.
Jackson Rees
was one of the more impressive pitchers in spring training. While his 4.50 ERA in 4 innings pitched wasn't earth-shattering or anything, he had an insane 9 strikeouts facing just 18 batters, good enough for a 50 K% (which I believe is the highest in camp). The 28-year-old has missed much of the last two seasons due to Tommy John surgery, but he had a 3.31 ERA in 16.1 innings pitched last season. Moreover, he had a 31.9 K% in 2022. Keep an eye on him in 2023.
Trent Thornton
has the most experience in the Buffalo Bisons bullpen In his major league career, he has a 4.84 ERA and a 4.72 FIP in 255 innings pitched, along with a 21.9 K% and an 8.7 BB%. In fact, he had a rather successful season with the big league team in 2022, when he posted a 4.11 ERA and a 4.66 FIP in 46 innings pitched.  His K% dropped from 24.1% to 19.6%, while his BB% increased from 7.4% to 9%. However, having a pitcher with this much experience in Triple-A is a sign that your big league team has a ton of depth. It also appears that he's tweaked his mechanics, which can help him reach his potential.
Jay Jackson
was recently released but signed a rather interesting deal (read more here). His first season in the big leagues came all the way back in 2015 with the San Diego Padres, but he has pitched 57.2 innings with a 4.21 ERA and a 4.16 FIP. Last season he pitched in Atlanta's system and posted a 2.29 ERA and a 2.90 FIP in 19.2 innings with their Triple-A team. The 35-year-old had a fantastic spring training, posting a 0 ERA in 9.1 innings, along with 13 strikeouts, which was good enough for a 35.1 K%. He was signed to a minor league contract a few days ago and optioned to Buffalo.
Matt Peacock
is often forgotten about, but he's a solid reliever. Last season in the Blue Jays organization, he posted a 4.02 ERA and a 4.85 FIP in 15.2 innings pitched He also had a 22.1 K% and a 5.9 BB%, solid numbers overall. Peacock also has MLB experience, posting a 4.95 ERA and a 4.92 FIP in 96.1 major league innings. Over that time, he has a 13 K% and a 7.4 BB%. The 29-year-old also had a solid spring training, posting a 1.42 ERA in 6.1 innings pitched.
Paul Fry
has 177.1 innings of major league experience, posting a 4.82 ERA and a 4.02 FIP in that time. His best major league season came in 2020, when he posted a 2.45 ERA and a 3.69 FIP in 22 innings with the Baltimore Orioles. His other best season came in 2018, when he had a 3.35 ERA and a 3.11 FIP in 37.2 innings pitched, also with the Orioles. Last season in Triple-A, he had a 4.40 ERA and a 4.90 FIP in 28.2 innings pitched. It's never a bad thing to have a reliever with major league experience in your Triple-A bullpen!
Luke Bard
is the brother of Colorado's Daniel Bard. Like several other relievers in the Bisons' bullpen, Bard has had significant innings pitched in a big league bullpen. He has a 4.44 ERA and a 5.05 FIP in 81 innings pitched. Last season, his ERA sat at 1.80 and he had a FIP of 3.85. More than half of his innings came in the 2019 season with the Angels, where he had a 4.78 ERA and a 4.81 FIP in 49 innings pitched.
What's next:
This is the last article of a mini-series. Now all that's left is to watch the Buffalo Bisons game. Their first game of the season will be on Friday at 4:10 PM! As for the other minor league teams, the Double-A New Hampshire Fisher Cats start their season on April 6th, while the Dunedin Blue Jays and Vancouver Canadians start on April 7th.
As always, you can follow me on Twitter and Instagram @Brennan_L_D.
---