Prospect Profile: Alejandro Melean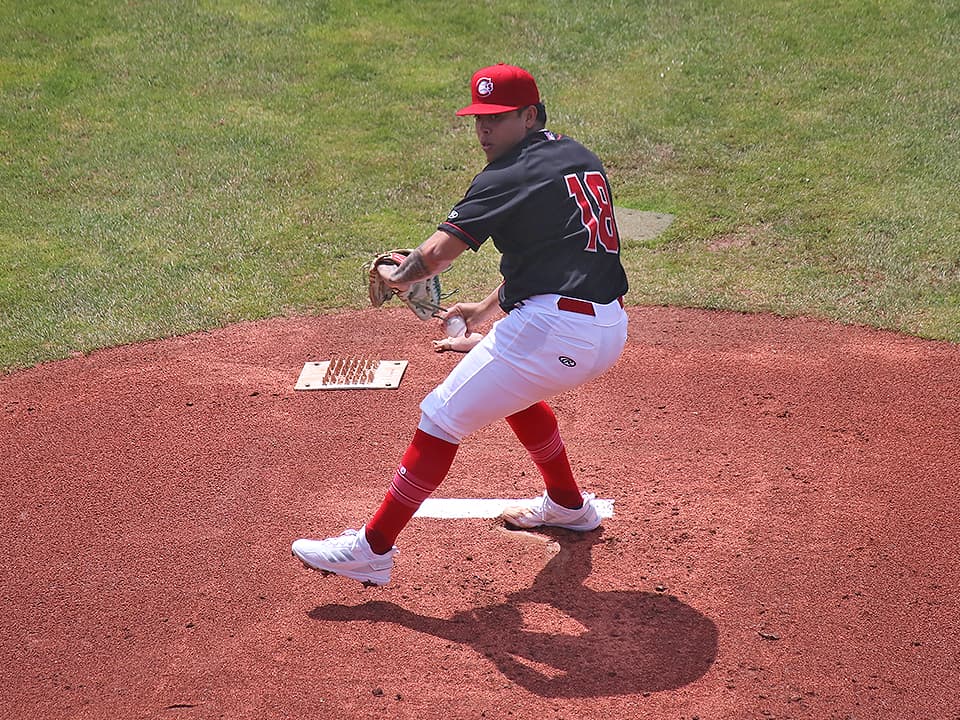 Photo credit:Niall O'Donohoe, CsPlusBaseball
With Ricky Tiedemann, Sem Robberse and Chad Dallas on the Vancouver Canadians, you may have never heard of Alejandro Melean.
It's understandable, really. Prior to this season, the 21-year-old righty never put up spectacular results, but he's been absolutely killing it with the Canadians this season. Let's start with the previous years.
Background:
The Blue Jays signed Alejandro Melean out of Venezuela during the 2017-2018 International Free Agent period for $775,000, according to MLB's official site. 
This period saw the Jays sign former top 5 Jays prospect, Eric Pardinho for $1.4 million. The team also signed current number six prospect Leonardo Jimenez ($825,000) and their twelfth ranked prospect, Miguel Hiraldo ($750,000).
While this wasn't quite as good as the previous season (Alejandro Kirk Gabriel Moreno, Lourdes Gurriel Jr, Otto Lopez), the Jays had a solid period in terms of adding a lot of solid prospects.
It wasn't a great start:
In his first professional season with the state-side rookie league team, Melean posted a 4.68 ERA and 5.86 FIP in 32.2 innings pitched. There were worrisome signs, as his BB/9 sat at 6.06 while his K/9 was a solid 8.54.
Melean pitched with the Rookie Advanced Bluefield Blue Jays and once again struggled. In 21 innings pitched, he had a 5.57 ERA and a 5.06 FIP. While his K/9 increased to 10.71, his BB/9 had a slight increase to 6.43, meaning he was struggling to keep runners off the bases.
Melean pitched at two different levels in 2021 and showed improvements. He started the season with Low A Dunedin, posting a 5.29 ERA and a 5.15 FIP in 63 innings pitched. He maintained his high K/9 of 10.71, but his BB/9 dropped to 4.29.
He was promoted to High A Vancouver as a 20-year-old and the most success at any level thus far. Melean posted a 4.74 ERA and a 4.66 FIP in 19 innings pitched. Although it was a small sample size and his K/9 dropped to 8.05, his BB/9 dropped to 2.84, a rather impressive number.
Melean in 2022:
So that brings us to the present day. There's a lot to like about Alejandro Melean this season. In 30 innings pitched, he has posted a
1.80 ERA and a 3.09 FIP
. Not just that, but his K/9 has increased to 9.60 while his BB/9 has dropped to
2.10
. Talk about development.
In terms of his batted ball splits, he gets an adequate number of ground balls at 38.7%. Despite his 22.7% line drive percentage, batters only hit .183 against him. Lastly, 38.7% of batted balls are fly balls, but 24.1% of those fly balls are infield fly balls.
Can we expect him to continue his success?:
While Melean's having a successful season in 2022, you may be asking questions about his track record.
According to an individual in the Blue Jays organization, the team is incredibly impressed with the strides the 22-year-old pitcher has made.
"We're really excited about Melean. He worked hard this off season at our player development complex and got stronger. He's throwing harder this year and has a great changeup. His slider is continuing to improve as well."
Melean has a three pitch mix, a fastball, a changeup and a slider, with his changeup being the best of the three. A teammate of his had this to say:
"His changeup is one of the best in the organization"
That's high praise for a system that has a lot of great changeups.
When can we expect him in Toronto:
Once he returns from the 7-day IL, it's likely he'll finish the rest of his season with the Vancouver Canadians, trying to build off that success. If Melean continues to have success, he'll likely start in Double A to start the 2023 season.
Whether he ends up as a reliever or starter in the majors is to be seen, but the 22-year-old righty is certainly a prospect you should be intrigued by!
As always, you can follow me on Twitter @Brennan_L_D. The next player will be a position player, but it's unclear of who I'll choose out of Addison Barger and Damiano Palmegiani (by the time this is posted, you'll probably know