Ranking Every Blue Jays Pitcher for 2023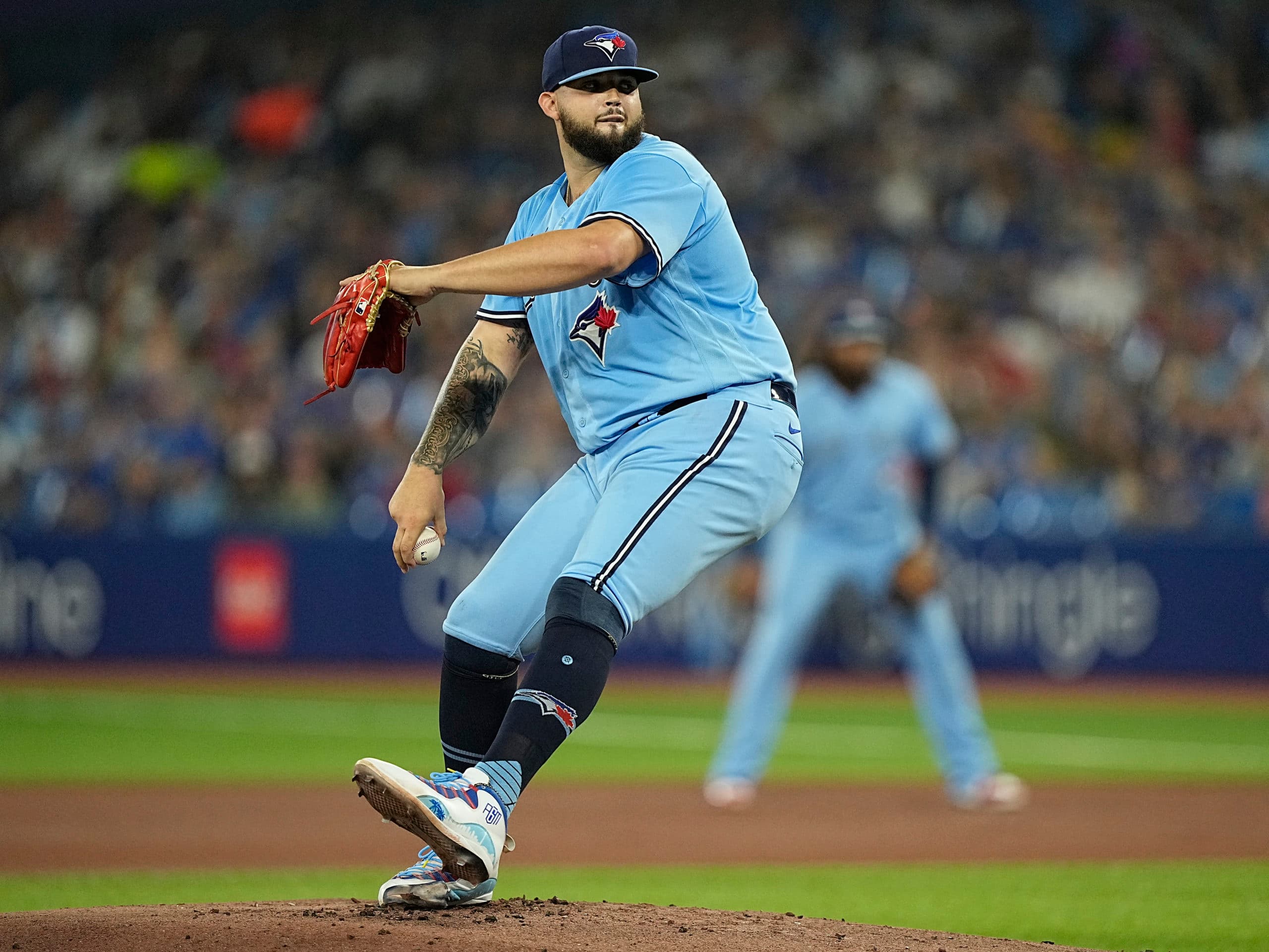 Photo credit:John E. Sokolowski-USA TODAY Sports
A few weeks ago,
I released a list
ranking each of the thirteen position players projected to start the season on the Blue Jays' active roster. This time, it'll be pitchers.
This one's gonna a be a little more difficult, however. For those of you who either didn't read or didn't notice, the position players were ranked based on how much WAR I thought they'd produce. In this case, relievers are disadvantaged in a ranking based on WAR, because they're not going to pitch even close to the same number of innings.
I've had to think about how to do this. Adjusting per IP doesn't really make sense because WAR doesn't measure value for relievers as well as I'd like it to. Unfortunately, I think the best way to do it is to rank based on ERA. Volume contributes heavily to value, but I want to rank relievers and starters on the same scale, so this is how I'll do it.
Keep in mind, just like last time, I'm going to assume that each player stays fully healthy. Even though it'll never happen, injuries are too hard to predict, especially for pitchers. With that being said, let's jump in once again, with number 13.
13. Trevor Richards, RHP, Relief
Richards really struggled at the start of 2022, but he got his homer problem under control and finished strong. The issue is that he's basically always been the same guy when it comes to having a long ball problem. His sudden drop in HR/9 rate at the end of last year doesn't have a large enough sample to assume that it's really who he is. Until he can prove that he's able to suppress homers at the level he did in the later months of the year on a consistent basis, he's not a great pitcher.
2023 Prediction: 5.30 ERA
12. Mitch White, RHP, Starter/Relief
White had to be the weirdest Blue Jay in 2022. According to pitching stats independent of defence (such as FIP), he was great,  but his ERA really wasn't. Unfortunately for him, his BABIP (batting average on balls in play) was more than 30 points above league average. As we've talked about in the past, controlling BABIP is a skill. White showed throughout his MiLB career that he might struggle with doing so, and it looks like that's going to be the case in the bigs as well. Even if he takes a small step forward from 2022, he's probably not more than a back end reliever, unless he can find a way to get BABIP under control.
2023 Prediction: 5.12 ERA
11. Yusei Kikuchi, LHP, Starter/Relief
While valuable, Yusei Kikuchi is not that. He runs into a similar problem that Mayza does when it comes to handedness splits. A .198/.286/.349 slash is what Kikuchi posted against right-handers in 2022. That's more than decent, in fact it's quite good. The issue is that his OBP and SLG were nearly 100 and 200 points higher, respectively, against right handers. He's very usable in the bullpen, and even has a chance to start the season in the rotation. The Jays, however, would be best off finding a 5th starter, in order to let Kikuchi shine in the pen.
2023 Prediction: 4.40 ERA
10. Adam Cimber, RHP, Relief
Cimber's a really solid reliever for the Jays, and there's no reason that shouldn't continue into 2023. He had a 2.80 ERA last year, and while I don't quite expect that to continue, for the simple reason that his underlying metrics don't quite support that, there's no reason he shouldn't be great. 10th on this list may seem low, but we've gotten to the point where every pitcher is good. He's a terrific middle relief option, who should theoretically have a massive handedness split due to his arm angle, but he doesn't.
2023 Prediction: 3.97 ERA
9. Tim Mayza, LHP, Relief
Mayza's underlying stats are all about as close as they come to average. Average K/BB rate, average home run rate, average BABIP. However, he's fantastic at inducing grounders and getting left handed hitters out, which is valuable to the Jays. When used against right handers, that's when he gets hurt, like we saw against Seattle in the playoffs. A really solid option in the pen once again, however the Jays could really use another left handed reliever who doesn't have such extreme handedness splits.
2023 Prediction: 3.86 ERA
8. Chris Bassitt, RHP, Starter
Over the last three years, Chris Bassitt has pitched more than 400 innings to the tune of a 3.13 ERA. The Jays are now getting that in the form of their number four starter. Even if his defence independent stats over the same time frame suggest minor regression, nobody's sneezing at a 3.52 FIP either. If he keeps up that play in Toronto, they'll have one of the best rotations in baseball, despite an objectively questionable fifth spot…though Hyun-Jin Ryu's return may be on the horizon. Bassitt's floor is probably about a 4.00 ERA, which wouldn't even be all that objectionable. He's a good arm, no doubt.
2023 Prediction: 3.67 ERA
Credit: Tommy Gilligan-USA TODAY Sports
7. José Berríos, RHP, Starter
Bounce. Back. The Jays signed Berrios to a big extension after he was great in 2021, coming off a trade from Minnesota. Unfortunately for the team and the player, he struggled big time in 2022, one of the big storylines of the season. He really looked like he was turning it around towards the end of the year, however. Between August 18th and September 17th his ERA was all the way down at 2.95, a fantastic mark. Unfortunately, he followed that up with an 8.10 ERA in his final three games, including a blowup start at Tampa. Those can happen to anyone though, and if you take it out of the equation, he finished his season with a 3.38 ERA in his final 8 games. Limiting the blowups is what Berrios needs to do. 10 of his 32 starts last year were games in which he allowed at least one earned run per complete inning pitched. That can't continue. With that being said, Berrios certainly has all the tools to get back into form. His strikeouts dipped big time last year, with poor pitch mixing perhaps the culprit. Some changes are necessary, but history tells us he'll at least improve on what was a tough 2022.
2023 Prediction: 3.62 ERA
6. Anthony Bass, RHP, Relief
A trade deadline acquisition last season, Bass posted a 1.75 ERA during his 25.2 IP in Toronto after the trade. Curb your enthusiasm, however, as neither his history nor his underlying metrics support him pitching quite that well. During those same 25+ innings, his FIP was 4.63, a massive disparity from his ERA. The truth lies somewhere in the middle. He's got a pretty extreme handedness split as well, which limits his value. He'll do solid work for the Jays in middle relief though, and can be a late inning option if the situation is right.
2023 Prediction: 3.57 ERA
5. Yimi Garcia, RHP, Relief
Yimi Garcia is good. He proved it last year with a 3.10 ERA in his first campaign in Toronto, in addition to getting the team out of some real tough spots. With a career 3.50 ERA, accumulated mostly for the Dodgers, he's no stranger to strong seasons either. There's not much to say here, just no reason to expect anything different in 2022, aside from some slight regression to the mean. Garcia should slot in along with Erik Swanson as one of the Jays two setup men.
2023 Prediction: 3.33 ERA
4. Erik Swanson, RHP, Relief
Acquired in the Teoscar Hernandez deal, Swanson's going to have to be great in order to win fans over. Seeing a fan favourite depart is never easy, and Jays fans rightfully expect something good in return. Luckily, they've got it. Swanson dazzled last season, with a 1.68 ERA in 53.2 IP in Seattle. Regression to the mean is something that relievers always face, and although I'd love him to replicate that, odds are he just won't. However, he's been a very good pitcher for 2 years now, and there's no reason that will change. Honestly, if he pitches like he did last year, this is a guy most teams would be lucky to have as their closer. He's set up to get the 8th inning for the Jays though, at least for now.
2023 Prediction: 3.30 ERA
3. Jordan Romano, RHP, Relief
The Canadian closer is primed for another great season. Last year was his best to date, with an ERA of 2.11 in 64 innings. Volume and quality are both Romano's friends. He's one of the better closers in baseball, but he also gets a lot of innings for one. Emmanuel Close got 72.2 last year, but if you look at all the better CP's in baseball, they're all up around 60 IP, and Romano will certainly get there. He offers the Jays plenty of versatility as well. His history as a starter means he's ready and willing to pick up more than one inning, should the question be asked of him. The Jays finally have a lockdown back-end of the bullpen. Does anyone else remember 2020, when Rafael Dolis got more save opportunities than Romano?
2023 Prediction: 3.10 ERA
2. Kevin Gausman, RHP, Starter
Absolutely victimized by horrendous defence in 2022, the disparity between Gausman's ERA and FIP was nearly a full run (3.35 and 2.38, respectively). That means good things moving forward for Gausman, as the Jays have improved their outfield defence and are forced to stop shifting by the ban (shifts worked horribly for Gausy in 2022). Look for his ERA to drop back to what it was like in 2021 with the Giants, in that 2.8 neighbourhood. He's a fantastic pitcher, who's not even the ace of this rotation. With the improvements the Jays have made to the defence, Gausman may just have his best season yet.
2023 Prediction: 2.75 ERA
1. Alek Manoah, RHP, Starter
Is anyone surprised? The Jays best pitcher in 2022 will be that guy again in 2023. Fresh off a rightfully earned Cy Young nomination,
projection systems have it wrong
with Manoah. Despite the idea that his ERA will somehow inflate to over 4.00, there's just no reason anything should change for the young righty. One of the best hard contact limiters in baseball will continue to do that in 2023. Just as I gave Daulton Varsho some early MVP shouts in my hitters piece, this would be the Blue Jay I'd back to be in the Cy Young conversation in 2023, just like he was last year.
2023 Prediction: 2.20 ERA
So, there you have it. Every Blue Jays pitcher ranked from 13th to 1st. The Jays pitching staff has to take a step forward in 2023 if they want to be AL East winners, and I'd fully expect them to take that step. One or two more pieces might help, but at this point, you're probably either looking internally (Julian Fernandez and Adrian Hernandez did just get Spring Training invites), or you're waiting until the deadline. Either way, the Blue Jays adding to the staff would truly just be the rich getting richer, as there's no doubt they've got a great core in place.
Thanks for reading! All stats (and the RosterResource visual) via FanGraphs.
---