Remembering Blue Jays Legend Francisco Liriano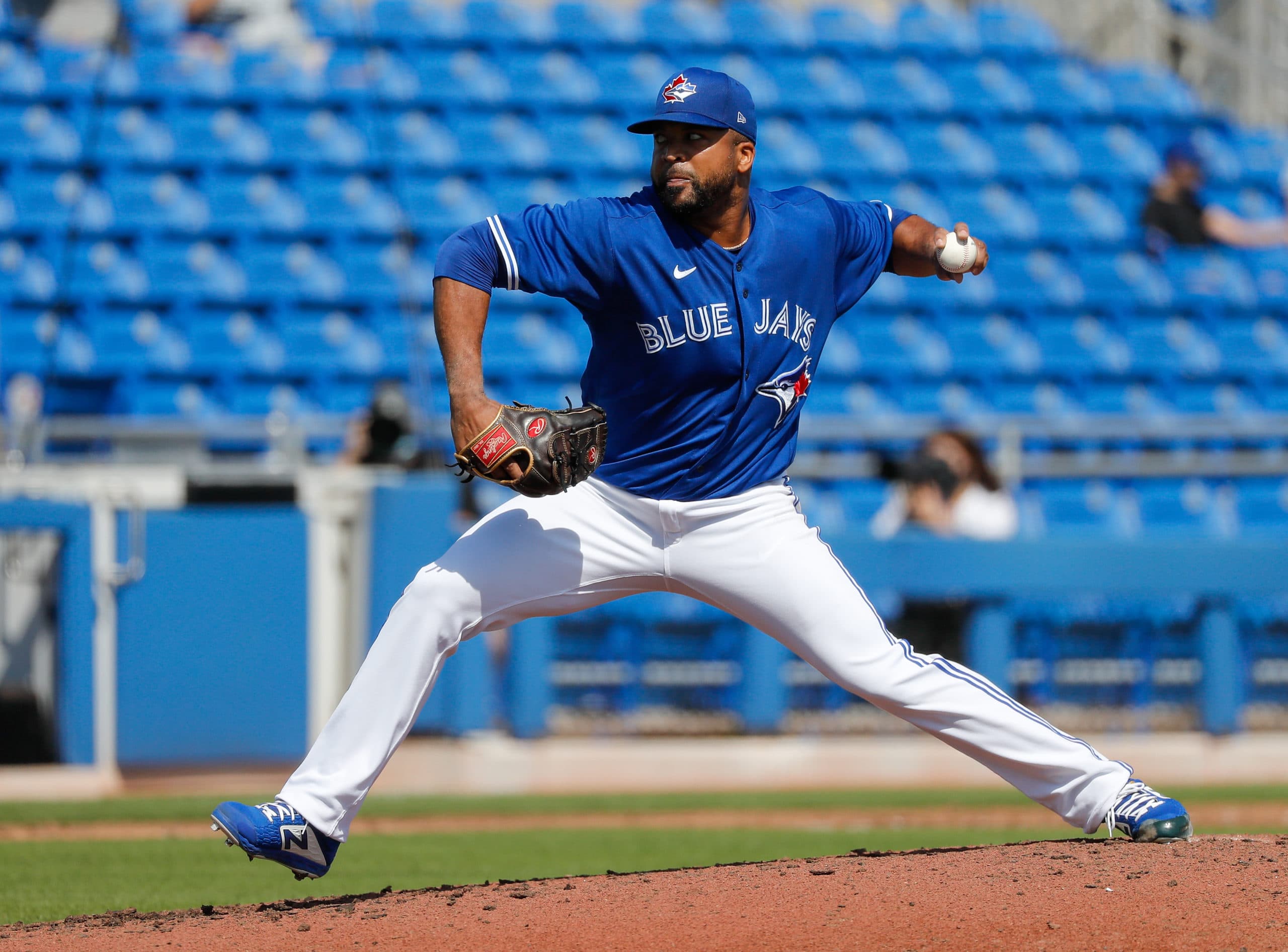 Photo credit:Nathan Ray Seebeck-USA TODAY Sports
After spending 14 seasons in the majors, pitcher Francisco Liriano officially announced his retirement from professional baseball Monday, putting a wrap on his lengthy career in Major League Baseball.
While Liriano spent the majority of his playing days between the Minnesota Twins (2005-2012) and Pittsburgh Pirates (2013-2016), the 38-year-old joined the Toronto Blue Jays for a couple of partial seasons from 2016-2017 – including their post-season run in '16.
Though he's certainly not one of the more notable hurlers that have ever thrown for this organization, however, the left-hander still enjoyed some memorable highlights during his brief time pitching north of the border.
First and foremost, there was that glorious trade involving the Pirates that brought Liriano to the Blue Jays – along with prospects Reese McGuire and Harold Ramirez – in exchange for Drew Hutchison and financial relief. Granted, this club retained just over $8.5 million of the remaining $39 million that was left owing on his contract, although that proved to be worthwhile in the end.
Looking back, this transaction remains one of the best trades ever made under the Mark Shapiro/Ross Atkins era. With that in mind, it's time to explore the most meaningful moments of Liriano's tenure in blue and white.
Liriano Earns 2nd Career Win With Blue Jays 
Normally, a pitcher's first win with a new franchise is usually the one most fans remember the most, but in Liriano's case, his second victory with Toronto proved to be more satisfying than his first.
Making his ninth appearance since being acquired at the 2016 trade deadline, the 6'3″ starter was aiming to help his new teammates surge into the playoffs down the stretch and his strong performance against the New York Yankees definitely assisted in that regard.
On Sep. 23, Liriano completed six-shutout innings in a 9-0 victory over the Yankees at the Rogers Centre, where he allowed just three hits, a pair of walks and struck out six while on his way to earning his sixth total win on the season. But what was most impressive about his outing was how well he weathered the storm early on.
In the top of the first inning, a ground-rule double and a pair of consecutive walks provided New York with a bases-loaded opportunity, albeit, it came with two outs already recorded. Still, with Chase Headley coming to the plate in this situation, it quickly became a crucial part of the game, which could've caused Toronto to play from behind out of the gate.
Luckily, Liriano pounded the strike zone early, jumping ahead to an 0-2 count. After missing down and in with his slider, pushing the count to 1-2, the veteran lefty came back with his devastating breaking ball on the next pitch, forcing Headley to chase below the zone to end the frame with a much-needed strikeout.
Capitalizing on this momentum in the bottom half of the inning, a two-run double from Troy Tulowitzki handed the Blue Jays an early 2-0 lead – one they would extend to 3-0 in the second inning.
Since Liriano only allowed two hits through his remaining 5.0 innings of work, paired with six add-on runs over the final two innings, this team easily secured its 84th victory of 2016. Without his ability to work out of trouble early on, there's a chance coming out victorious might not have been possible.
Concludes 2016 Regular Season on High Note
Just five days later, Liriano went on to make arguably his best start in a Blue Jays uniform, where he dominated the Baltimore Orioles – who this club later faced in the 2016 AL Wild Card Game – in a thrilling showdown on Sep. 28.
Appearing in his final game of the regular season, the 2006 American League All-Star held his opponent scoreless once again, but this time, across 6 1/3 innings pitched. During his outstanding performance, he induced a season-high 10 strikeouts – six of which came via his slider – while surrendering six hits and only one walk.
Above all else, the most stressful and exciting moment of Liriano's outing came during the fifth inning, more specifically, when Chris Davis came to the plate with two outs and the bases loaded.
With Toronto leading 2-0 in the top half of that frame, Baltimore seemed well-positioned to trim its deficit by at least one run, especially with one of its top run producers at the dish. And yet, the veteran lefty sat down the power slugging first baseman following a six-pitch at-bat, which ended with a questionable third strike call at the top of the zone.
Despite escaping this tough jam, unfortunately, Liriano's strong showing was ultimately wasted by Toronto's bullpen, as relievers Jason Grilli and Roberto Osuna – who was charged with his fifth blown save of the year – couldn't preserve the club's two-run advantage.
As a result, a two-run shot from Hyun Soo Kim proved to be the game-winner in this matchup, preventing the soft-throwing hurler from recording his third win as a member of the Blue Jays.
Extended Relief Outing in 2016 WC Game 
Following an impressive finish to the regular season, Toronto decided to move Liriano to the bullpen, providing them with a reliable left-hander capable of throwing multiple innings as a reliever. As it turned out, making this positional change served very beneficial in the 2016 Wild Card Game.
Fast-forwarding to the late stages of this winner-takes-all showdown, the Blue Jays and Orioles were tied 2-2 after 9.0 innings, forcing this playoff tilt into extra innings. After Osuna recorded the first out of the 10th frame, Liriano was called upon in relief and induced a pair of groundouts to keep the score tied heading into the bottom half.
Once the offence couldn't breakthrough, the Dominican native returned for the 11th inning and kept his opponent off the scoreboard once again, where he generated two more groundouts and the lone strikeout of his outing. Then, in the bottom half, singles from Devon Travis and Josh Donaldson provided a prime scoring opportunity for slugger Edwin Encarnacion.
As everyone remembers, Encarnacion didn't come up short in that moment as he blasted a game-winning home run to advance his team to the next round. For Liriano, this performance earned him his second career post-season victory.
Strengthened Trade Value With Strong Outing Against Rays 
Coming off a trip to the AL Championship Series, unfortunately, Toronto's competitive window was nearing an end and with that, came the unloading of a handful of impending free agents – including Liriano.
But before the 2017 trade deadline hit, the former international free agent delivered one final gem that surely boosted his value on the trade market.
Facing off against the Tampa Bay Rays on Jun. 14, Liriano threw 7.0 innings before departing, allowing five hits, two earned runs and two walks while striking out nine batters. In particular, eight of those nine strikeouts were produced by his slider, with five of them occurring on either the edge or outside of the zone.
Even though the lefty starter exited the game controlling a 6-3 lead after the seventh inning, reliever Joe Smith surrendered three runs in the top of the eighth, tying the game at 6 runs apiece. Thankfully, catcher Russell Martin came through with a game-winning home run in the bottom half, handing his team a narrow 7-6 victory.
While Liriano made eight more starts before Jul. 31, none of them could compare to his stellar showing against the Rays, and rightly so.
Mid-Season Trade to Astros, Brought Teoscar Hernandez to Blue Jays 
Once the 2017 trade deadline rolled around, the Blue Jays shipped off Liriano's expiring contract to the Houston Astros in exchange for a pair of outfielders, in Nori Aoki and Teoscar Hernandez.
Sure, this meaningful moment didn't involve any game situation, instead, it saw this franchise acquire a future all-star as part of the return for an aging pitcher. Without question, the two-time Silver Slugger didn't begin his tenure in Toronto as a projected star, but following a few pivotal development years ('18, '19), that's exactly what he's become.
For Liriano, while he wasn't a crucial part of Houston's playoff roster, he still made five appearances as his new team captured the 2017 World Series title. Though it'll forever be attached with an asterisk next to it, it remains the only championship ring the 14-year MLB vet ever won during his playing career.
In the end, that deadline day trade between the Blue Jays and Astros ultimately worked out for both Liriano and Herandez – a pleasant outcome that can't always be applied to these types of moves.
Little did anyone know back in 2017, that wouldn't be the last Blue Jays fans saw of Liriano, who rejoined the organization on a one-year deal last off-season. Unfortunately, his second tenure with this franchise didn't last very long, as he lost out to Tim Mayza for one of the final spots in the bullpen.
After being released by Toronto near the end of spring training, the 2017 World Series champion held out hope he'd jump on with another organization, but sadly, that next opportunity never came to pass.
So as Liriano seeks out the next chapter of his life, let's all pour one out for his brief, but effective, time with the Blue Jays.