Remembering Roy Halladay five years after his tragic passing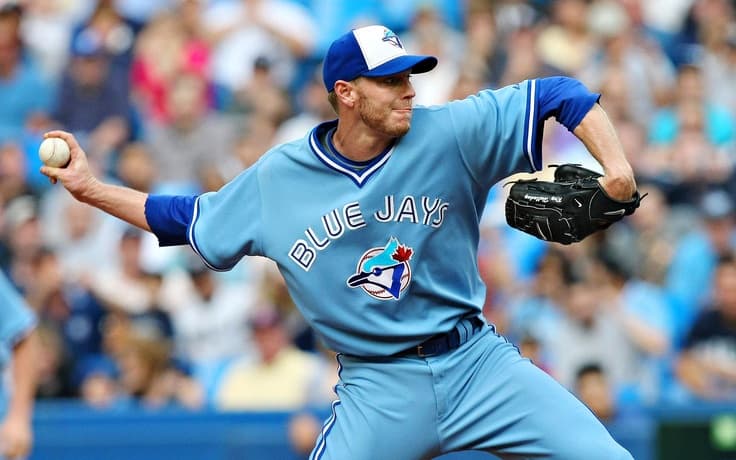 Photo credit:ESPN
The passing of a friend or family member can leave loved ones with an aching in their hearts that last endlessly. Add to this list the passing of professional athletes that we grew up watching every day, ones we cheered for and idolized. They become a part of our lives, as we set aside time each day to make sure we didn't miss them doing what they do best.
In this case, we set aside a lot of time every fifth day, as yesterday marked the five-year anniversary of the passing of Roy "Doc" Halladay, a beloved mainstay in Toronto Blue Jays baseball during 12 seasons with the club. Many fans across baseball had Halladay on their minds yesterday, celebrating his career and continuing to mourn the loss of one of baseball's greats.
Blue Jays fans had the honor of watching Halladay's highs and lows happen in Toronto. He was drafted by the club in June of 1995, and was expedited through the minor leagues fairly quickly, as he made his debut in 1998.
From then on, Halladay had one of the most dominant pitching careers in MLB history. His Baseball Reference page is decorated with All-Star appearances, MVP votes, Cy Young votes, plus bold-faced and italicized numbers (indicating he led the league and/or majors in that respective category). Halladay was inducted into the Baseball Hall of Fame in 2019.
Halladay was dealt to the Philadelphia Phillies in 2009 for a trio of prospects, but it didn't slow him down any. He won the NL Cy Young in 2010, his first year in Philly. Halladay also threw a no-hitter during the 2010 NLDS against the Cincinnati Reds, only the third no-hitter thrown in MLB playoff history.
Although Halladay was having success in Philadelphia, it wasn't the last time the Blue Jays would see him pitching at the Rogers Center. On July 2, 2011, Halladay pitched a complete game against the Blue Jays in Toronto. Despite allowing a home run to Jose Bautista, he struck out eight, throwing 110 pitches and earning the win.
Halladay amassed over 200 wins over his 16 year career, as well as a 3.38 ERA and over 2,000 strikeouts. "Doc" as he was nicknamed was known for his durability, leading the league in complete games seven times. Furthermore, he was a winner; eight times he won more than 15 games in a single season.
Coincidentally enough, yesterday also marked the day that Alek Manoah was nominated as a finalist for the 2022 AL Cy Young. Manoah had a career year in his first full season in the MLB, posting a 16-7 record with a 2.24 ERA. His season was also decorated with records and accolades, with his name being thrown on record lists with Blue Jays pitching legends such as Dave Stieb, Juan Guzman, Jimmy Key, and of course, Roy Halladay.
Halladay was a name Manoah has mentioned when referencing Blue Jay greats, including this snippet on "The Gibby Show".
The reflection that Manoah is able to show here is overshadowed by a bigger point; Manoah didn't join the MLB until 2021, eleven years after Halladay left the Blue Jays. Despite that, Halladay's legacy lives through the Blue Jays pitchers of the future.