Replacing Marcus Semien will remain crucial for Blue Jays post-lockout
Photo credit:Dan Hamilton-USA TODAY Sports
Once a new Collective Bargaining Agreement is signed, a flurry of moves are expected to occur immediately afterwards, and for the Toronto Blue Jays, one of their many tasks will include replacing infielder Marcus Semien.
Still, doing so certainly won't be easy.
Coming off a miserable 2020 season, Semien signed a one-year, prove-it deal with the Blue Jays in hopes of rebuilding his value, which he accomplished and then some. At just $18 million, the former Oakland Athletic proved to be a major steal as he performed as one of the most valuable players in the majors last season.
Despite finishing third in the American League MVP race, the 31-year-old completed his primary goal and ultimately entered free agency as a highly coveted target. In the end, he earned himself a mega-deal with the Texas Rangers, signing a seven-year, $175 million contract.
Now, as soon as the transaction freeze is lifted, Toronto will need to work quickly to locate a suitable replacement for Semien before Opening Day, which is tentatively scheduled for Mar. 31. Having said that, replacing someone who registered a 6.6 fWAR rating isn't something that can normally be done overnight.
First, let's explore how much value Semien provided this club in 2021. Based on his wins above replacement, the right-hander finished tied with the third-highest fWAR rating among all qualified hitters in the majors, according to
FanGraphs.com
.
Credit: Dan Hamilton-USA TODAY Sports
One of the biggest factors that led to Semien's incredible fWAR was his remarkable offensive showing. Serving as one of the Blue Jays' most reliable contributors, the 6'0″ infielder posted 45 home runs, 102 RBIs, a .273 ISO, a 368 wOBA, a 131 wRC+ score and slashed .265/.334/.538 across 724 plate appearances.
Next came his extremely efficient defence at second base – a position he hadn't played since 2014. And yet, the former sixth-round selection made a very smooth transition over to the right side of the infield, proving he's capable of playing at multiple locations.
Thanks to his +7 OAA rating through 1,246 1/3 innings at second base, Semien earned his first-career Gold Glove award, ironically, after spending the majority of his career at the opposite location.
Paired with his offensive and defensive upside, the 2021 AL All-Star's durability also proved to be very reliable as he never took a day off when it came to game action. In this era of the sport, playing a full 162-game schedule isn't something most players opt for, but in this case, the talented infielder has now achieved this feat twice in his career (2021, 2019).
Taking all these aspects into account, it's fairly easy to tell how crucial Semien was to Toronto's near playoff berth in '21. Without receiving this type of performance, this franchise easily would've finished much lower than just one game behind the New York Yankees, who claimed the final wild-card seed – which is why it's vital to replace his value.
While a difficult task, this front office should soon feature several different routes once again to fill this current void on the diamond, both in free agency and through the trade market. From a spending standpoint, there are a couple of franchise-altering infielders still unsigned at this point of the off-season.
Credit: Troy Taormina-USA TODAY Sports
First and foremost, shortstop Carlos Correa remains one of the most highly-coveted players still available on the open market and is someone who could effectively fill Semien's place moving forward.
Sure, it'd mean acquiring another member of the Houston Astros' sign-stealing scandal from 2017, however, there's no denying his current value. At 27-years-old, the 6'4″ infielder remains at the top of his game and is coming off the best statistical performance of his career.
Along with registering a career-best 5.8 fWAR rating, Correa also created 26 home runs, 92 RBIs, a .205 ISO, a .364 wOBA, a 134 wRC+ score and slashed .279/.366/.485 over 640 plate appearances.
Adding to his impressive performance, the right-handed shortstop enjoyed another incredible defensive showing, as his +12 OAA rating finished in the 98th percentile in the majors, according to
BaseballSavant.com
. Not to mention, he also compiled the second-most innings (1,304 2/3) of his career, nearly matching his highest workload (1,355 2/3 innings) from 2016.
Of course, pursuing Correa could mean shifting Bo Bichette to second base, although that may potentially improve his defensive metrics. At which point, the Blue Jays would likely possess an elite infield tandem up the middle for a second straight season.
Moving on, Kris Bryant could serve as a viable target as well, especially since he'd bring additional flexibility to this roster. Capable of moving all over the field, the 30-year-old would provide versatility at third base and in the outfield, allowing for numerous different line-up variations.
But given his 3.6 fWAR rating from last season, Bryant would likely need to return to his 2016 offensive form to properly replace Semien's production. Since he's performed inconsistently in that department as of late, counting on him to double his value in just one year would be quite the gamble.
Nevertheless, it could be challenging to pass on a former MVP if he's seeking to prove himself on a one-year deal, similar to Semien's case last winter.
Then comes one of the more interesting free agents available, Trevor Story. Even though he's reportedly unwilling to change positions, which might be off-putting to Toronto, the 29-year-old could be worth exploring if he's aiming to cash in on the bounce-back deal approach.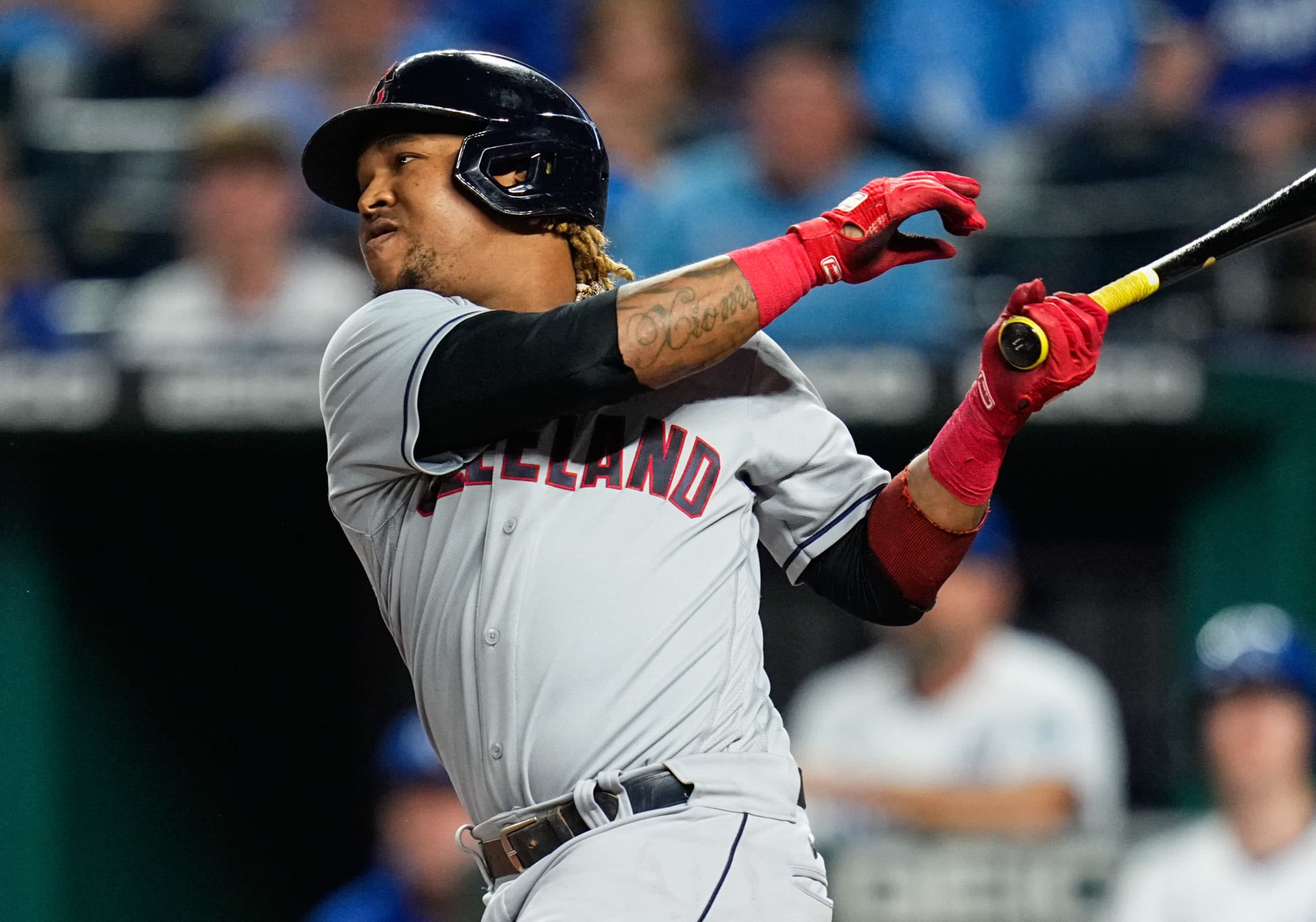 Credit: Jay Biggerstaff-USA TODAY Sports
Shifting to the trade market, there's one player that should immediately stand out to this organization, Jose Ramirez. Very rarely does a three-time AL MVP finalist become available, and if the Cleveland Guardians decide to move him, Toronto shouldn't hesitate to pounce on that opportunity.
Understandably, acquiring Ramirez's services would be extremely expensive, however, he's considered one of the best players in the sport for a reason – he provides an enormous amount of value each season.
Doing exactly that in '21, the 29-year-old registered the fourth-highest fWAR rating (6.3) in the majors while receiving very little support on Cleveland's rebuilding roster. Additionally, the switch-hitter also added 36 home runs, 103 RBIs, a .272 ISO, a .372 wOBA, a 137 wRC+ score and a .266/.355/.538 slashing line across 636 plate appearances.
As for his defensive production, Ramirez can be utilized at third and second base but was solely aligned at the hot corner last season, where his +7 OAA rating ranked in the 94th percentile.
If constructing a blockbuster trade with the Guardians proved too costly, which is very possible, the Blue Jays could turn their attentions to Matt Chapman, who's reportedly on the trade block. With the 28-year-old just two seasons away from reaching free agency, the Athletics might opt to move him now to maximize his current value.
On the surface, acquiring a two-time Platinum Glove award winner would greatly improve Toronto's defence, particularly at third base. In saying that, his strikeout concerns remain a glaring issue and could prevent him from significantly increasing last season's 3.4 fWAR rating.
Either way, whether it's through free agency or trade, management can't afford to make any mistakes during this process. With a
projected $50.89 million in tax space
, following contract tendering and arbitration hearings, there's very little room for error regarding Semien's replacement.
If the Blue Jays fail to completely fill his production, the onus will then shift to the rest of the line-up to help make up for that difference. Though receiving a full season of George Springer *crosses fingers* should help in that sense, it remains to be seen if he can return to his 2019 form, where he produced a 6.4 fWAR.
Toronto struck gold with Semien – and starter Robbie Ray – last winter, but if they're to embark on a deep post-season run in 2022, they'll need to replicate that magic for a second straight off-season.