Revisiting the Whit Merrifield trade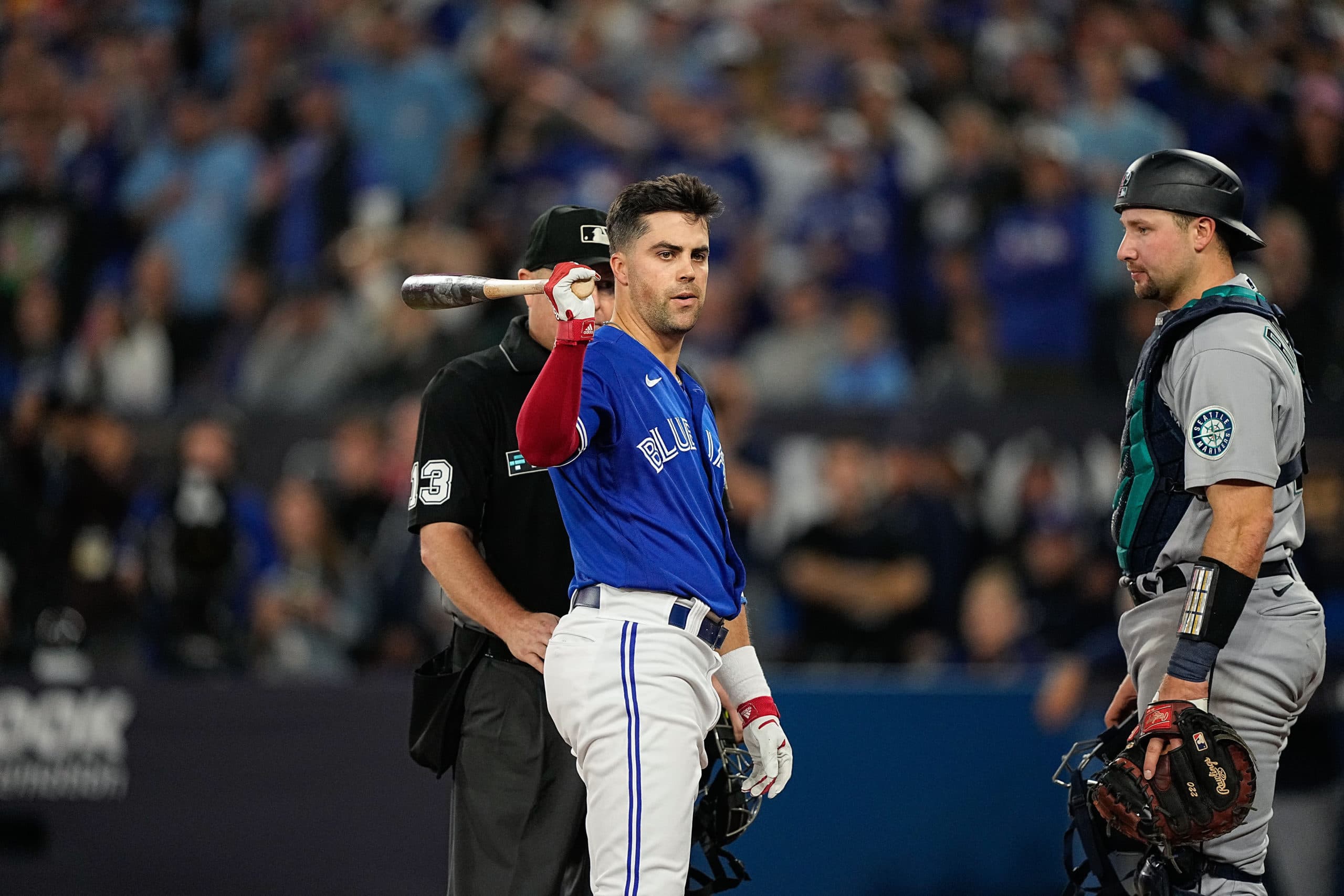 Photo credit:John E. Sokolowski-USA TODAY Sports
On August 1st 2022, the Blue Jays traded for Whit Merrifield.
The Blue Jays sent two prospects – Infielder Samad Taylor, and right-handed pitcher Max Castillo – for the aging veteran. We'll look the two prospects, before looking at Merrifield's 2022 and 2023 seasons.
Samad Taylor:
Long-time readers may know that Samad Taylor was one of the first prospects I interviewed back when I started at Blue Jays Nation. For that, I'll always be grateful and root for him. So when I started doing research for this article, you could imagine the smile on my face when I saw his start to the 2023 season.
With the International League Omaha Storm Chasers, the 24-year-old is slashing .324/.395/.461 with two homers in 119 plate appearances. He's also significantly cut his K% to 17.6% (down from 22.1% in 2022), while his BB% of 10.9% has remained relatively the same. Overall, he has a 121 wRC+.
Taylor is also incredibly quick on the bases, as he's stolen 12 bases in 15 attempts. This quickness also allows him to cover range in centre field while also playing second base.
Of course it's sad to lose a guy such as Taylor, but he has a better opportunity to make the big leagues with the Royals. In fact, it seems like it could happen sooner, rather than later if he keeps it up.
Max Castillo:
The then 23-year-old right-handed pitcher had a short stint with the Blue Jays, owning a 3.05 ERA and a 4.42 FIP in 20.2 innings pitched. He was traded along with Taylor for Merrifield, and pitched 18.2 innings with the Royals in 2022.
Sadly, he didn't have the same success, as he posted a 9.16 ERA and a 6.01 FIP in those 18.2 innings. His struggles continued with their Triple-A team, where he posted a 8.44 ERA and 4.82 FIP in 21.1 innings pitched. His K% also declined to 19.5%, down from a 29 K% with Toronto's Triple-A team.
The 2023 has been much of the same for Castillo, as he has a 6.66 ERA and a 7.17 FIP in 24.1 innings pitched. Moreover, he has a higher BB% (8.8%) than K% (7.9%) which isn't great to say the least.
Despite that, Castillo is still fairly young and is adjusting to a new organization and his changeup is still great.
Whit Merrifield's 2022:
At the time, most thought he was a depth addition as he could play centre field and had previously put together fantastic seasons. However, in 2021, Merrifield was a shell of his former self with the Royals, as he slashed .240/.290/.352 with six homers in 420 plate appearances. This was a far cry from his 2018 season, where he slashed .304/.367/.438 with 12 homers for a 119 wRC+ in 707 plate appearances.
However, his final two months with the Jays to end the season were much better. He slashed .281/.323/.446 with five homers in just 130 plate appearances for a 119 wRC+. This doesn't even factor in his slow start with the Jays, where he slashed .208/.276/.264 with a homer in 58 plate appearances for a 58 wRC+.
Merrifield ended September (and a bit of Ocotober) slashing .338/.361/.588 with four homers in 72 plate appearances for a 168 wRC+. While this was a short sample size, he ended the 2022 season showing that Two-Hit Whit may still be in there.
Whit Merrifield's 2023:
As of May 3rd, Merrifield is slashing .301/.362/.398 with no homers, but eight doubles and 10 RBIs. Merrifield also has an 8.5 BB% and a 14.9 K%, giving him a wRC+ of 115. In terms of wRC+, he ranks behind Matt Chapman (209), Bo Bichette (160), Vladimir Guerrero Jr. (149), and Alejandro Kirk (119). His .301 average ranks behind Chapman's .374, Bichette's .339, and Guerrero Jr.'s .311.
The 34-year-old has also easily become Toronto's everyday second baseman. Santiago Espinal is slashing .186/.255/.256 for a 46 wRC+ in 47 plate appearances, while Cavan Biggio is slashing .122/.189/.265 with a 24 wRC+ in 53 plate appearances. However, Merrifield has also become the Blue Jays fourth outfielder as well, playing 84 innings in left field already.
Merrifield may not continue his hot to the season, but his versatility, speed, and pure hitting make him an everyday player.
So who won the trade:
In all honesty, it would be fair to say that both teams won this trade. The Blue Jays acquired a veteran that hits for average, but also has versatility and speed. Plus he now has a shot at winning a World Series with the Blue Jays.
The Royals got a player who'll have six or more years of team control, but who also has great versatility, is blazing fast, and can hit for power. Not just that, but Castillo could easily turn around his season, as he's pitched less than 65 innings in the Royals organization.
It's a good trade for both teams considering where they are.
As always, you can follow me on Twitter and Instagram @Brennan_L_D.
---