Should the Blue Jays sign Michael Conforto?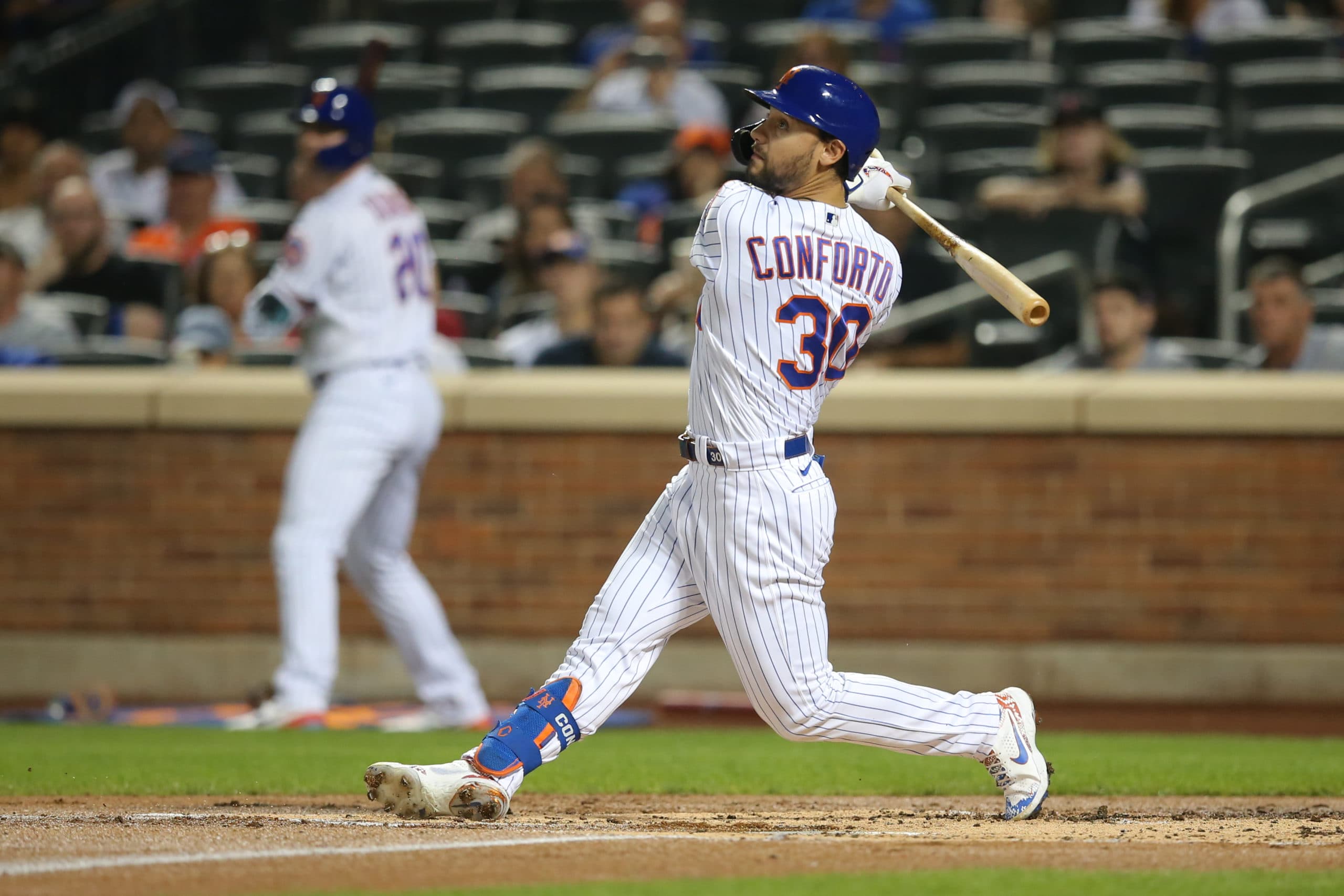 Photo credit:Brad Penner-USA TODAY Sports
It's safe to say that the Blue Jays are looking to acquire a left handed hitting outfielder. 
There were reports that they were looking into both Kyle Schwarber and Eddie Rosario. Furthermore, former Blue Jay, Corey Dickerson also fit that bill, but he signed with the Cardinals a few days ago.
Joc Pederson, who is not a French Canadian, also signed elsewhere, leaving the Blue Jays options thin in terms of signable players that fit their needs. The one big named player left is Michael Conforto.
His bat: 
Of course, we'll split this into two sections, his bat and his defense. Unlike Ketel Marte's article
, there isn't much to talk about when it comes to Conforto's defense. I'm getting ahead of myself though.
Conforto's best seasons:
Aside from being a human being, Conforto is a 29-year-old corner outfielder who bats left handed, one of the Blue Jays' most pressing needs. In his 2980 plate appearances, he has hit 132 dingers and has a career slash line of .255/.356/.824. He has a career walk rate of 12.3% with a career strikeout rate of 23.8%.
His best seasons came between 2017 and 2020, where he slashed .265/.369/.864 where he posted 97 of his 132 home runs in 1959 plate appearances. He had a K% of 24.4% with a BB% of 12.7%, a pretty solid rate considering the amount of home runs he hit.
His best season in terms of wRC+ (excluding the COVID-shortened 2020) was in 2017, where he posted a wRC+ of 147 in his 440 plate appearances. This included 27 homers while slashing .279/.384/.939. Conforto also had a notable 2019, where he slashed .257/.363/.856, but hit a career high 33 homers, although he had his second lowest BB% of 10.3%.
The turn of the decade:
Conforto played in 54 of the 60 games possible for the Mets during the 2020 COVID season where he had his best season, slashing .322/.412/.927 with nine home runs in 233 plate appearances. Unfortunately, the 29-year-old outfielder failed to follow up what could be considered his best season with one of his worst seasons.
Conforto slashed .232/.344/.729 with only 14 homers in 479 plate appearances. To my Moneyball lovers, yes he still got on base, but he showed a significant decline. Could the Jays potentially give the 29-year-old a contract similar to Marcus Semien and Robbie Ray, or as I call it, a SemiRay (a short term, show me contract).
Defense:
Conforto is all offense, very questionable defense. In his first two seasons, he put up an 11 DRS in his 1,032.2 innings played in the outfield. Since he became more of a power hitter in 2017, he has put up a -13 DRS between 2017-2021.
The 29-year-old fielder also posted a career worst -5.1 UZR due to his lack of range factor, which sits at -14.1 in his career.
A team is not signing Conforto for his defense, though.
The one downside:
The upsides are pretty prevalent, so why has no team signed the lefty slugger? Well, the New York Mets decided to give the outfielder a qualifying offer. Now, the loss of a second rounder doesn't always scare a team off, look at the Mariners signing Robbie Ray or the Rangers signing Marcus Semien.
However, when a player puts up a season like Conforto did in 2021, teams could be hesitant to lose a second round pick if the player declines further. Thankfully, the Jays received two compensation picks with the aforementioned Ray and Semien signing elsewhere, meaning that the loss of the second would be covered by two picks shortly after.
With that being said, it's hard to see Conforto being given a SemiRay type contract. With him declining a one year, $18.4 million contract, it's clear that he's hoping his 2017-2020 form will help him sign a contract with term. If 2021 was the start of a decline, signing him to term is worrisome.
Should the Jays sign him:
With all things considered, I would say yes. However, the Jays may not be interested in signing him as they continue to look at Jose Ramirez, so we'd have to see until after that.
With that being said, say teams could trade draft picks, would you trade a second for Conforto in hopes that he could repeat his 2017-2020 numbers? I absolutely would. He also fits the Blue Jays needs to a tee, as they are in need of a left handed batter. A corresponding move would have to occur with a certain corner outfielder, but Conforto could be the last piece of the puzzle.
As always, you can follow me on Twitter @Brennan_L_D. I've decided to turn this into a series, with one about Kenely Jansen coming tomorrow. So stay tuned!