Spencer Horwitz stands out, Bowden Francis looks like an option for the bullpen, and more as the Blue Jays fall 7-0 to Atlanta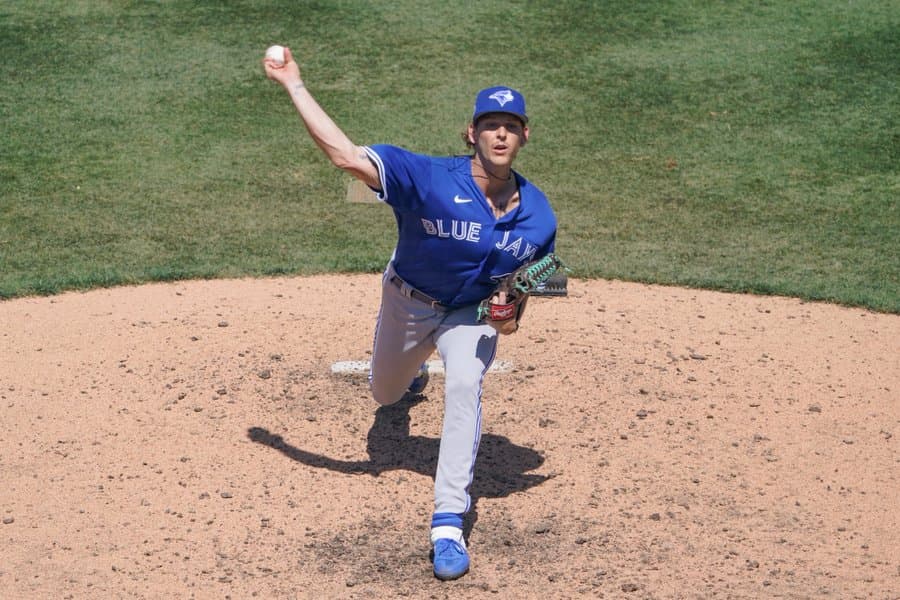 Photo credit:@BlueJays
Well, that wasn't as fun as opening day.
The Jays lost 7-0 to the team from Atlanta. What's more, is that the Jays only had five hits in a relatively quiet offensive game. The only good news is that the game only lasted two hours and 11 minutes.
Today's player of the game wass Spencer Horwitz, who had two of the five hits. Sadly, the game wasn't televised, meaning it's quite hard to describe the two singles.
Things worth mentioning:
Bowden Francis
was the Blue Jays best reliever. He pitched two innings (which usually denotes a starter or bulk reliever), allowing no runs and walking two. To counteract that, Francis had two strikeouts this afternoon, and his curveball sounded great according to the radio broadcast.
Leo Jimenez
also sounded great according to the radio broadcast. While he had an 0-2 day, the 21-year-old shortstop made several impressive plays at the position. Jimenez is on the 40-man roster, but he's a few years away. That doesn't mean he hasn't progressed in recent years, as he found his power stroke playing for the Vancouver Canadians. Expect to see him start the year with the New Hampshire Fisher Cats.
Zach Pop
had the best one-inning relief outing. He struck out two batters, walked one, and hit a batter on an 0-2 count. If he can raise his strikeout rate in 2023, there's a chance he could be used in high leverage. Who doesn't love a reliever that sits in the high-90s with a devastating slider?
Nathan Lukes
went 1-2 with a double and a walk in this afternoon's game. The 28-year-old outfielder slashed .285/.364/.425 with 11 homers (a career-high) in 484 plate appearances with the Triple-A Buffalo Bisons. He was added to the 40-man roster in November.
The Blue Jays have two games on Tuesday afternoon. The game against the Detroit Tigers (the one on Sportsnet) will feature a ton of regulars, with Chris Bassitt making his Blue Jays debut. The other game against the Philadelphia Phillies will feature the prospects, along with
José Berríos.
As always, you can follow me on Twitter and Instagram @Brennan_L_D. Clips from both those games will go on my Twitter as they happen!
---