Teoscar Hernández has gone full Bo Bichette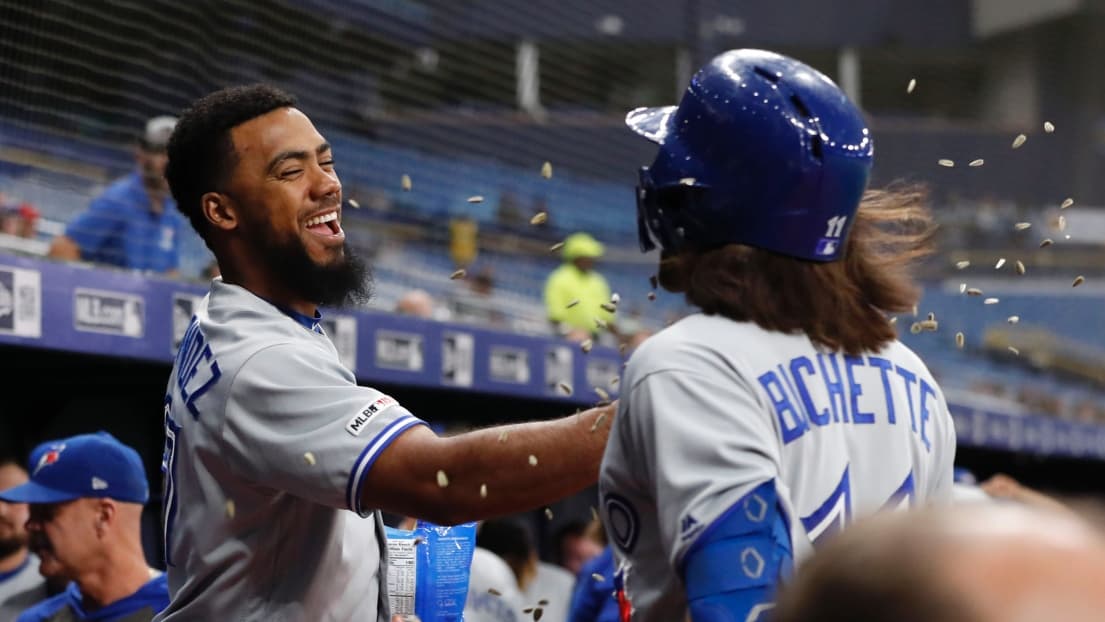 No matter how you slice it, Teoscar Hernández has been one of the best power hitters in baseball this season.
He ranks in the top 15 of home runs, slugging percentage, isolated slugging, and his 95.5mph exit velocity places him in the top five in baseball alongside Fernando Tatís Jr. Miguel Sanó, Juan Soto, and Gregory Polanco.
And this more than just a small sample blip. Since June 5th, 2019, when Teoscar made his return from a demotion to the minors, he has hit .259/.323./.567 with 30 home runs, in 105 games. That translates to a .366 wOBA and a 130wRC+, per
Fangraphs
. His .308 ISO (slugging percentage minus batting average) of .308 ties him with José Ramírez and Aaron Judge for fifth in baseball. For context, the four hitters above Hernandez are Jorge Soler, Soto, Nelson Cruz, and Mike Trout. If that wasn't enough Teoscar's average exit velocity of 92.9mph places him eighth among qualified hitters.
So yeah Teoscar has some serious power. What's kept him from tapping into that power and becoming a more consistent power hitter, has been the swing and miss in his game. He strikes out way too much. Even last season when he was crushing everything from June on, he still struck out 34.4% of the time.
Pitchers when they got to two strikes had a very distinct game plan; down and away.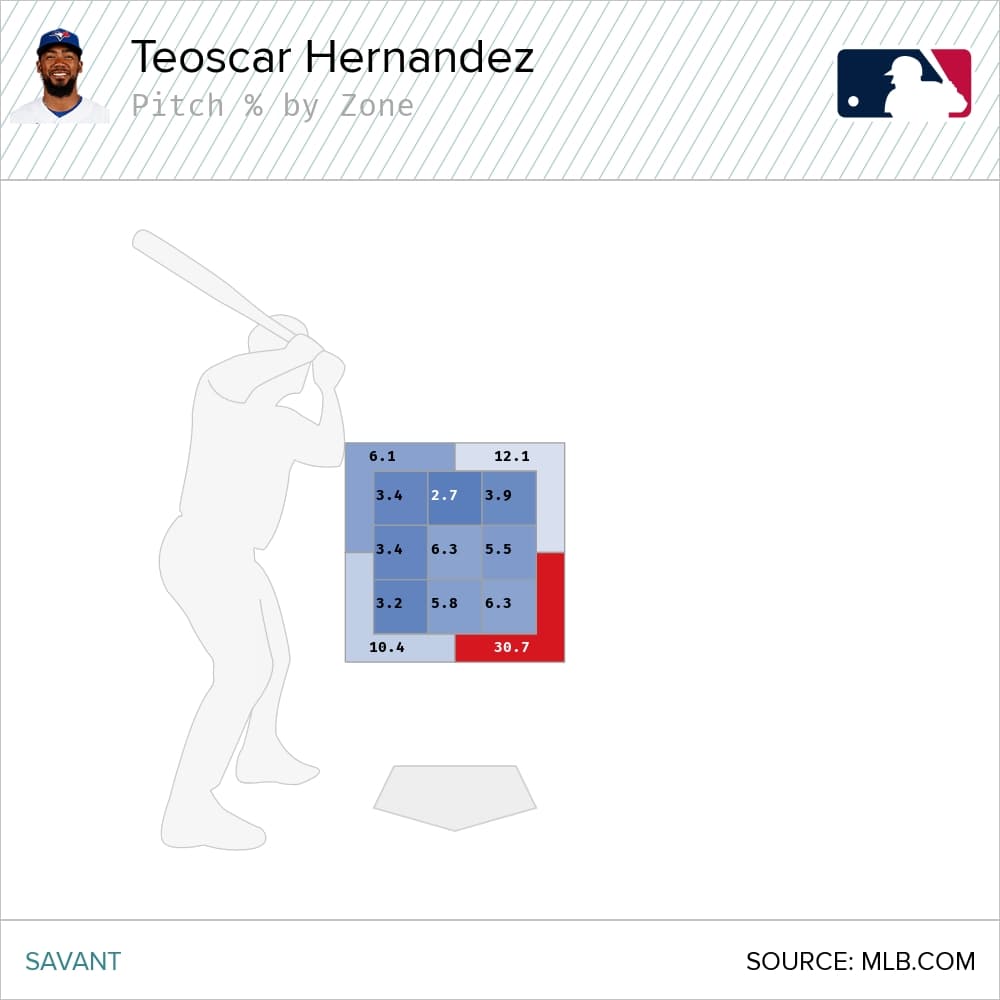 And Teoscar made it easy for pitchers by constantly swinging at those pitches.
This season, pitchers are taking the same approach:
But Teoscar is laying off those pitches more and swinging at pitches he can handle.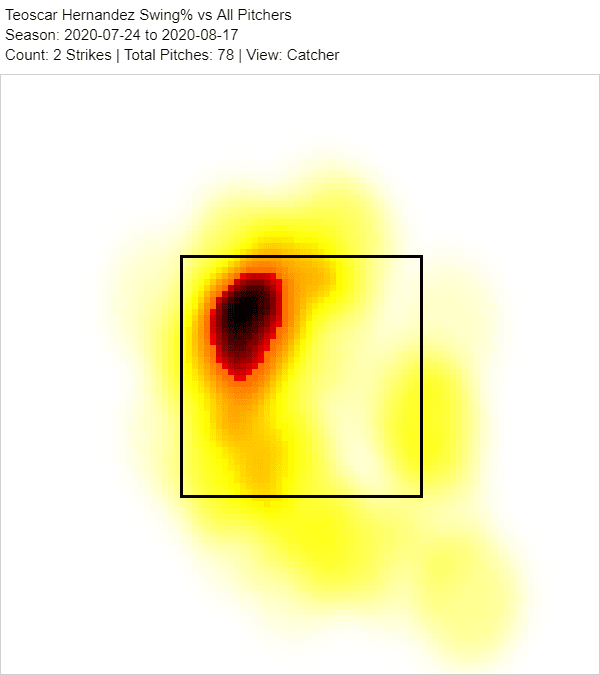 It's only been 19 games, so all the usual small sample caveats apply, but the results have been promising. Teoscar has cut his strikeout rate down to 26.3%.
Looking at Teoscar's swing, everything looks the same as it did last year. Same pre-pitch toe tapping and leg kick.
With two strikes however, something has changed.
The title gave this away, but look at that swing. The leg kick is gone in favour of that little toe tap. It's not quite as dramatic but this is exactly what Bo Bichette does with two strikes.
This is not something Teoscar did last season at all. You have to wonder if this is the influence of Bo and watching him have success or the tutelage of Dante Bichette, but regardless, it appears to be working.
What makes Bo so great is his ability to hit basically any pitch. He makes a ton of contact and can get away with swinging at pitches outside of the strike zone. Teoscar doesn't have that skill set. Even with the better two-strike approach this season Teoscar's swinging strike rate has increased from 14.7% to 16.7%. What also stands out is the pitches he is swinging at the contact he is making.
| | | | | |
| --- | --- | --- | --- | --- |
| | O-Swing% | Z-Swing% | O-Contact% | Z-Contact% |
| 2018 | 32.2% | 74.3% | 45.5% | 75.7% |
| 2019 | 30.3% | 72.9% | 55.6% | 77.2% |
| 2020 | 37.0% | 63.3% | 47.5% | 79.0% |
Teoscar is swinging at more pitches outside of the zone and fewer inside the zone. This is not the approach he should be taking. He doesn't make enough contact on those pitches outside of the zone to be effective. He makes more contact on pitches in the zone as you expect. This is why his walk rate, which has typically been pretty solid in the past, has dropped to 2.5%. Teoscar has just two walks on the season, so a couple of games with a walk should boost that percentage back to his career average.
Teoscar has adopted the Bichette two-strike swing, but he doesn't need the Bichette approach to swing outside the zone. If Teoscar can be a little bit more patient and wait for his pitch in the strike zone, he can take even more advantage of his power. Cutting his strikeout rate is a good start and as he gets more comfortable with the new swing he can start to make some more contact and draw more walks. If he can do that there is no reason why he can't be a key fixture in what could be a really good lineup.