The 2022 Arizona Fall League has concluded (for the Salt River Rafters), here is how each Blue Jays' prospect did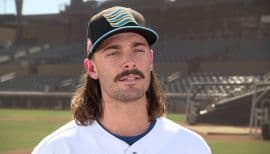 Sadly, another baseball league ended for some Jays' prospects on Thursday.
The Arizona Fall League wrapped up for the Salt River Rafters, including seven prospects. You may be asking how they did, so let's dive into each player's fall expedition statistics.
Hagen Danner:
We'll start with pitchers and include the only current prospect on the Blue Jays' 40-man roster, Hagen Danner. 
He finished the AFL with a 3.52 ERA in 7.2 innings pitched, along with a 28.57 K% and a 3.57 BB%. He struggled in his first game, allowing three hits and three runs in just two-thirds of an inning. In that game, he threw 17 pitches (12 for strikes) and didn't generate a whiff (swing and miss.) This was his first actual game pitching since April.
In his next seven appearances, he pitched seven innings, only allowing two hits and no earned runs. He threw 80 pitches, 55 of them for strikes while also generating 15 whiffs. Not bad.
When the Rafters were home, there was stat cast, so let's take a look at data from his first three games. He averaged 97.4 mph on his curveball, touching 98.7 mph. The fastball had some solid movement with a 2223 RPM, touching 2414 RPM.
Moreover, his slider averaged 87.7 mph and touched 90.5, with an average spin rate of 2265 RPM and a peak of 2316 RPM. The 24-year-old also threw a curveball, sitting in the high 70s with an average spin rate of 2423 RPM and around 50 inches of vertical drop.
According to Shi Davidi, a scout told him that Hagen Danner was the best-looking reliever during the entire season, so there's that as well.
Troy Watson:
Sticking with relievers, we have 25-year-old Troy Watson. The hard-throwing right had an 8.76 ERA in 12.1 innings pitched, with a 19.3 K% and 12.28 BB%.
Although his numbers weren't great over the minuscule sample size, he had a 3.07 ERA and 1.68 FIP in 14.2 innings with the High A Vancouver Canadians. Unlike in the AFL, this saw Watson post a pretty incredible 36.7 K% and 5 BB% with the final bound Canadians.
After only pitching  three innings in 2021, Watson posted a 3.07 ERA in 29 innings pitched in the Florida Complex League, Low A, and High A. This saw a high 34.82 K% and a pretty solid 8.2 BB%.
Like Danner, Watson throws hard. He averaged 96.9 mph on the fastball and touched 98.9 mph. The spin rate sat at 2261 RPM and hit 2436 RPM as well. Watson also throws a slider that averaged 86.3 mph, while touching 88.6 mph. The 25-year-old also throws a curveball and a splitter.
Like with all pitchers' data in this article, this focuses mainly on the first half of the season, as the Rafters played all of their home games at the very beginning. Either way, Watson is a dark horse reliever that could end up playing for the Jays sooner rather than later.
Anders Tolhurst:
The 23-year-old righty mainly pitched as a starter for the Rafters, posting a 4.70 ERA in 15.1 innings pitched, along with a 22.22 K% and 12.5 BB%.
The past season was Tolhurst's first season as a professional after being drafted in 2019. In fact, his 15.1 innings pitched in the AFL was more than what he pitched in affiliated ball in his career. Tolhurst spent the end of the 2022 season, pitching 12.1 innings between Low A Dunedin and the Florida Complex League team. He had a 3.65 ERA with a 33.9 K% and a 16.95 BB%.
As for his stat cast data, his fastball sat 93.4 mph, topping out at 94.8 mph at home. He also throws a hard cutter that averaged 92.6 mph but maxed out at 94 mph. However, this may have been his curveball as Savant tends to make errors.
He also throws a high 70s curveball with an average of 2355 RPM (max 2451 RPM), and a slider at 81.3 mph (max 83.6 mph).
It'll be interesting to see where Tolhurst starts the 2023 season, but I think the assignment will be with the Vancouver Canadians as a starter.
Hunter Gregory:
The 23-year-old hadn't pitched since the middle of June in Vancouver before attending the Arizona Fall League. In 12 innings pitched with the Rafters, he had a 12 ERA, along with a 14.52 K% and 22.58 BB%.
Obviously, these numbers aren't great, but he improved as the league continued. On the final day, he pitched three scoreless innings allowing just a walk in the process. It also seemed like it was rust, as he had a 27.6 K% and 7.6 BB% in 32.1 innings pitched with the Canadians.
As for his stuff, well, Savant is all over the place. His fastball averaged 92.6 mph and touched 94.9 mph (as well as reaching 2534 RPM at one point). Where the confusion comes is what Savant says is his pitch mix, to what he's said in interviews.
The slider has a ton of movement throw, with an average RPM of 2505 and hitting a maximum of 2751 RPM. Not just that, but it's a slider that has some velocity, sitting in the low 80s. Unfortunately, sometimes Savant gets a little confused if there's too much movement, velocity, or vertical drop.
For instance, his fastball was likely classified as a "sinker" in some cases, despite there being no mention of him throwing it. The same was the case for both Watson and Danner's sliders, which Savant thought was a cutter.
It sucks I can't give more definitive numbers, but the 23-year-old that was selected in the 8th round of the 2021 draft is one to keep an eye on in 2023.
Tanner Morris:
The 25-year-old was hit with the injury bug in the latter half of the season and thus was afforded the opportunity to play in the Arizona Fall League. He slashed .279/.466/.372 with a homer in 58 plate appearances.
What's intriguing, or downright laughable in my opinion, is just how much he walked. In those 58 plate appearances, Morris had a stupid 25.86 BB% and 15.52 K%. Pitching in the AFL is pretty hit or miss, but to walk that many times is hilarious, and just goes to show you how well he knows the strike zone.
Between Double A New Hampshire and Triple A Buffalo, he slashed .258/.399/.353 with five homers (all in New Hampshire) and a 17.63 K% and BB% in 312 plate appearances. Morris struggled to hit for an average with the Bisons, as he only hit .173. However, he still had .352 on base percentage because he walked 19.8% of the time, the same amount he struck out.
Like with the pitchers, this batted ball data comes from the first half of the season where the Rafters played all of their games with stat cast. The average velocity on a ball in play was only 80.01 mph, with a maximum velocity of 100.7 mph and a hard hit percentage (over 95 mph) of 28.57%.
Morris is Rule 5 eligible, but prospects of his profile usually aren't selected in that draft. Morris plays third base, shortstop, and second base. However, he did get some time playing in left field in the AFL, which was the first time he ever played in the outfield professionally.
Assuming he stays with the Jays, he'll likely start his season with the Buffalo Bisons.
Addison Barger:
One of the Jays' top prospects, in my opinion, Barger had himself a "lackluster" Arizona Fall League. He slashed .189/.318/.321 with two homers (that came in the same game) in 63 plate appearances. He also had a 12.7 BB% and 16.13 K%.
Realistically, I think the 22-year-old was just dead tired. Unlike all the other guys so far on the list, Barger didn't really miss much time during the season, except for the second half of August. 
While the batting average itself wasn't spectacular, Barger was still smacking the ball with an average velocity of 86.4 mph, a maximum exit velocity of 108.9 mph, and a hard hit percentage of 44.44%.
Of course, this was only in the first half of the season, but Barger didn't really play that often in the second half, likely due to rest.
Barger will likely start the 2023 season in Triple A, but he could be in contention to get called up if he can hit the ground running as he did in 2022. He's Rule 5 eligible in December, but there's not a doubt in my mind that he will be added to the 40-man roster.
Zach Britton:
One of the biggest breakout stars of the tournament, Britton slashed .404/.482/.575 with a homer in 56 plate appearances. He also had an even amount of walks and strikeouts, with a 12.5 BB% and K%.
It appears as if Britton
just
missed being a qualifying batter, but for any batter with over 20 at bats, his .404 average led the way. We here at Blue Jays Nation noted that he would've been in the running for the Arizona Fall League MVP, but due to the lack of at-bats to be considered qualified, it doesn't seem likely.
That doesn't mean Britton deserves praise, as the 24-year-old catcher/corner outfielder was a man on a mission this Fall League. He had an average exit velocity of 86.24 mph, with a maximum exit velocity of 109.4, and a hard hit percentage of 34.78%.
Britton was the Blue Jays representative in the "Fall" stars game, going 2-3 with a double and a walk, which he of course bat flipped. Speaking of which, he's a compilation of each of Britton's walks and bat flips on them.
It's not likely that Britton will find his way onto Blue Jays' top prospect sites, as I'll likely give him a significant boost from the 37th-ranked position I gave him in the mid-season.
The left-handed batter is an intriguing prospect, as his estimated time of arrival could be as soon as the 2024 season. Not just that, but he's a versatile player who will continue to see time in the outfield, as well as behind home plate.
My best guess is that he'll likely start in Double A, with a promotion to Triple A that will be his for the taking if he performs as he did in 2022.
Final words:
All seven of these prospects are guys to keep an eye on in the 2023 season. Danner will likely start in Triple A, but it wouldn't surprise me if he's promoted to the big league team. Watson will likely start in Double A, but he'll be an option for the Bisons at some point next season.
Gregory will probably start in Double A, and although he struggled in the Arizona Fall League, he showed promise when he pitched for the Canadians in 2022. At this point, Tolhurst needs innings, but I liked what I saw from him, as his ERA was sub 3.00 until his final start. He'll likely start as a starter with the High A Canadians.
As for the position players, Tanner Morris will start in Triple A and could be an option for a call up depending on how he does, along with the injury situation on the big league team. I said before that Barger may start on the big league team, but I'm going to take a step back and say that a start in Triple A is more likely, with the possibility of promotion later in the season.
While Britton was the breakout start of the AFL season, his estimated time of arrival is likely during the 2024 season. He'll be Rule 5 eligible at the end of next season, so if he continues to do well, he could force the Jays' hand, especially since they don't have a ton of depth for the corner outfield positions in the high minors.
---