The Blue Jays acquire Matt Chapman in exchange for Kevin Smith, Gunnar Hoglund, Zach Logue, and Kirby Snead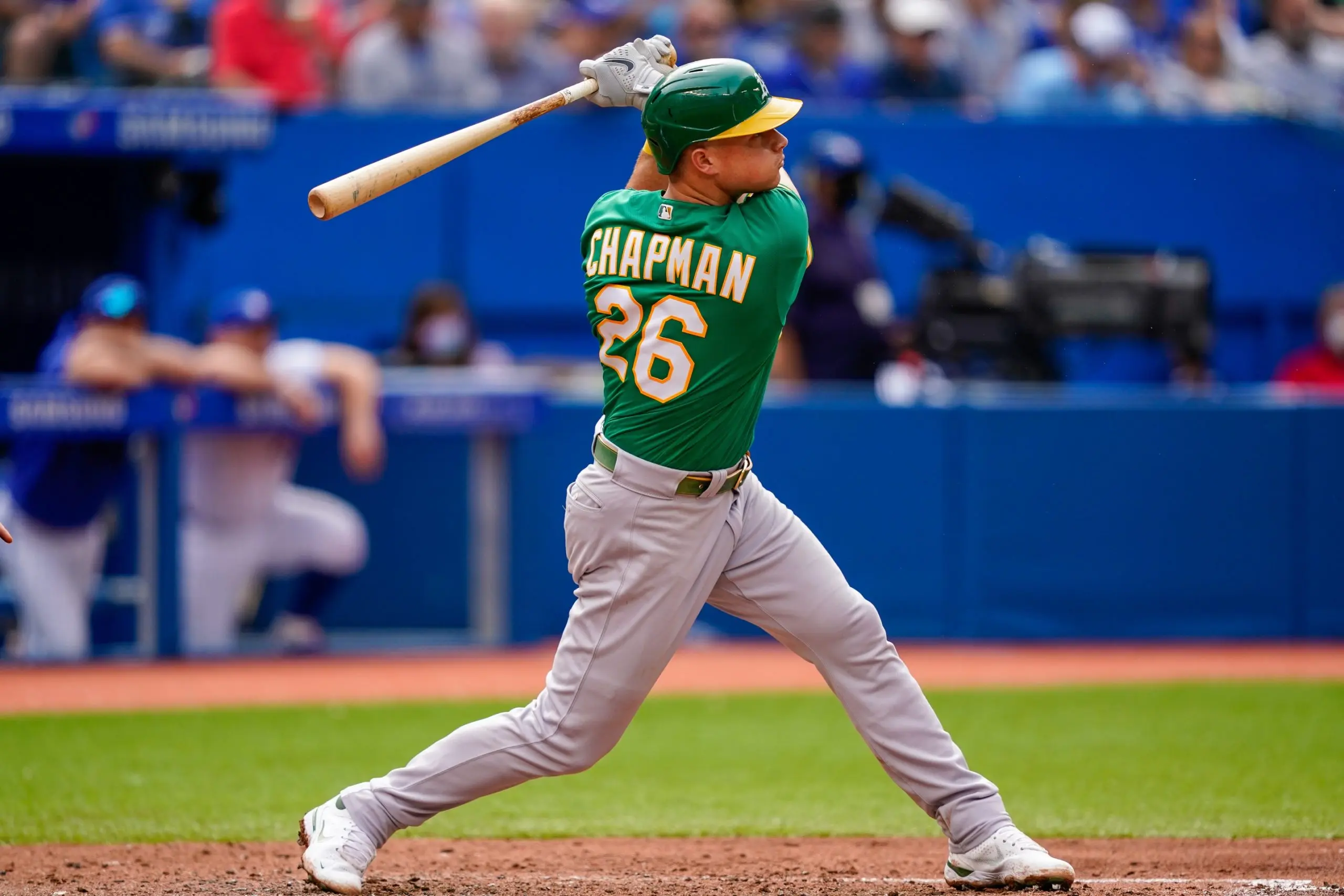 Photo credit:© Kevin Sousa-USA TODAY Sports
It's taken a little while, but here's the big move for a position player that we've been hearing about.
Late last night,
Carlos Baerga reported on Instagram
that the Blue Jays were trading for Matt Chapman of the Oakland Athletics. Given the fact Baerga also said that Toronto would be signing Freddie Freeman in free agency, it was difficult to tell how legitimate this report was.
But then on Wednesday morning, Jon Morosi reported that the Blue Jays and the A's were finalizing a Chapman deal. We don't yet know the return, but Morosi said that the Blue Jays are "not giving up players from their projected Opening Day roster."
Chapman is an interesting addition for the Blue Jays. He fills the hole the team has at third base, as he's a plus defender who has won three gold gloves at the hot corner, but he's also another right-handed bat in an already right-heavy lineup.
He's also coming off a somewhat rough season at the plate, as his .210/.314/.403 slash line produced a .716 OPS, the worst of his big league career. Despite the ho-hum season offensively, Chapman was still worth 3.5 WAR last season (per FanGraphs) largely because of his excellent glove.
Also, it's important to note that Oakland is an awful place for hitters, and Chapman still managed to mash 27 dingers in what was a down year offensively. It's safe to assume that his home run total could explode when hitting at The Dome.
He might not be Freeman or Jose Ramirez, but the last time the Blue Jays traded for an Oakland third baseman coming off a down year, things turned out pretty well!
UPDATES…
According to our pal BK, Kevin Smith is one of the players headed back to Oakland in the trade…
Smith had a huge season for the Buffalo Bisons that revitalized his status as a top prospect in 2021 but struggled mightily when he was called up to the big leagues. In 36 plate appearances for the Blue Jays, Smith had three hits, three walks, and 11 strikeouts.
This is a good point from Josh Howsam. While Chapman's bat doesn't fill the team's desperate need for a lefty in their right-heavy lineup, they can still go out and sign Kyle Schwarber, Michael Conforto, or Eddie Rosario to do exactly that. Adding Chapman at third would also give the Blue Jays the ability to use Santiago Espinal and Cavan Biggio as a platoon at second base, which is a role that each player could thrive in more so than as an everyday player.
And here's the trade…
This is a very reasonable price for the Blue Jays to pay for Chapman. Smith is the highest-ranked prospect in the deal, but he projects to be more of a depth player, which is the same with Logue and Snead. The big prospect for Oakland is Hoglund, who was Toronto's first-round pick in 2021.
It hurts to lose somebody with big-time potential like Hoglund, but the fact this deal was done without a name like Gabe Moreno or Orelvis Martinez going the other way is very good. The team has now traded back-to-back first-round picks, Austin Martin and Hoglund, but, don't forget, they have two compensatory draft picks from Robbie Ray and Marcus Semien in this summer's draft.
Another random thing to note is that this trade opens up two spots on the 40-man roster for the Blue Jays, which might be necessary depending on what they do in free agency.