The Blue Jays are alive again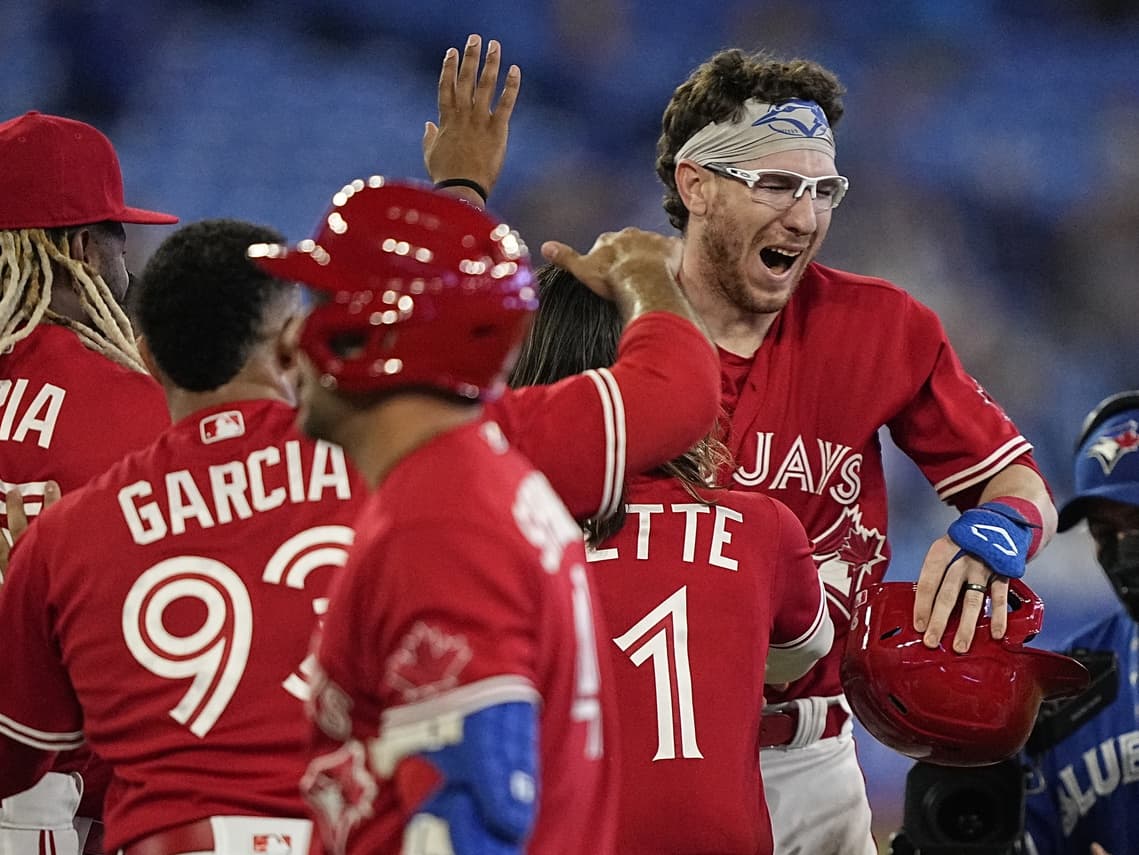 Photo credit:© John E. Sokolowski-USA TODAY Sports
It wasn't pretty, but it counts.
The Blue Jays came into Monday night's game with the Chicago Cubs badly in need of a win after being swept by the Los Angeles Angels, a team you really shouldn't be getting swept by if you have aspirations of playing in October.
Things were looking incredibly bleak in the sixth inning as Tim Mayza came into the game in relief of Jose Berrios and promptly gave up a two-run double to P.J. 'Please Stop Asking If It's Short For Pyjamas' Higgins that made the game 4-0 in favour of the Cubs.
Berrios was getting squared up by the Cubs and he gave up some loud contact but the Blue Jays' defence bailed him out a few times. He managed to navigate his way to four earned runs over five-and-two-thirds innings on 10 hits and one walk while striking out four.
As fans everywhere were debating who to fire and trade in the off-season, Matt Chapman and Raimel Tapia drew back-to-back walks before Danny Jansen brought the team to life with a three-run bomb. In the eighth inning, Cavan Biggio hit a two-out double and then Chapman drove him home with a single to tie things up at 4-4.
While the Blue Jays had played well fundamentally in the first nine innings, things started to get weird in extras. Alejandro Kirk was intentionally walked but then got doubled off as he slid into second base with his leg sticking up in the air. Jackie Braldey Jr. and Santiago Espinal let a routine fly fall between them and Bo Bichette got Vladimir Guerrero Jr. tangled up with a baserunner with an errant throw to first.
Thankfully, some excellent pitching from Yimi Garcia and some impressively bad clutch hitting from the Cubs resulted in the Blue Jays having a third chance to walk things off in the 11th inning. And that's exactly what happened, as Jansen drove in Chapman with a single.
This was far from a gem from the Blue Jays and they were certainly aided significantly by the Cubs and their general lack of interest in winning baseball games but as I said off the hop, it counts. The Blue Jays desperately needed to figure out a way to win Monday's game after being swept by the Angels and this win over the Cubs should help bring them back to life.