The Blue Jays are going to score a lot of runs. But can their pitching hold up?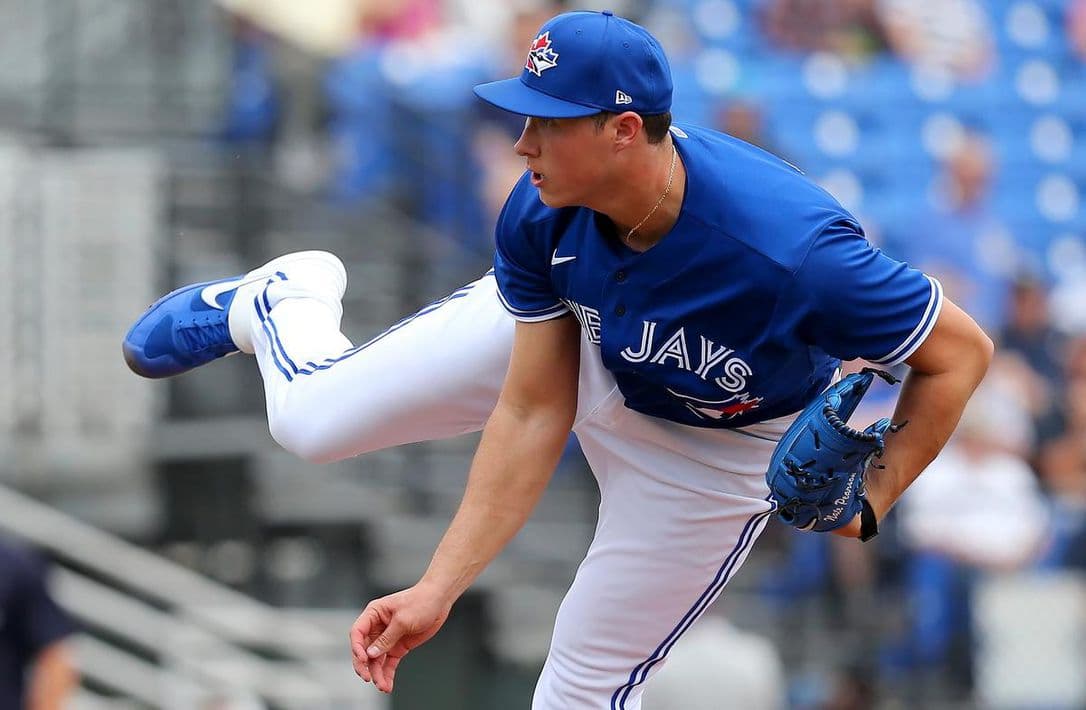 After the team snuck into a playoff spot due to the expanded post-season field, the expectation for the Blue Jays' front office this off-season was to make a big splash.
They delivered by signing George Springer, the best outfielder on the market, to the biggest free-agent contract in franchise history, and they doubled down by adding a former MVP finalist in Marcus Semien.
In a matter of days, a good lineup became a very, very good lineup.
The Blue Jays scored the seventh-most runs in baseball in 2020 (
5.03 per game
), and the New York Yankees and Chicago White Sox were the only teams in the American League who scored more than they did. The team produced at a high level despite having one of their most dynamic hitters, Bo Bichette, miss half of the season due to injury and despite having some black holes in the lineup like Travis Shaw and Joe Panik.
Inserting Springer, who has slashed an elite .284/.376/.576 line over the past two seasons, is a massive boon in itself, but replacing Shaw and Panik at-bats with Semien and a healthy Bichette makes the Blue Jays' lineup one of the best in baseball.
According to FanGraphs
, the Blue Jays have the fourth-highest projected WAR among position players, trailing only the Astros, Yankees, and Dodgers.
Their Steamer projections
have the Blue Jays with a whopping 10 batters producing a wRC+ of at least 100, with Danny Jansen coming in just a little shy at 97.
So, long story short, this team is going to score runs. But what about their pitching? Can they stop the other team from scoring runs?
While the Blue Jays addressed two of their biggest holes on the roster by adding Springer and Semien, the starting rotation is in pretty clear need of help. The team made quality additions to the bullpen by signing Kirby Yates and Tyler Chatwood, but the re-signing of Robbie Ray and the trade for Steven Matz doesn't inspire much confidence.
As of right now, the Blue Jays' rotation looks something like this… Hyun Jin Ryu, Nate Pearson, Robbie Ray, and two of Tanner Roark, Steven Matz, or Ross Stripling. In Triple-A, the team will have arms like Anthony Kay, T.J. Zeuch, and Trent Thornton pushing for opportunities.
This is obviously a paper-thin starting rotation. It isn't 'Edwin Jackson is starting every fifth day no matter what because there's nobody else' level bad but it's difficult to see this group holding up over the course of a 162-game season. The team is banking on rebounds from Ray, Matz, and Roark, which is no guarantee, and there are valid durability concerns at the top of the rotation with Ryu and Pearson.
Last season, the Blue Jays allowed the fifth-most runs against in baseball (5.20 per game). That's a bit skewed because of a couple of lopsided losses at the hands of the Yankees in their gimmicky ballpark, but the team did well in spite of its pitching, not because of it.
Ryu was the team's MVP, putting together a sparkling 2.69 ERA over the course of 12 starts and trade deadline addition Taijuan Walker was a game-changer in the six starts he made. But after that? Roark and Chase Anderson were disasters, Pearson and Matt Shoemaker struggled with injuries, and the team leaned heavily on its bullpen to pitch its way through a lot of innings.
The Blue Jays had just 11 quality starts last season. Seven of them were from Ryu, two from Shoemaker, and two from Walker. In a quick, 60-game sprint, a good chunk of which was spent with an expanded roster, a team can compensate with a strong bullpen, but that's obviously a much bigger challenge over a standard 162-game marathon.
The eight-man bullpen this year looks to be something along the lines of… Kirby Yates, Rafael Dolis, Jordan Romano, Tyler Chatwood, Ryan Borucki, A.J. Cole, Shun Yamaguchi, and whoever of Roark, Matz, and Stripling isn't in the rotation. Cole and Yamaguchi obviously aren't guarantees and there are plenty of other names in the mix, like Julian Merryweather and Patrick Murphy, but this is along the lines of what to expect, as of now.
If the Blue Jays were to add even just a mid-rotation starter, things would look a lot more secure. Mark Shapiro has said that the "heavy lifting" is finished for the off-season but there's "room to get creative" and we keep hearing from names like
Jeff Blair
,
Scott Micthell
, and uhhhh
Marcus Semien
that the team is still working on adding to the roster.
That would be ideal because hoping for Ray, Matz, and Roark to bounce back and hoping Ryu and Pearson can stay healthy is certainly walking a tightrope.
Of course, this is looking through the lens of a traditional five-man staff with a normal bullpen. We can probably safely assume the Blue Jays are going to take some kind of Tampa Bay Rays approach, in which we see a handful of pitchers who come out and go through the order once or twice and Charlie Montoyo uses The Algorithm to piece it all together.
The Rays had three guys last season, Blake Snell, Tyler Glasnow, and Charlie Morton, who were what you'd consider 'normal starters' who started a game and went five or six or seven innings. Otherwise, their innings were eaten up by this neverending list of names like Ryan Yarborough, Josh Fleming, Pete Fairbanks, Aaron Slegers, and so on and so on and so on who came in and went through the order once  or twice in the middle of a game, often after an opener went one or two innings.
The Blue Jays have Ryu, who you'd consider a 'normal starter' and then a lot of ¯\_(ツ)_/¯.
It's a bit easier to envision Roark, Ray, Matz, Stripling, and even Pearson having bounce-back seasons when they're being used in new-school style short stints. There are also plenty of young arms like Hatch, Kay, Merryweather, Murphy, and Zeuch who could come up and thrive in a similar role and bounce up and down between the majors and the minors to give the team plenty of options to work with.
But it's going to be a very difficult puzzle for Montoyo to navigate if Ryu, a guy with legitimate injury concerns, is the only "sure thing" who can go out and toss a quality start every fifth day.