The Blue Jays are severing all ties with Roberto Alomar amidst sexual misconduct allegation
Major League Baseball has placed Hall of Fame second baseman Roberto Alomar on its ineligible list following an investigation of sexual misconduct allegations, commissioner Rob Manfred announced on Friday.
Alomar had been working with Major League Baseball as a consultant in Puerto Rico and is now banned from working in the league office or for any team in the majors or affiliated minors. He had also been working with the Blue Jays as a special assistant but was let go as part of an overarching restructure by the organization back in September of 2020.
The Blue Jays have announced that they support MLB's decision and will be severing ties with Alomar. This means that the team will be removing Alomar's name from the Level of Excellence and removing his No. 12 banner from the rafters at the Rogers Centre.
Here's a statement issued by the team and one from Mark Shapiro…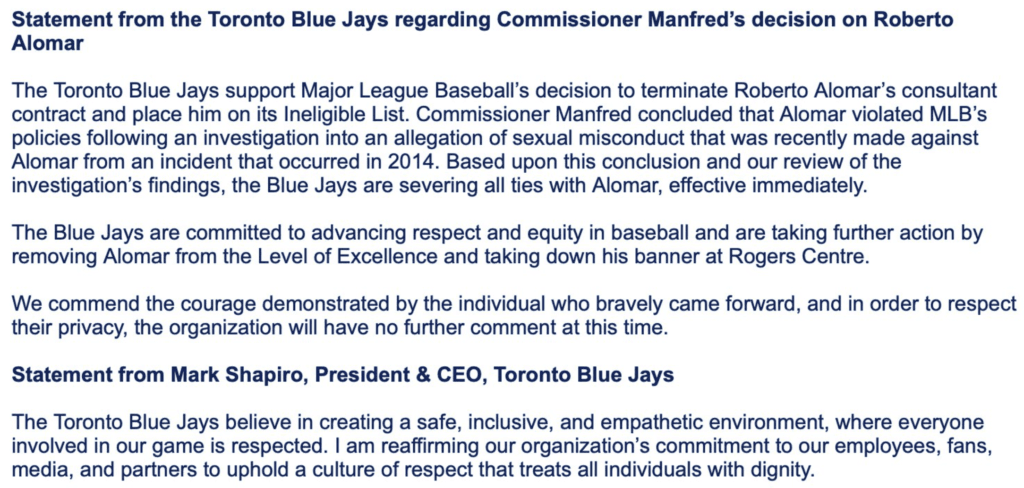 Finally, the Hall of Fame issued a statement saying that Alomar's plaque at Cooperstown "will remain on display in the Hall of Fame in recognition of his accomplishments in the game, and his enshrinement reflects his eligibility and the perspective of the BBWAA voters at that time."
Another important note for those who will inevitably dismiss this situation as it only being an allegation… These are allegations along with an MLB-led investigation from an external law firm. The decision made by Manfred and the league is the result of the findings from that investigation, not simply from just hearing about the allegations against Alomar.
This is obviously very disappointing news as Alomar is a franchise icon and he's the favourite player of many Blue Jays fans. But, ultimately, MLB and the Blue Jays made the right decision here acting swiftly and decisively, something we certainly didn't see a couple of months ago after the
Mickey Callaway story came out
.
People have to face consequences for their actions and the league shouldn't be honouring and celebrating players who do such things.