The Blue Jays can carry a 26-man roster in the playoffs. Who makes the cut?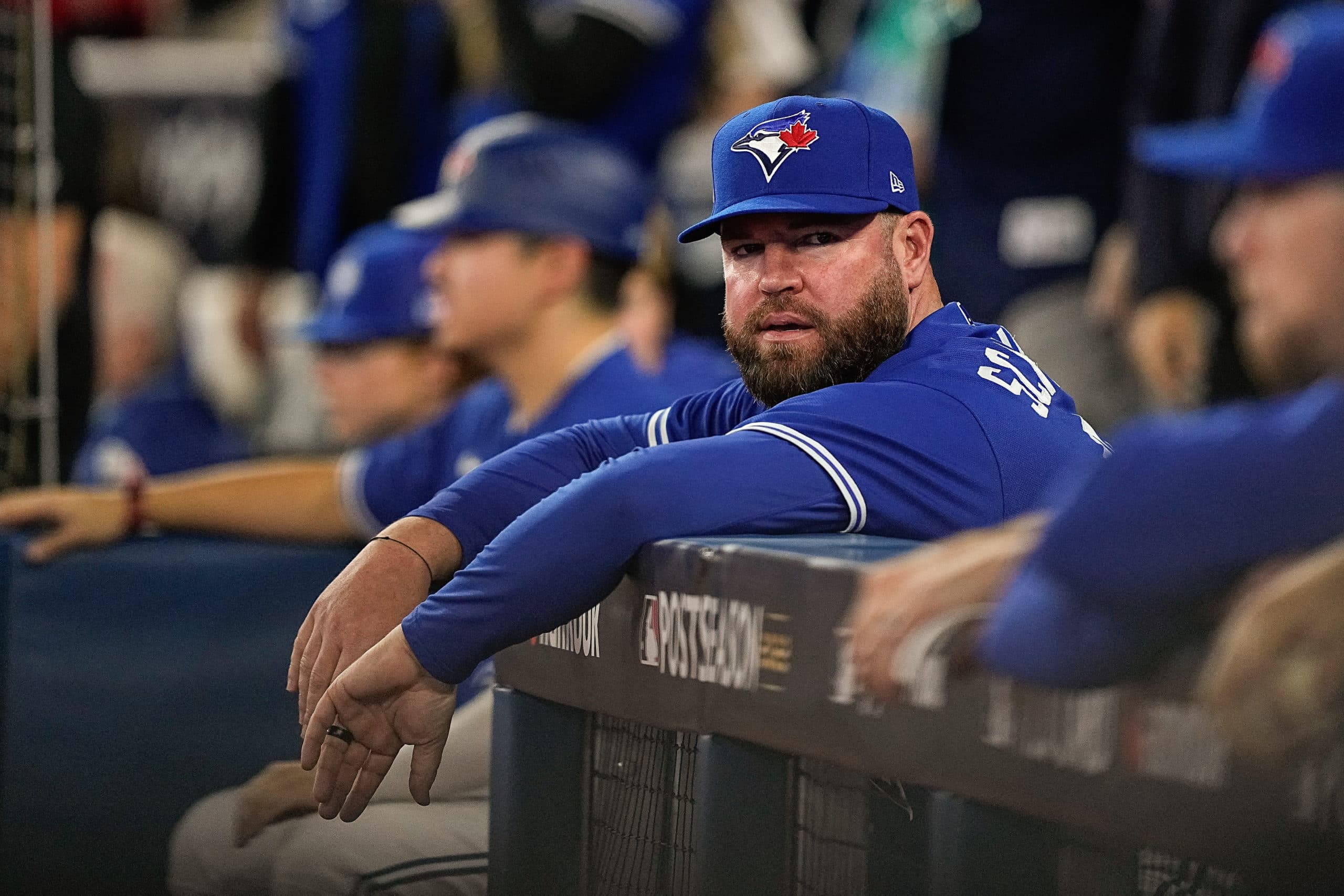 Photo credit:John E. Sokolowski-USA TODAY Sports
Expanded September rosters allowed the Blue Jays to carry 28 players on their active roster during the final month of the season, but they'll have to trim that down by two before they head to Minnesota on Tuesday to start the playoffs.
Last year, the Blue Jays faced the Seattle Mariners with 13 pitchers and 13 position players. Will they opt to do the same when they play the Twins this week? Stronger position player depth that came up from Triple-A Buffalo during the regular season might push manager John Schneider and Co. to consider a different strategy this fall.
Let's start with the pitching staff…
Kevin Gausman will surely start Game 1 for the Blue Jays while José Berríos and Chris Bassitt are the likely options for Games 2 and 3. If the Blue Jays advance to the Division Series, Yusei Kikuchi would be the one to start things off, but he'll likely figure as added left-handed bullpen depth during the Wild Card wound with the Twins.
Hyun Jin Ryu returned from Tommy John surgery in early August and posted a 3.46 ERA for the Blue Jays across 11 starts down the stretch. The 36-year-old lefty went further than five innings in just one of those starts and has never come out of the bullpen during his Major League career, so it seems most likely Ryu will be left off the playoff roster so that the Blue Jays can carry more relievers.
There are seven relievers who are no-brainers to have on the playoff roster: Jordan Romano, Jordan Hicks, Tim Mayza, Erik Swanson, Yimi Garcia, Genesis Cabrera, and Chad Green. With the four starters listed above, the Blue Jays can either carry an eight-man bullpen with an extra bench player or go with 13 and 13 like they did last year.
Earlier in the season, another obvious name for the playoff bullpen would have been Trevor Richards, who logged many important innings for the Blue Jays when they had a four-man starting rotation. But after returning from the Injured List in August, Richards allowed 22 earned runs across 18 1/3 innings, ballooning his ERA from 2.98 to 4.95. Rookie Bowden Francis, who posted a 1.73 ERA over 36 1/3 innings, might be the better option here, though manager John Schenider continued to lean on Richards through his struggles.
Also worth mentioning is Jay Jackson, who was designated for assignment on Sunday in order to give the Blue Jays room to add a mop-up arm for their final game of the regular season. Any player who's on a team's 40-man roster or 60-day Injured List as of 11:59 p.m. ET on Aug. 31 is eligible for the playoffs, so Jackson should still be an option for the Blue Jays if he accepts an outright assignment to the minor leagues. We'll get more clarity on the situation on Monday.
---
Aug 16, 2023; Toronto, Ontario, CAN; Toronto Blue Jays infielder Davis Schneider (36) in the dugout befroe a game against the Philadelphia Phillies at Rogers Centre. Mandatory Credit: John E. Sokolowski-USA TODAY Sports
---
And then we have the position players…
If the Blue Jays carry Gausman, Berríos, Bassitt, Kikuchi, Romano, Hicks, Mayza, Swanson, Garcia, Cabrera, Green, and Richards, they'd have 14 spots left open for the rest of their roster. Are there 14 position players worth bringing into the playoffs, or would the Blue Jays be better to add a 13th arm?
Alejandro Kirk, Tyler Heineman, Vladimir Guerrero Jr., Bo Bichette, Matt Chapman, Cavan Biggio, Santiago Espinal, Whit Merrifield, Kevin Kiermaier, George Springer, Daulton Varsho, and Brandon Belt fill up 12 spots, so there are potentially two more bench roles up for grabs. The four Buffalo Boys who suited up for the Blue Jays in August and September are the most likely options to fill those roles.
Spencer Horwitz bats from both sides and offers the Blue Jays a very good late-game pinch-hitting option. Ernie Clement has excellent bat-to-ball skills and is a rock-solid defender in the middle of the infield. Cam Eden only appeared in a handful of games but stole 53 bases in 57 attempts with the Triple-A Buffalo Bisons. Davis Schneider cooled off after his historic start but everybody knows there's still some magic left in that bat.
The question for the Blue Jays is whether they want to have two of those four aforementioned names on their bench or if they'd prefer to take just one and bring along another pitcher. Schneider's bat and Eden's speed are more likely to factor into a three-game series than a depth pitcher like Francis or Ryu, so the position players seem like the best move.
Here's my guess at who will be on Toronto's 26-man roster come Tuesday: Gausman, Berríos, Bassitt, Kikuchi, Romano, Hicks, Mayza, Swanson, Garcia, Cabrera, Green, Richards, Kirk, Heineman, Guerrero Jr., Bichette, Chapman, Biggio, Espinal, Merrifield, Kiermaier, Springer, Varsho, Belt, Schneider, Eden. 
---