The Blue Jays host the Los Angeles Angels for Dunedin's big-league debut
After dropping two of three games in Texas against the Rangers, the Blue Jays will look to get back on track as they host the Los Angeles Angels of Anaheim for a four-game set at home in Dunedin.
This weekend's series will feature the Blue Jays' "home" opener and it'll also represent the first-ever big-league games played at TD Ballpark in Dunedin. We've seen plenty of spring and Single-A games played in Dunedin, but the town has never been host to a real, regular season Major League Baseball game.
It's also been ages since we've seen the Angels. You have to go all the way back to June of 2019 for the last time these two teams met. Bo Bichette wasn't even on the roster at that time, so this will be quite a different-looking Blue Jays squad for L.A. to face.
How they're doing…
The Angels are a really difficult team to project. They're obviously loaded with a bunch of high-level talent, namely Mike Trout, but they can never seem to put anything worthwhile around him. Their roster also features the likes of Shohei Ohtani, who has thrown the hardest pitch and he's hit the hardest ball this season, and Anthony Rendon, but the Angels lack any kind of pitching or quality depth.
Anaheim is off to a pretty good start this year as they took three of four from the Chicago White Sox, a team many assume will be either the Central Division winner or a wild-card team, and they split a two-game series with the Houston Astros, a team the Angels are fighting with for the West Division crown. All told, they're 4-2.
Again, the Angels are a weird one. They might be one of the teams that the Blue Jays end up duking it out with for a wild-card spot, so it would be ideal to do well in this head-to-head. It isn't the same as facing, say, the Tampa Bay Rays, but beating other middling teams is important. I mean, winning, in general, is important, but you get the point.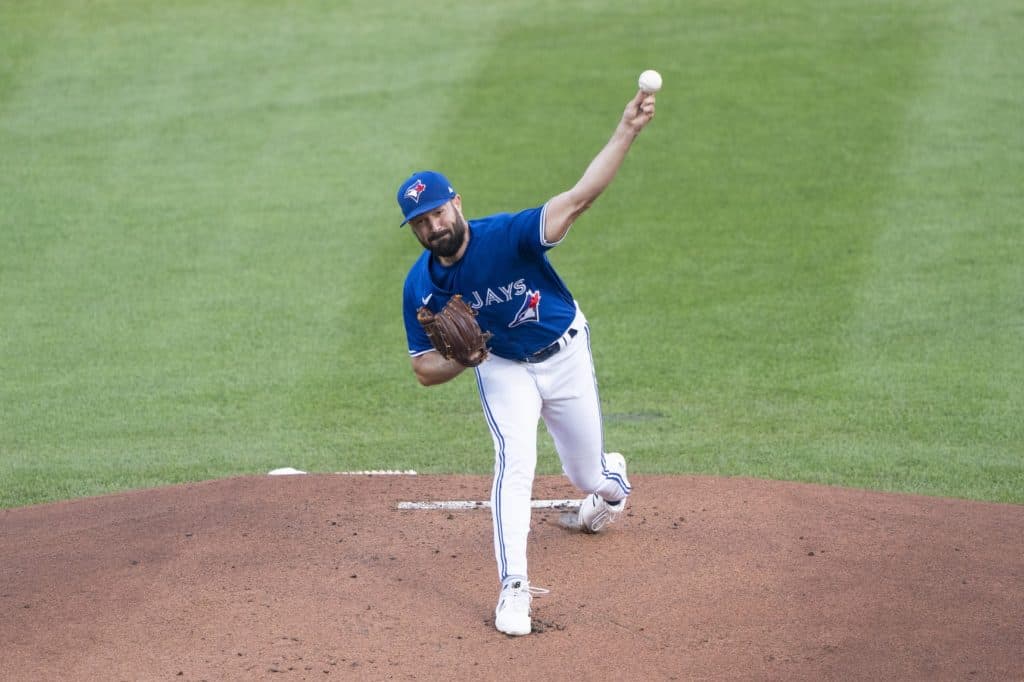 The head-to-head…
Ross Stripling vs Griffin Canning
Griffin Canning will make his first start of the season for the Angels in the series-opener. He was set to start back on Tuesday but got pushed back. Canning, a former second-round pick for the Angels, was quite good in 2020, posting a 3.99 ERA over the course of 11 starts.
Ross Stripling will go for the Blue Jays. In his first outing of the season last weekend against the Yankees, Stripling was only able to make it through three-and-one-third innings, allowing three earned runs on seven hits and two walks.
T.J. Zeuch vs Andrew Heaney 
This one isn't confirmed, but if the Blue Jays roll with their same rotation from the Yankees series, it'll be T.J. Zeuch making his second start. Zeuch was effective against the Yanks, limiting their powerful lineup to just three hits and no runs over four innings of work. Given that successful outing, I imagine he'll get another go. Getting four strong innings from Zeuch again would be a win.
Going for Anaheim will be Andrew Heaney. The former No. 9 overall pick got crushed by the White Sox in his first outing of the season, allowing seven earned runs over the course of three innings. He had a great rookie season back in 2015 but Heaney has posted a 4.60 ERA over five injury-riddled seasons since.
Saturday and Sunday
We don't yet know who's going to be starting on the weekend. The Blue Jays might activate Robbie Ray this weekend but that isn't certain. If not, we'll probably see Steven Matz, who was great against Texas, and Tanner Roark, who wasn't. Shohei Ohtani is in line to start on Sunday, but he got mixed up on a play at home plate in his first outing and might not be ready. Joe Quintana will likely be the starter for Anaheim on Saturday.
The Angels pitching isn't good, per se, but it's better than Texas' pitching, and the Blue Jays had a difficult time getting things going against the Rangers. Hopefully playing at the friendly confines of Dunedin will wake the bats up.