The Blue Jays' playoff odds have gone up 28 percent in the past week
Photo credit:© Andy Marlin-USA TODAY Sports
In late August when the Blue Jays opened up their series in Detroit with a 2-1 loss to the Tigers, it looked like the season was over.
Since then? Things have completely turned around. They won their next two in Detroit, took two of three from Baltimore in a series that was tighter than it should have been, swept Oakland in a huge three-game swing, and they've now taken the first two games at Yankee Stadium.
Most recently, the Blue Jays pulled off a game that most of us assumed was a scheduled loss, as Steven Matz outdueled Gerrit Cole, who would leave his start early with what's being called "hamstring tightness." Six innings of one-run ball from Matz in The Bronx and three runs in three-and-two-thirds against Cole? Damn, things are looking up.
The Blue Jays are on a season-high six-game winning streak and everything is going their way right now.
They made up three games against Oakland by sweeping that series and now they've made up two on New York with a chance to make up two more. Elsewhere, Seattle just had a late-game implosion against the Astros and have lost two in a row, and the Red Sox are on a three-game losing streak as they're on the verge of getting swept by the Rays.
All told, over the past week, Toronto's playoff odds,
per FanGraphs
, have increased from 8.5 percent when they were off last Thursday to 37 percent today after their win in New York…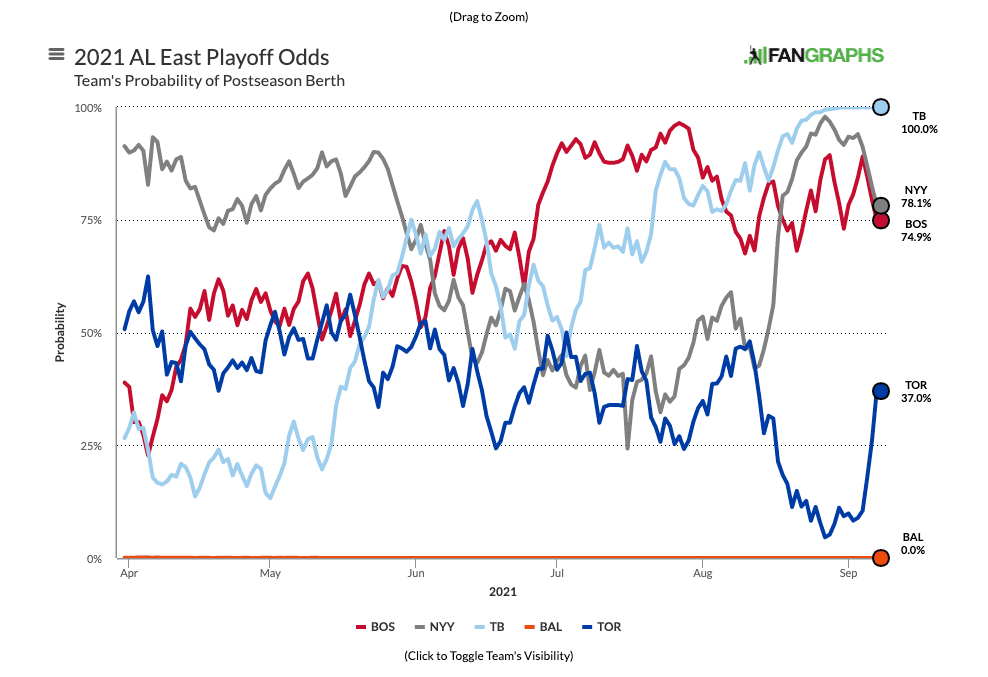 They're two games back of the Red Sox for the second wild-card seed with four games in hand. They're also only two-and-a-half back of the Yankees, who, just a week or so ago, seemed to be cruising to the first wild-card spot.
It's amazing how quickly things can change when you take care of business and actually win some games. This was a make-or-break point in Toronto's season and they're killing it. Given their schedule features seven more games against the Orioles and seven against the Twins, this is starting to look very doable.