The Blue Jays showed how good they are with that series win over the Rays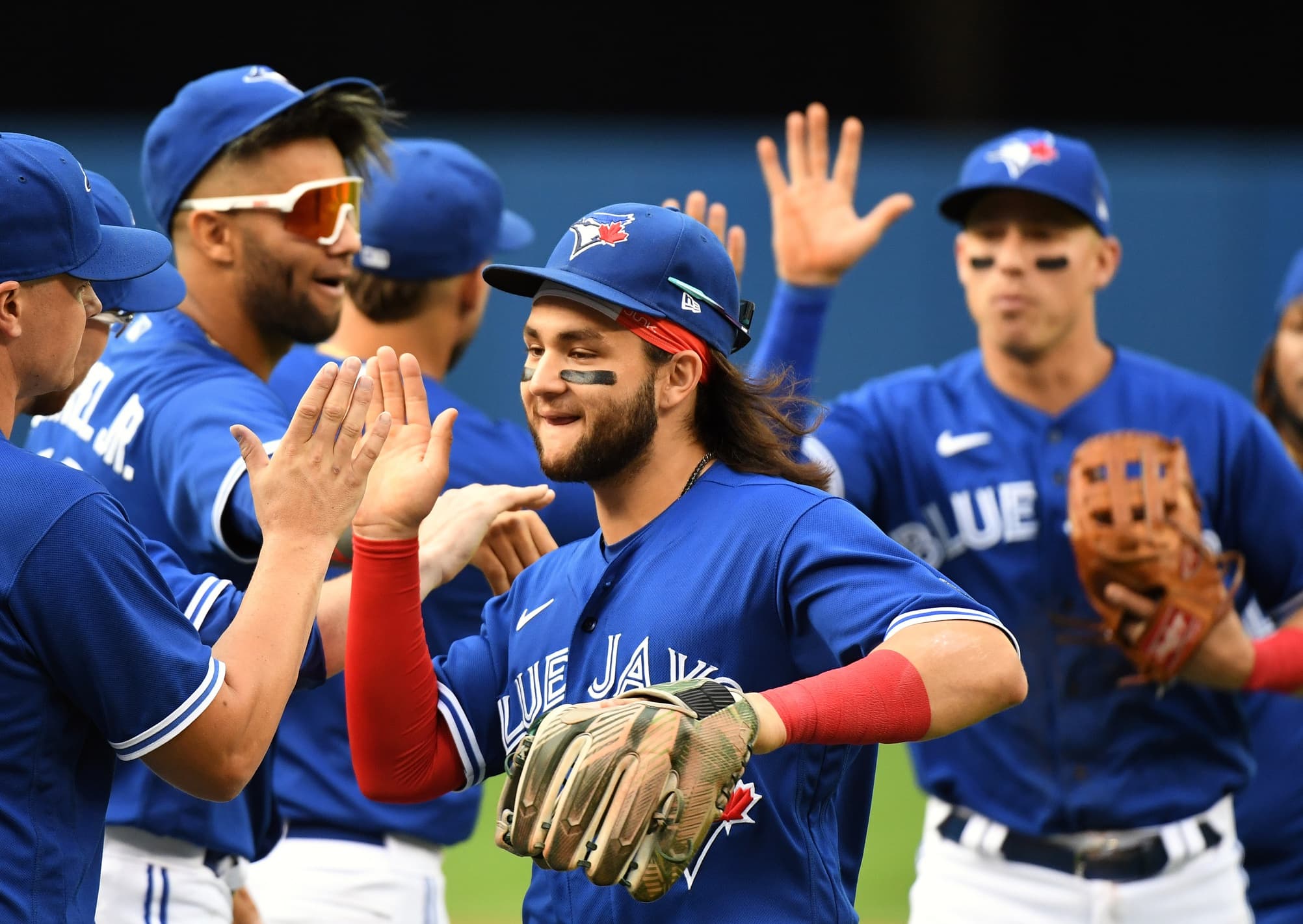 Photo credit:© Dan Hamilton-USA TODAY Sports
The Blue Jays continue winning, no matter who their opponent is.
This incredible stretch started with a three-game sweep over the Oakland A's and continued into New York with a massive four-game sweep over the New York Yankees. Toronto then went into Baltimore and won three of four against the Orioles, scoring about a million runs in the process.
After that was a series against the American League-leading Tampa Bay Rays, an opponent that makes even the most optimistic Blue Jays fan a little nervous.
I remember coming out of the Yankees series and
looking at the schedule ahead and thinking
okay, if the Blue Jays take care of business and kick the shit out of Baltimore and Minnesota, they can afford to go, like 1-6 in their remaining games against Tampa. 
There are still four games left to play against the Rays at The Trop, which is a whole different animal, but Toronto taking two of three in that series is a huge win, one that really proved that they're legit.
The best start of Alek Manoah's career
Things kicked off on Monday night with rookie Alek Manoah taking the mound against a combination of Collin McHugh and Blue Jays Killer Ryan Yarborough.
Yarborough has always inexplicably been a thorn in the side of the Blue Jays, as he came into the game sporting an ERA around 2.00 for his career against Toronto and an ERA of around 4.50 against everyone else. It never made any sense, but it was one of those typical Rays Bullshit things you can't really question.
Anyway, the Blue Jays finally slayed the Yarborough dragon, as they smacked him around for seven runs on 10 hits while he recorded just seven outs. That's as many earned runs as outs!
This kind of explosion offensively wasn't even really needed as Alek Manoah put together the best start of his young career, allowing just one hit over eight innings of work while striking out eight. Manoah had an absurd slider going on Monday night, one the Rays simply couldn't touch…
Jose Berrios tosses a gem but the bats disappear
Tuesday's game was a frustrating one, especially given the fact the team had scored 50 runs (!!!) over their previous four games.
Drew Rasmussen and Tampa's bullpen completely shut things down, as the Blue Jays managed just three hits in the game. That line doesn't do the game much justice, though, as Toronto smashed the ball hard quite a few times and had very little to show for it…
The Blue Jays had 12 of the 25 hardest-hit balls on Tuesday and most of them were hit right at somebody, like Vladdy's 113 miles-per-hour lineout and Corey Dickerson's 105 mile-per-hour groundout. Frustrating stuff, but, such is life when you face the Devil Rays with the Devil Magic.
The encouraging part of this game was Jose Berrios, who put together yet another excellent start. Berrios went seven innings and allowed just one earned run on four hits while striking out four. Since Berrios made a slight change to his delivery, he has a 1.98 ERA over four starts. That's the guy the Blue Jays hoped they were getting when they traded Simeon Woods Richardson and Austin Martin.
Robbie Ray caps off the series win with a Cy Young start
Finally, Robbie Ray took the mound on Wednesday afternoon in the rubber match. This was a very winnable game because Toronto's ace was going up against Michael Wacha, who has been knocked around a lot this season.
And that's exactly what happened! The Blue Jays teed off and scored six runs on Wacha in six innings while Ray put on a masterclass, holding Tampa to one run over seven innings of work while striking out 13. Look at his final strikeout on the outing…
Ray now leads the American League in innings pitched (177 1/3), ERA (2.64), strikeouts (233), and hits against per nine innings (6.9). That, my friends, is what we call a Cy Young winner.
So, all told, the Blue Jays hosted the team with the most runs in the American League and their starters held them to just two earned runs over 22 innings. That's absolutely incredible pitching, a performance that shows just how good this team actually is now that they're rolling.