The challenge with spending on free agent pitching
Photo credit:Christopher Katsarov/The Canadian Press
Free agent spending on pitchers is highly irresponsible.
Every offseason, teams who hope to contend will offer mid-level contracts to starting pitchers. These teams rightly buy into the notion that you can never have enough starting pitching. However, they're going about it the wrong way.
As this tweet from
Chris Black
(absolute must-follow on Twitter if you don't already) suggests, teams are incredibly hard pressed to sign a pitcher to a good contract when they do it in free agency…
NOTE: This post was written before Kikuchi's start on Thursday. 
In this offseason ALONE, teams spent a grand total of about $317 million on pitchers who got mid-level AAVs this offseason, and they've gotten a 5.11 ERA return on that investment.
By comparison, all rookie arms have posted a combined 5.15 ERA in games they've started thus far this season. Think about that for a second. 82 rookies have started at least one game this season, the vast majority of which are making the league minimum of $700K. Assuming all of them are making league minimum (which isn't true, plenty are on minor league contracts, but for argument's sake), that means that the rookies are getting paid a combined $57M in 2022. So, rookies are making about 5.5 times less than the above pitchers, while posting equivalent results. Who are these rookies?
One is Connor Overton, who spent a majority of his 2021 in the Blue Jays organization, and has put up a solid 1.82 ERA in 24.2 IP for the Reds this season. Another is Josh Winder, who never pitched an inning above A-ball until last season, and now has pitched to the tune of a 1.27 ERA in his 4 starts for Minnesota. 28 teams have had a rookie start at least one game for them this season. The Blue Jays aren't one. Is that because of a lack of pitchers in the Jays system?
Not really. 11 different pitchers under 25 years old have started at least two games for the Jays in either AAA or AA in 2022. Only one of them (Max Castillo) has appeared in an MLB game for the Jays. Among these pitchers is 21-year-old Hayden Juenger, who's tossed 45.1 innings for AA New Hampshire, with a 3.57 ERA. While that isn't bad, the issue is that it's the best ERA any of these 11 pitchers have had this season, aside from Castillo. The issue is the lack of quality arms in the Jays system.
This lack of quality pitching talent is due to an underappreciation of pitching that the Jays have suffered from in the past. In 2020, the pandemic punished the Jays, as the draft was only five rounds. In 2019, Toronto only took 2 pitchers in the first 10 rounds, and in 2018, it was only three out of 10.
The good news is that the Jays have begun to acknowledge the organizational hitting talent they possess and are focusing now on pitching. In 2021, the Jays finally spent nine of their first 10 draft picks on pitchers. This has already paid dividends, as top pick Gunnar Hoglund was the main piece in the Matt Chapman deal, and 3rd rounder Ricky Tiedemann has already emerged as the best pitcher on the Jays farm. So with the focus now shifting to prospects, let's talk about prospect evaluation.
Fangraphs uses a traditional 20-80 prospect grading system. They use a number called 'Field Value' (or FV), to grade a prospect's "anticipated annual WAR production during the player's first six years of service". Here is a table depicting what each FV represents (for pitchers), in terms of WAR.
When considering Field Value, you have to consider that it seems somewhat conservative, except for when you take into account that it is based on an average WAR per year, not a peak WAR per year.
According to Fangraphs, the Blue Jays don't have a single organizational top-10 prospect pitching in AA or higher. It gets better in A+ Vancouver, where top pitching prospects include Ricky Tiedemann and Nick Frazzo. The Jays have an issue with a lack of top pitching prospects, as 5 out of their top 6 prospects are hitters. What makes this particularly frustrating is the amount of pitching that's been traded away recently. Gunnar Hoglund (45), Zach Logue (40), and Simeon Woods-Richardson (45) are the 40+ FV arms that the Jays have dealt over the last 2 seasons.
Here are the 40+ FV pitchers that the Jays have left…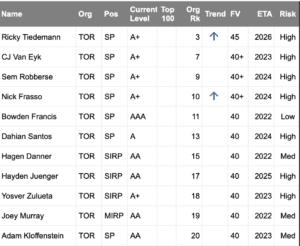 Nobody can deny that the Blue Jays got a solid return for these players. However, the Jays have an embarrassment of riches when it comes to hitting, and yet they've given up very few high FV hitters over these last couple of years. Jordan Groshans is blocked by several infielders, and his value has deflated significantly over the past year and a half, but he's still in the organization. All of this is just to say, Toronto needs to stop giving up pitching prospects so that they can also stop signing Yusei Kikuchi types.
Kikuchi is just one example of how the Blue Jays have been unafraid to dip into in free agency over recent years. However, it might be fair to say that they've also been irresponsible spenders. Fangraphs has a Value tool at the bottom of each player page, where one of the statistics included is 'Dollars', which is WAR converted to a dollar scale based on what each player would make in free agency. Here are all the Jays' $10M+ pitching signings since the offseason preceding 2020, and how their actual money compares to their value.
*Note: All players who remain under contract will have their paid salary adjusted for the fact that the current league year is incomplete, meaning that they have not been paid the entirety of their 2022 salary thus far. This does not include Hyun-Jin Ryu, who will not pitch again in 2022. The figures are not adjusted for either front nor backloading, and the paid salary is determined using AAV, rather than what a player's actual salary may be in any given league year. All figures are to the rounded to the nearest hundred thousand dollars.
Hyun-Jin Ryu (2020-2022): $60M paid, $35.6M value
Tanner Roark (2020-2021): $24M paid, $3.5M value
Yimi Garcia (2022-): $2.5M paid, $3.2M value
Kevin Gausman (2022-): $10.3M paid, $29M value
Yusei Kikuchi (2022-): $5.6M paid, $-3.9M value
Jose Berrios (2022-): $8.8M paid, $-1.4M value
TOTAL: (2020-): $111.2M paid, $66.0M value
The raw data from these figures suggest that you'll be hard-pressed to get an equal return on your free agency investments. The Jays have lost a grand total of $45.2M of value on pitchers since 2020. These numbers are a true indictment of free agency spending, and they illustrate the absolute necessity of homegrown talents in building a perpetual contender, which is the true goal of every GM.
Teams like Tampa Bay, who has a .570 win percentage since Erik Neander was named general manager in November 2016, are elite at developing prospects, and especially pitchers. Neander's Rays are also known for trading away players currently on the 40-man at the peak of their value, for younger, higher ceiling players.
The effectiveness of this system is twofold. Firstly, it allows the Rays to maintain a young core, and further extend their contention window. Secondly, it prevents the team from dragging around an inflated payroll due to paying players big money as they decline. The Jays have a massive advantage over Tampa Bay, as Rogers has proved more than willing to spend when it's needed, something that Stu Sternberg has refused to do. However, it doesn't change the fact that the Jays both literally and figuratively can not afford to throw money at everybody.
The best way to complement your homegrown talent is with trades, not free agent signings. This seems counter-intuitive because you don't frequently have to give up assets in free agency. However, you also don't frequently have to commit 9 figures worth of salary to players acquired via trade. The loss of Austin Martin and Simeon Woods-Richardson will likely hurt the Jays much less than the $131M they spent on Berrios if his struggles were to persist. This is because albatross contracts can be absolutely debilitating for organizations. It forces them to continue to dip into free agency so that they can make up for losses. It also forces them to attach assets to the contract, just so they can get it off the payroll. If the contract is so bad that this isn't even possible, the team will be forced to roster a player who's harming the team. As an example, Washington re-signed Steven Strasburg to a $245M contract after he won World Series MVP for the team. Naturally, he was 30 at the time, and the contract has inevitably gone poorly. He's failed to even record 0.1 fWAR in the 3 seasons after the extension, and it's now forcing them to pay him until he's 37, instead of putting the money towards extending Juan Soto. Continuing to give contracts to players like Yusei Kikuchi will eventually prevent the Jays from signing players who are integral to the future of the franchise, like Alek Manoah and Vladimir Guerrero.
The Blue Jays are entering a window in which they hope to be contending to win the World Series, and considering the incredibly young core, they hope to do so for an extended period of time. However, making consistent win-now moves is not the way to extend this window. There's no doubt that the Jays should be acquiring arms at the deadline, but it might be more important that they don't give any up. Pitchers like Ricky Tiedemann, Yosver Zulueta, and Dahian Santos are going to be absolutely integral to the future of the team's success. It's no coincidence that elite pitcher development systems like the Dodgers and Rays have been so successful over the last 10+ years.
Tampa Bay pioneered the concept of trading rostered players for prospects before they hit free agency, and the Jays would be good to take a page out of the Rays book. The Rays once gave up Chris Archer, who was a good (but regressing) pitcher at the time, and in return, they got Tyler Glasnow and Shane Baz. The Jays currently have players like Bo Bichette, Lourdes Gurriel, and Teoscar Hernández, who are all solid, but incredibly volatile. It's easy to imagine what kind of consistent contender the Jays could build if they chose to deal one or more of those three before it came time to sign them. While these types of deals may not make sense in the short term, and free agent contracts do, in the long run, things often turn out differently.
One thing is for sure, the Jays can't continue to afford to throw contracts at the wall and hope they stick. Instead, they should focus on drafting, trading for, and developing pitching internally, one of the most proven paths to success for Major League Baseball teams.
All stats via Fangraphs. You can follow me on Twitter @6IXWAR. A special thank you to Chris Black, who inspired this article. Again, go follow him on Twitter as well @DownToBlack.
---