The Changes Teoscar Hernández Made and Why He Can Exceed His Projections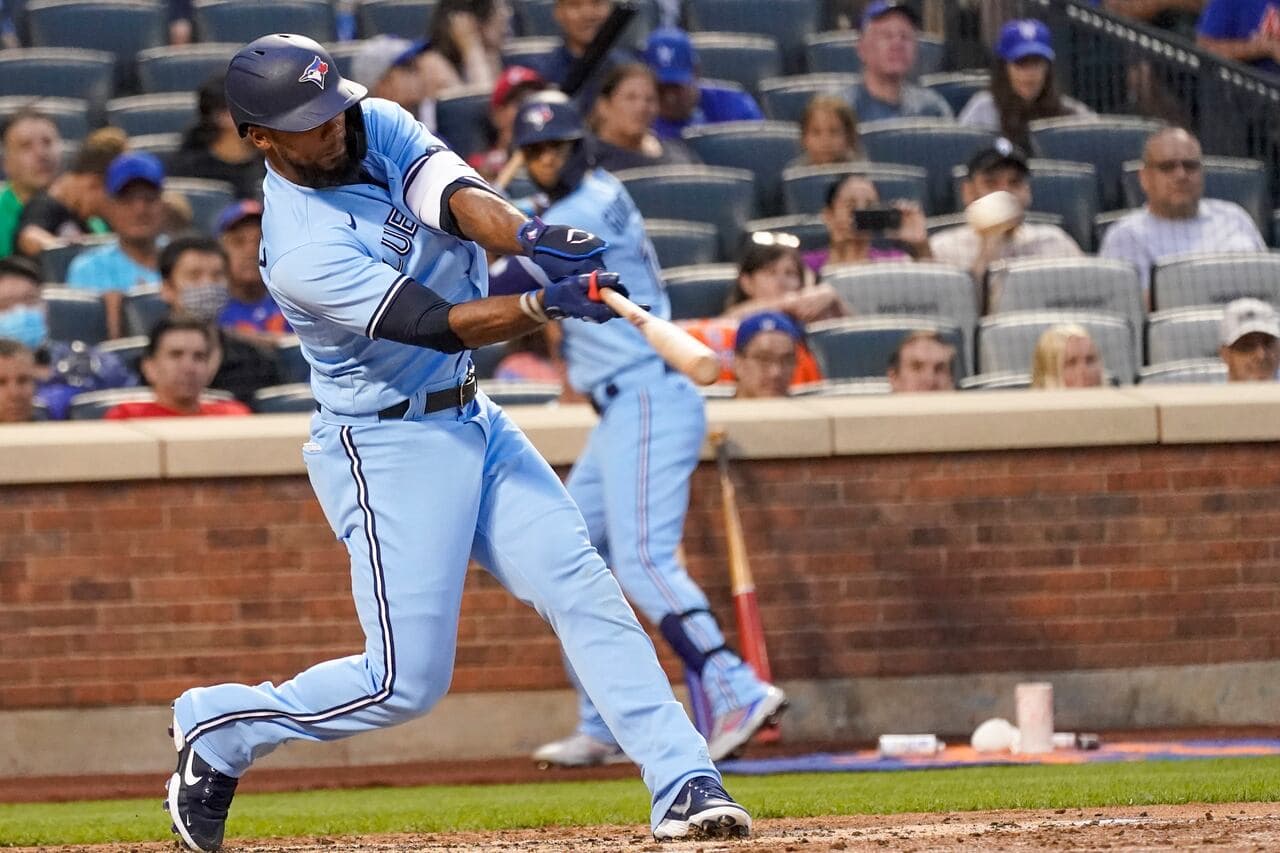 The Blue Jays ZiPS projections came out over at FanGraphs this week, and the Blue Jays project as one of the best teams in the league. Vladdy and Bo project to have star level seasons. The rotation looks to be very strong and the bullpen much improved from where it was last season. The one projection that stood out was that of Teoscar Hernández.
ZiPS projects Teo to hit .268/.324/.505 and be worth 1.8 WAR. That would be a strong offensive season, ZiPS sees it as 121 OPS+, but it would be a large step down from the .295/.345/.538 he has hit over the last two seasons. 1.8 WAR is a fine season but it would be disappointing for Hernández, coming off of a 3.9 WAR season in 2021. In the article Dan Szymborski writes "Teoscar Hernández projects to regress a bit BABIP-wise, but his power still makes him a comfortable plug-and-play cleanup hitter, though I'd personally prefer that he hit third since that's the lineup spot that leads off the fewest innings." We can debate line-up positions all you want, but Teo is much more than just a plug and play option for the Blue Jays. He is one of the key pieces of this line-up.
ZiPS projects Teo to have a .320 BABIP which is above average but again down significantly from the .348 mark in 2020, and the .352 mark in 2021. What ZiPS might be missing or slow to account for is the change Teoscar made at the plate last season, and that his profile is that of someone who can support a higher BABIP.
For starters he hits the ball really hard. His 91.8mph average exit velocity, while down from 2020, still rated in the 88th percentile for MLB players. He was also one of just 51 players last season to hit a ball over 115mph. Hitting the ball hard increases your chance of getting hits and thus increasing your BABIP. All this hard contact leads to more line drives, which have the highest BABIP of any batted ball. For a power hitter Teo doesn't hit many fly balls, which lowers BABIP. Per FanGraphs, among players who hit at least 30 home runs last season, Teo's 36.1% flyball rate was the seventh lowest, just ahead of Guerrero Jr. And while for Vlad this was a career high, for Teo it was a career low. Unlike Vlad, Teo wasn't hitting the ball on the ground. Teo's line drive rate of 25.5% rated third among that 30 homer group.
Teo hits the ball hard, hits it on a line and avoids fly balls, all major contributors to a high BABIP. What also gives Teo a boost is his speed. It seems that sometimes Teo's speed can be overlooked because he doesn't steal many bases (though he did have 12 last season), and because he is a poor defender. Typically speed is associated with strong defence particularly in the outfield. Teo isn't a true burner in a Billy Hamilton style, but he has above average speed. Per Baseball Savant, his 28.5 feet per second sprint speed was second fastest on the Blue Jays, behind only Marcus Semien. That speed gives Teo an opportunity to beat out ground balls for infield hits, which is exactly what he did last season. Hernández had 19 infield hits, the most on the Blue Jays, and tied for 14th in the league. This isn't something that is sustainable year over year, which ZiPS would be accounting for, but Teo should still get a fair amount of infield hits, which will help his BABIP.
Teoscar made some major strides last season. He cut his strikeout rate down to 24.9%, a career low and ending a stretch of four seasons where it was over 30%. That is very impressive and looks even better if you exclude the first week of April which had me asking why Teoscar Hernández was striking out so much. Since Teo returned from Covid on April 30th his strikeout rate was 23.7%. That is a huge improvement and was a major factor why Teo had the season that he did. The Blue Jays as a team were one of the very best at avoiding strikeouts. Their 20.1% strikeout rate last season was second to only the Astros. Compare that to 2019 where the Blue Jays struck out 24.9% of the time, the sixth highest mark. Their 4.8% improvement from 2019 is the largest in baseball. Now of course that 2019 team was a disaster and getting an influx of talent contributed significantly. But this is clearly a philosophical change made by the Blue Jays and it's one that has benefited Teoscar immensely.
The Blue Jays went up to the plate with a plan and that plan was to attack early and often. The Blue Jays as a team swung at the first pitch 34.7% of the time, per Baseball Savant, which was second behind Atlanta for the highest rate in the league. Pitchers think they can get a quick strike with a first-pitch fastball? Not against the Blue Jays. No team swung at more first pitch fastballs than the 799 fastballs the Blue Jays swung at. Against the first pitch last year the Blue Jays hit .391 with 62 home runs and a .710 slugging percentage. All three were tops in the league by a wide margin.
No one on the team had more success with this approach than Teo. He swung at the first pitch 39.8% of the time, the highest rate of his career, and a large increase over the 26.6% of first pitchers he swung at in 2022. His average when putting the first pitch in play was .468, tops on the team. He hit 10 first pitch homers. He was up there with a plan, if he saw a good pitch in the strike zone he was going to jump on it.
(Edit: Please note some statistics from this section were originally incorrect. They have since been fixed.)
Teo's aggressive approach continued in all counts as you can see in his plate discipline stats from FanGraphs. 
| | | | | | | |
| --- | --- | --- | --- | --- | --- | --- |
|   | O-Swing | Z-Swing | O-Contact | Z-Contact | SwStr | CStr |
| 2019 | 30.3% | 72.9% | 55.6% | 77.2% | 14.7% | 14.8% |
| 2020 | 34.3% | 63.7% | 52.1% | 76.9% | 15.7% | 18.7% |
| 2021 | 34.3% | 77.0% | 52.3% | 81.8% | 15.4% | 12.5% |
With how hard Teo hits the ball you want him to be aggressive but to be aggressive on the right pitches. In the past Teo has hurt himself by being over aggressive and chasing bad pitches. Now he is much more aggressive in the strike zone but isn't expanding the zone. He is recognizing strikes and recognizing pitches he can handle. This has led to fewer called strikes and getting himself into more hitter's counts. Teo is always going to have swing and miss in his game. He can maintain a lower strikeout rate by not letting strikes go by and avoiding getting to two strikes where he is forced to expand the zone and is susceptible to that slider away.  
ZiPS expects Teoscar to keep some of these strikeout gains and is projecting a 26.5% strikeout rate. It really all comes down to that BABIP for Teoscar. The projections systems think it will drop which will sink his offensive production. I however believe in the changes he has made at the plate and think his approach and skill set is one that will help him maintain a higher BABIP. As Thomas Hall writes, Teoscar Hernández is aging like a fine wine, so we shouldn't expect any age related decline just yet.
Teoscar will continue to be a key contributor to an elite Blue Jays line-up, and another 3.5-4 WAR season isn't out of the question.