The hype for the 2022 Blue Jays is nothing like the hype before the 2013 debacle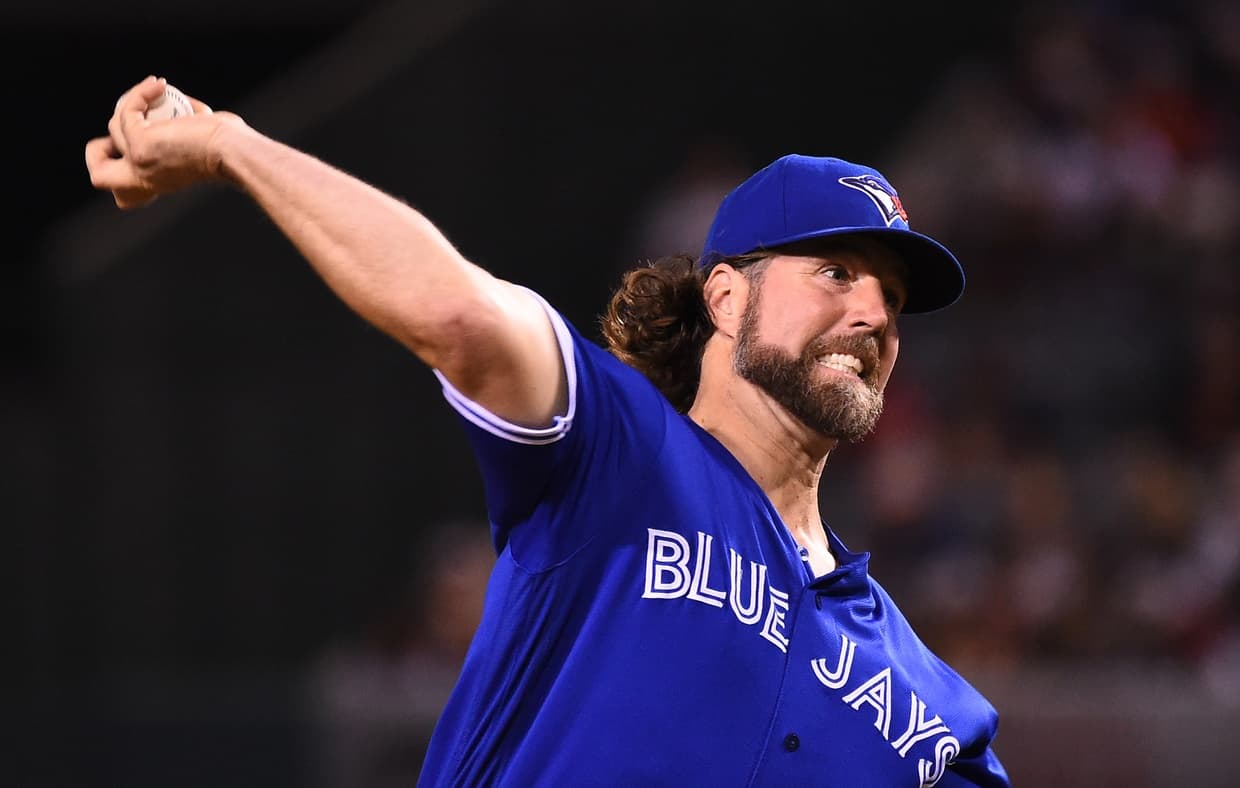 Photo credit:Jayne Kamin-Oncea-USA TODAY Sports
I've seen a lot of people comparing the hype that the 2022 Blue Jays are getting to that of the 2013 Jays, worrying that this team might also fall flat and not live up to expectations. 
I have to disagree with that assessment.
Firstly, we'll look at the trades that created the hype, then we'll move on to what the 2013 Jays excelled at and what eventually sunk their season. Lastly, we'll compare them to the 2022 Jays, and why you should buy into the hype.
The pre-2013 off-season, beginning of the hype:
I won't lie, I only really started getting into baseball in 2014. Between 2008-2013, I would watch games somewhat often, but I didn't really care about the results. In fact, I would have called myself a Phillies fan for quite some time before really attaching to the Jays.
I don't really remember a lot about the Jays prior to 2014, but I know that they were immersed in a playoff drought that spanned over 20 years until this point. I do remember owning a Sportsnet magazine that mentioned the first blockbuster trade with the Miami Marlins.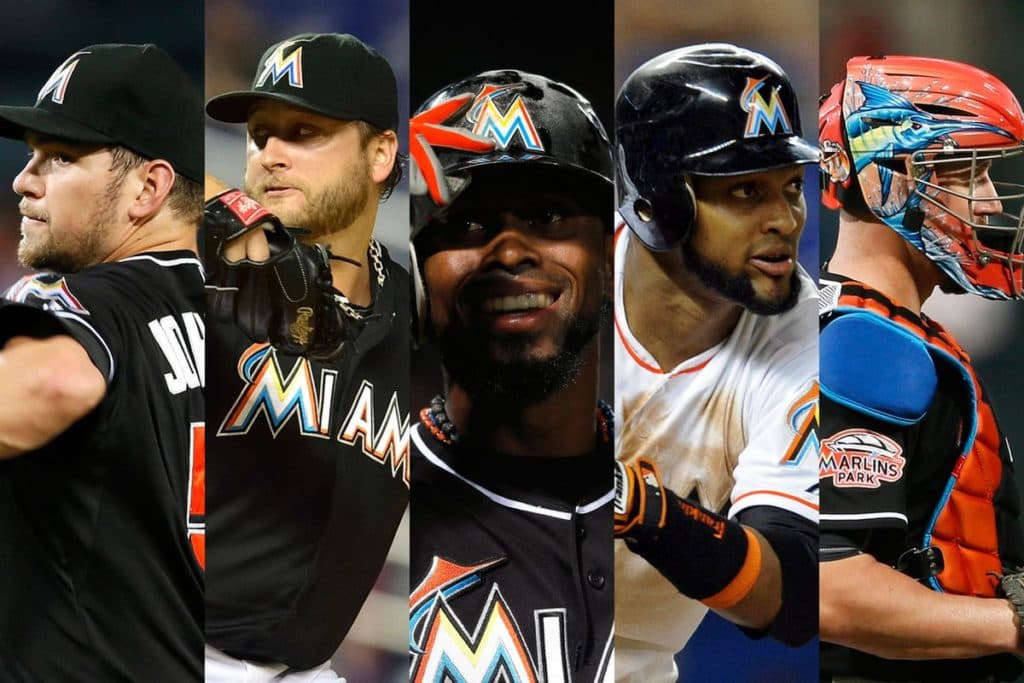 A twelve player blockbuster:
The Jays received:
Pitcher Mark Buehrle
Shortstop Jose Reyes
Pitcher Josh Johnson
Catcher John Buck
Second baseman Emilio Bonifacio.
The Marlins received:
Pitcher Henderson Alvarez
Utility infielder Adeiny Hechavarria
Shortstop Yunel Escobar
Outfielder Jake Marisnick
Pitcher Anthony DeSclafani
Pitcher Justin Nicolino
Catcher Jeff Mathis.
Looking at what the Jays gave up, Alvarez, Hechavarria, Escobar, Nicolino, and Mathis are all out of the league, with some even retiring. 
Marisnick is currently on the Pirates, but has only two seasons with at wRC+ of 100 or higher. Desclafani is currently on the Giants and registered a career year in 2021, posting a 317 ERA and 3.62 FIP.
As for the return, Mark Buehrle retired in 2015, but was a successful backend rotation pitcher with the Jays. He registered a 4.15 ERA in 2013, which was slightly above his career ERA of 3.81. The Jays got a backend of the rotation starter in Buehrle. If he were ten years younger, they would have gotten an ace.
Reyes on the other hand, was a useful player with the Blue Jays until a certain incident in 2015. In 2013, he slashed .296/.353/.780 with 10 homers and below average defense. He was a useful two hole hitter,  but was never going to set the world on fire. He declined the next season, slashing .287/.328/.726 with nine homers. Reyes' defense also slipped, as his DRS dropped to -14.
Josh Johnson pitched in 16 games and posted a 6.20 ERA and never pitched in the bigs after this season. In fact, the only other year after this that he pitched was 2015, where he pitched with the Padres High A team. However, in 2012, the pitcher posted a .381 ERA and 3.40 FIP in his 191.1 innings pitched, good enough for a 3.3 fWAR, so you could see where the hype came from.
Bonifacio only had 282 plate appearances with the Blue Jays, posting a .218/.258/.579 slash line with three homers. He was traded in August and bounced around the league, only stepping up to the plate 777 more times between late 2013 to 2020. John Buck never played with the Jays and was out of the league after the 2014 season. You'll read why in the next section.
All in all, this was a solid trade, more so for names that had performed in the past. Johnson,  Bonifacio, and Buck brought promise, but were shortly out of the sport after their tenure with the Jays. 
Buehrle was a solid backend of the rotation starter and helped the Jays finally reach the postseason in 2015. While Reyes was the only other player of note, he had two good seasons before being shipped to Colorado for Troy Tulowitzki and LaTroy Hawkins.
The trade for a Cy Young winner:
The Blue Jays received:
Pitcher R.A Dickey
Catcher Josh Thole
Catcher Mike Nickeas
The Mets received:
Pitcher Noah Syndeergard
Catcher Travis d'Arnaud
Catcher John Buck
First and foremost, I'm going to keep insulting this trade to the minimum, instead I'll focus on Dickey.
On December 17th, 2012, the Jays traded for the reigning National League Cy Young winner, R.A Dickey. In the season prior, the then 38-year-old knuckleballer posted a 2.73 ERA and 3.27 FIP with the New York Mets in 233.2 innings. I'll ke
This trade really increased the hype as they now had an ace… or did they? Prior to this season, R.A Dickey's lowest ERA posted was a 2.84 with the Mets in 2010 In fact, prior to joining the Mets, Dickey had an ERA of 5.43 and FIP of 5.19. Dickey learned the knuckleball in 2006, and still posted a 5.25 ERA and 5.56 FIP in 180 innings pitched between 2006-2009.
There's no doubting he was great with the Mets, as he posted a 2.95 ERA and a FIP of 3.54 in 616.2 innings pitched with the team between 2010-2012. With that being said, the 38-year-old was rather hit or miss, even in his tenure with the Jays.
In 2013, he posted an ERA of 4.21 and a FIP of 4.58. While an ERA of 4.21 is good enough as a backend of the rotation level, he certainly wasn't an ace. While trading for a reigning Cy Young winner increased the Jays chances of contending, you didn't have to look very far to see that Dickey as an ace was just a flash in the pan.
This isn't to say I didn't enjoy watching Dickey. He pitched four seasons with the team and in those 824.1 innings, he posted a 4.05 ERA and 4.58 FIP. Dickey was also part of the two playoff teams in 2015 and 2016. In a vacuum, these are great numbers for a late thirties – early forties player. However, once you factor in that the Jays traded Noah Syndergaard and Travis d'Arnaud for him… Yeesh. 
Let's look at the 2013 roster:
The trades created the hype, but on paper, the team also looked great. We'll look at what the Jays did right and what eventually sunk their season.
The offense:
The offense had some big bats, such as Jose Reyes, Edwin Encarnacion, Melky Cabrera, and Jose Bautista, this just looks like an older version and slightly worse version of the 2022 Blue Jays top of the lineup.
Designated Hitter, Adam Lind also had a bounce back season in 2013, slashing .288/.357/.854 with 23 homers in 521 plate appearances. 
Those five players were great, but J.P Arencibia, a catcher, hit for power as he had 21 homers in 2013, but he also had a slash line of .194/.227./592 with 148 strikeouts to 18 walks. Furthermore, Colby Rasmus had a pretty good season as he slashed, .276/.359/.856 with 22 homers. Brett Lawrie was a useful third baseman, slashing .254/.315/.712 with 11 homers.
Rajai Davis stole 45 bases in 51 attempts while also slashing .260/.312/.687 with six homers. The Jays also called Kevin Pillar up for a cup of coffee, but this was before he broke out as a gold glove nominee.
The Jays finished fourth in homers in 2013, but also finished slightly below the league average in batting average and OPS+. They just needed solid pitching. Did they get it?
The pitching:
No. It's safe to say that the Blue Jays starting pitching sunk their chances at contending in the 2013 season.
I already mentioned R.A Dickey's 4.21 ERA and Mark Buehrle's 4.15 ERA. Both ERAs are what you'd expect from a backend of the rotation starter. Sadly for the 2013 Jays, these were the two best ERAs for starting pitchers.
J.A Happ pitched in 18 games and posted an ERA of 4.56, this was before his career renaissance. Josh Johnson, one pitcher in the Miami blockbuster, posted an ERA of 6.20. Brendan Morrow, who was an out away from the Jays second no-hitter in 2010 (I remember this game), posted a 5.63 ERA in his 10 starts.
Todd Remond, who I barely remember, posted an ERA of 4.32 in his 14 stats. Some guy named Esmil Rogers posted an ERA of 4.77 in his 20 games started. In fact, out of the 13 Blue Jays pitchers who started at least one game, all but one posted an ERA over 4. 
The only "starting" pitcher who had an ERA under 4.00 was Chad Jenkins, who posted an ERA of 2.70 in his 10 games played, only three of which starts.
Their bullpen was a different story, however. Closer Casey Janssen posted an ERA of 2.56 with 34 saves, Aaron Loup posted an ERA of 2.47, Brett Cecil posted an ERA of 2.82, and Steve Delabar posted an ERA of 3.22. Unfortunately, you need to have leads to protect leads, so this bullpen didn't get much of a chance to shine.
The 2013 Blue Jays, all told, allowed 685 earned runs for a team ERA of 4.25. Paired with their slightly below-average offense (except for homers), this is the reason why they finished with a record of 74-88.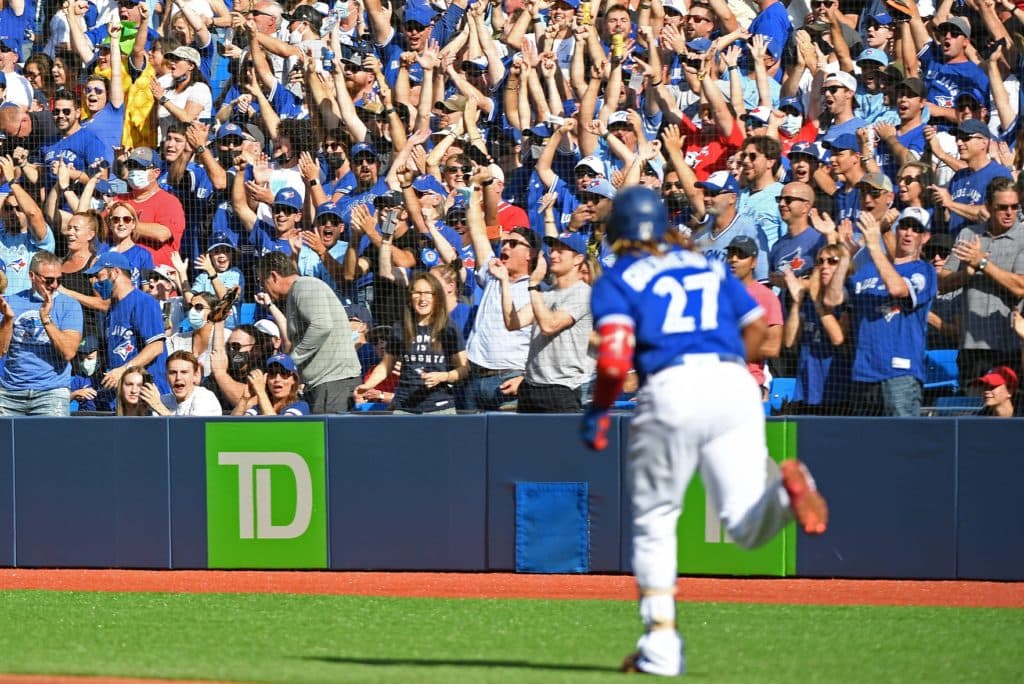 Oct 2, 2021; Toronto, Ontario, CAN; Toronto Blue Jays fans react after first baseman Vladimir Guererro Jr. (27) hits a two run home run against Baltimore Orioles in the first inning at Rogers Centre. Mandatory Credit: Dan Hamilton-USA TODAY Sports
What separates the 2022 hype from the 2013 hype?
The batting order of Reyes, Cabrera, Bautista, Encarnacion, Lind and Rasmus provided a lot of optimism, which was cashed in with homers. Not only that, but they had traded for reigning NL Cy Young winner R.A Dickey and traded for Mark Buehrle, who had been an ace on a World Series team. 
The 2013 Blue Jays also had a good bullpen that really stood out and helped drop that team ERA from worst to just bad.
Yet they finished with a record of 74-88. My feeling is that the hype came from the Blue Jays
trying
to improve their team, something that hadn't happened since well before I was born. The team didn't have quality starting pitchers and it really showed.
Yes, there are some questions about whether or not those three could bounce back after a tough second half of the 2021 season, but aside from Buehrle and Dickey in 2013, that rotation was barren.
Not just that, but the 2022 Blue Jays are a lot deeper. For example, here is their starting lineup on opening day. They'll get on base at a higher clip and likely mash even more homers than the 2013 Blue Jays, something that was evident in 2021.
Speaking of 2021, they won
91 games.
Yes, they lost the production of Semien, but Chapman is a breakout candidate (much like Semien last season) while Springer is starting the season healthy. Kevin Gausman arguably had a better season than 2021 American Cy Young winner Robbie Ray.
With an expanded playoffs, the likelihood of the 2022 Blue Jays missing the playoffs is slim to none in my opinion. Even if the rotation falters like the 2013 rotation did, the offence is a lot more potent.
The Jays also have a deep farm system with five additional Top 110 picks, meaning that they won't be afraid to trade prospects for holes that may need filling come the trade deadline.
Believe the hype, because the 2022 Jays are going all the way.
As always, you can follow me on Twitter @Brennan_L_D. I'm writing this at 3:36PM, while this article will be posted around 4:00 PM. Meaning were just mere hours away from the Jays opening day, which didn't look likely just a few months ago. Enjoy the hype, it is real