The Jays have four Top 100 prospects according to MLB Pipeline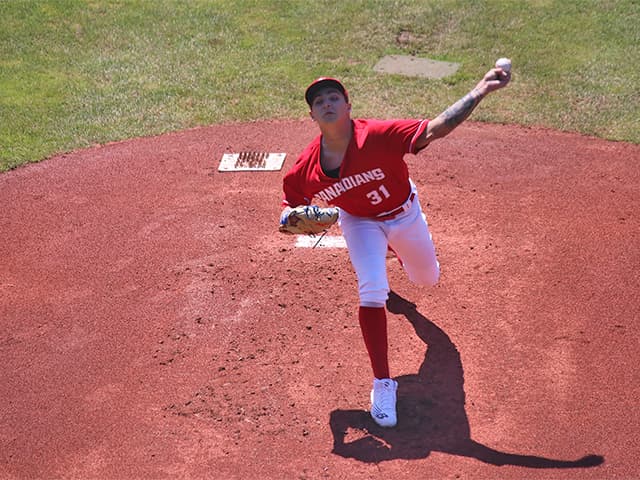 Photo credit:https://csplusbaseball.ca/2022/05/21/cs-recap-roll-tiede-tiedemann-ks-9-britton-goes-deep-as-canadians-trip-up-tri-city/
It's that time of year where new prospects are drafted and some are moved for rentals at the deadline.
Gabriel Moreno ranks 6th:
While he's on the cusp of becoming a full-time major leaguer, he hasn't quite made it off of the prospect list yet. The 22-year-old backstop is slashing .280/.308/.300 with the big league club in 52 plate appearances.
His inclusion this high on the list is well deserved. However, he isn't the highest ranked catcher, even with Adley Rutschman graduating. The 20-year-old Francisco Alvarez has been making waves in the Mets organization. This season, he has hit 18 homers in just 296 plate appearances, to go along with his .277/.368/.553 slash line in Double A.
Will Alvarez develop into a better catcher than Moreno? Only time will tell. However,  with how quickly he's risen up the minors as well as his age, Alvarez definitely deserves to be ranked higher than Moreno.
Orelvis Martinez ranks 38th:
Fun fact, Orelvis Martinez and Francisco Alvarez were both born on November 19th, 2001.
Like Alvarez, Martinez is a 20-year-old who started his 2022 season in Double A. Unlike Alvarez, Martinez is still with the Fisher Cats and hasn't put together the same season as the catcher.
In 270 plate appearances, the shortstop/third baseman has posted a .217/.289/.471 slash line, for a wRC+ of 105. It seems like it's power or nothing for Martinez, as he's hit an impressive 17 homers. However, he also has a K% of 30.7%, while only walking 6.3% of the time.
Orelvis had a rough April where he posted a .188/.224/.516 slash line with 6 homers in 67 plate appearances. However, his 1.5% BB% and 35.8% was a startling development. Despite that, he had a slightly below average wRC+ of 93, which makes sense as he was adjusting to the level.
He had a bounce back in May, where he had a .244/.340/.561 slash line in 94 plate appearances. Martinez hit eight homers in that time frame and his K% decreased to 24.5% while his BB% increased to 9.6% in that month. He finished May with a 143 wRC+, which seemed to be a turning point.
However, he hit another wall in the month of June. In his most recent month, he had a slash line of .221/.292/.384 in 96 plate appearances. Unlike in April, his power dried up, as he only hit three homers last month. While he took a walk 7.3% of the time, his K% increased back up into the 30's, as it sat at 31.3%. Martinez finished June with a 85 wRC+.
It's hard to make out what type of prospect Martinez is. He has serious power and his swing is a thing of beauty. On the other hand, he is prone to swinging and missing at off-speed stuff, and his walk rate is worrisome for a slugger.
He's still young and at an advanced level, but at some point he'll have to figure it out if he wants to stay on the Top 100 list.
Ricky Tiedemann ranks 65th:
Do you want to know why I'm excited that the Jays have five Top 100 picks in the 2022 draft? It's because they were able to draft Ricky Tiedemann with the 91st overall the year prior.
It's without question that Tiedemann is the best pitching prospect in the Jays organization. However, if he continues the way he's pitching, he may become one of the best pitching prospects period.
The 19-year-old started his season with the Dunedin Blue Jays in A ball, posting an ERA of 1.80 and FIP of 2.01 in 30 innings pitched. He had an incredibly high K/9 of 14.70, but had a BB/9 of 3.90 which is a little bit high.
Despite this, he was promoted to High A Vancouver, where he has a 1.64 ERA and 1.78 FIP in 33 innings pitched, facing tougher competition. His K/9 is still at a rather high 12.82 (K% is at 36.2%), but his BB/9 has dropped to 2.18. Below is a thread of his strikeouts from his last game.
He essentially has improved since he's moved up a level. My estimated time of arrival for the 19-year-old is as soon as the midway part of next season, if all continues to go right.
With another few starts, it's possible that Tiedemann finishes his season in Double A.
Jordan Groshans ranks 87th:
It feels as if Groshans has been with the organization forever, as he was chosen all the way back in 2018. However, the shortstop/third baseman is only 22-years-old.
He missed the first part of the season as he picked up an injury during spring training. After a hot start to his season, where he slashed .341/.437/.412 in his first 103 plate appearances, he's cooled off considerably.
In the past month and a bit, Groshans has slashed just .204/.304/.235 with a wRC+ of 54 in his last 112 plate appearances. Not just that, but he's only hit one homer this season, which MLB Pipeline notes as a problem: 
"The closer Groshans gets to Toronto, the more his power comes into question… The overall hit tool remains good enough to make him a potential solid regular, but he could help his case by making more high-quality impact at the dish."
There's still a lot to like with Groshans. The Jays have been looking to increase his versatility, as he's played both first base and right field this season on top of shortstop and third base. Not just that, but Groshans has a BB% of 13.6% and a K% of 15.5%, which directly leads into his hit tool.
He's still a top 100 prospect, there are just some questions about how good he'll be.
Other interesting tidbits:

Let's talk about two prospects that are linked together.
Austin Martin:
With Berrios starting today, let's look into Austin Martin, who had been in the Top 100 since the day he was drafted. I said had been, as he's slipped out of the ranking. Here's what MLB Pipeline has to say about him:
"Drafted fifth overall in 2020, Martin was thought to be a potential plus hitter who could move quickly toward the Majors. He's now in his second season at Double-A, where he continues to show an utter lack of in-game power (.313 slugging percentage in 63 games this season). Martin's numbers have actually gotten worse in his repeating of the level, and until he does more offensively than walk at solid rates, he'll be on the outside looking in at the Top 100."
In 283 plate appearances, the 23-year-old is slashing .249/.378/.313 this season in Double A, which has led him to a 94 wRC+. Furthermore, he only has a BB% of 11.7% (which is down from last season). The reason his OBP is so high is due to the fact he's been hit by a pitch
16 times
in 283 plate appearances.
The same happened last season, where he accumulated
24 HBP in just 418 plate appearances.
This doesn't even mention he has no defensive home. He has shifted around the middle of the infield and has played every outfield position, but he doesn't quite stand out at any position. 
Simeon Woods Richardson:
Although he isn't mentioned here (as he fell out of the Top 100 awhile ago), I feel as if we should check in on SWR.
The 21-year-old has had a bounce back season. In 53 innings pitched in Double A, he has posted a 3.40 ERA and 3.91 FIP. While his K/9 has taken a hit to 9 (down from 13 in 2021), his BB/9 has dropped to a more respectable 3.2 (down from 5.7 last season).
While he may not be in the Top 100, it's nice to see the young pitcher have a bounce back season.
Who can we expect to join these four players:
With the draft quickly approaching, it's likely that the Jays farm system will get a big boost due to the fact the Jays have 5 Top 100 picks.
Could one of these future players become a Top 100 prospect at the end of the season? It's too soon to tell. However, I'm excited as all hell to see what happens come July 17th.
As always, you can follow me on Twitter @Brennan_L_D. Come draft day, maybe I'll create a Twitter space where you can interact with me?
---